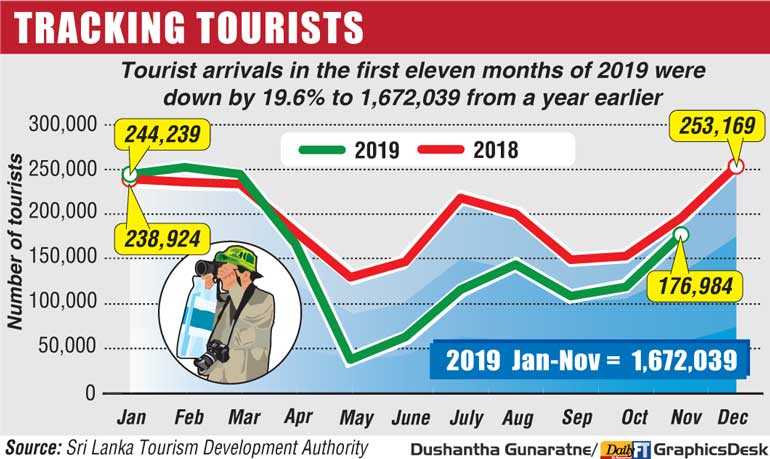 Cumulative 11-month figure down 19.6% to 1.7 m
Analysts say SL unlikely to meet most recently revised 1.9 m arrival target for 2019
SLTDA releases limited data; International Relations and Research team on study tour


By Charumini de Silva

Tourist arrivals in November were down 9.5% and in the first 11 months by 19.6% from a year earlier, confirming a continuing downturn following the Easter Sunday terror attacks.

According to limited data released by the Sri Lanka Tourism Development Authority (SLTDA) yesterday, November arrivals were 176,984 as against 195,582 a year earlier.

The cumulative 11 months haul was almost 1.7 million compared to 2.08 million in the corresponding period of 2018.

Earlier the SLTDA revised the annual projection to 1.9 million from the previous forecast of 2.1 million under the previous regime, but considering the data analysts said that Sri Lanka t will not be able to even reach its most recently revised target for this year.

Interestingly this time, the SLTDA has released November data sans its usual comprehensive report with the breakdown of figures and markets on its website, as the team in-charge of compiling the monthly report has gone on a study tour to Australia, the Daily FT learns.

Following the Easter attacks, tourist arrivals slumped by 70.8% to a record low of 37,802 in May. The change in arrivals between 2018 and 2019 was 57% in June, 46.9% in July, 28.3 % in August, 27.2% in September, 22.5% in October and 9.5% in November.

Though chasing growth, officials took comfort from the fact that the pace of decline was waning. However, the industry has been critical over the delay in the launch of an aggressive public relations and marketing campaign in the aftermath of the Easter Sunday attacks.

In April, soon after the Easter Sunday attacks, tourism officials estimated a $ 1.5 billion revenue loss this year, while projecting a 30% drop in arrivals.

Sri Lanka originally planned for 2.5 million tourist arrivals, but post-Easter Sunday terror attacks, the SLTDA revised the target in August, stating that it hoped to get around 2 to 2.1 million tourists compared to the 2.3 million visitors recorded in 2018, representing a 10% decline in arrivals.