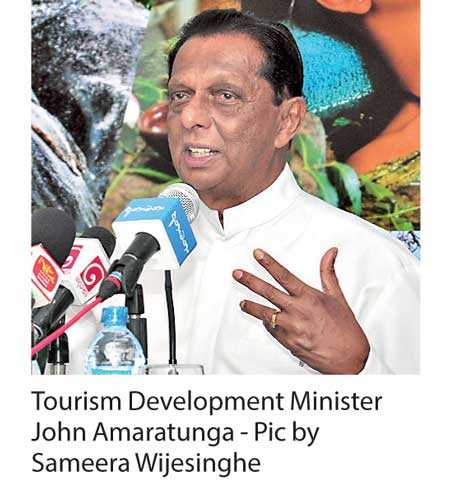 Tourism Minister backs tax breaks to be more competitive
Minister changes tune, wants high-end travellers not numbers
Fin. Min. to build new platform to regulate online booking agencies
Fate of minimum room rates still undecided,
Minister promises compromise
By Charumini de Silva

Tourism Development Minister John Amaratunga yesterday called for tariff reductions from the Government to achieve the 4.5 million tourist arrivals target by 2020, insisting that high tax structures and extraneous charges were constraining the sector from achieving higher growth.

"If the country is looking at tourism as the highest income earner, then we have to have be more competitive in our tax structures, particularly on reducing the landing charges, fuelling charges and airport charges, which is currently very high compared to the South East Asian countries," he told journalists in Colombo.

The Minister pointed out that a review is being done as to how best Sri Lanka can reduce landing charges, fuelling charges and airport charges.

"This is being very seriously considered. Very unfortunately the national carrier has also priced itself very high to some of the key destinations that tourism is coming from as well as to South Asian countries such as Bangladesh," he added. In addition, Amaratunga said that the Government was reconsidering the proposal to provide visa-free facilities for select markets to attract international travel traffic to Sri Lanka.

"The Prime Minister is working on it. Although we have FTAs with some of the regional countries, not everyone is reciprocating the same. "

"Therefore, the Prime Minister wants to do a study on which countries are to be given that privilege of being provideda free visa. Gradually we are falling in line with some regional countries like Vietnam where they offer free visas for travellers," he stressed.

The Minister also asserted that they had submitted a Cabinet paper yesterday to open up Palali Airport to invite Indian traffic.

"This will be another incentive for the Indians to come to Sri Lanka. There will be certain flights that will come from South India — not large aircrafts, but with capacities ranging from 70 to 100 passengers. With the domestic airports now being opened up to increase the numbers of tourists to come in, the country needs these kinds of new openings in order to have 4.5 million tourists by 2020," he stated.

Changing the usual tune from arrival numbers,Amaratunga also highlighted the fact that Sri Lanka neededto concentrate on high-end travellers.

"Of course the numbers are important but resources are equally important. We will achieve the 2.5 million tourist arrival target this year.Sri Lanka is a compact island nation and there are many things we can offer for high-end travellers. This digital advertising campaign and global advertising program getting off the ground by the year-end will definitely benefit the country," he expressed.

Despite submitting a proposal for funding purposes on the new country branding for Sri Lanka Tourism,which will be unveiled at the World Travel Mart (WTM) in London in November this year, he said as the Finance Minister was absent fromyesterday's Cabinet meeting the proposal was postponed to the next week.

"The Finance Minister was not there so it was postponed to next week. However, in the meantime we are steaming ahead with work to be done to meet the deadline to launch the new branding for Sri Lanka Tourism at the WTM in November," he added.

Noting that there were over 90,000 rooms in the formal sector, the Minister however said that he had no records of the numbers in the informal sector.

"I don't know what the numbers are in terms of the informal sector because we have no track of it, but it is growing at a rapid rate. Look at all the high-rise apartments which are owned by expatriates who sell through booking agencies for tourists to come and occupy them. We are also trying to register all of these high-rise apartments in order to get them into the tax net. They cannot go free of charge. The Government must also benefit at the same time," he pointed out.

According to him, the Finance Ministry is now working on a new platform to regulate booking agencies operating in the country, which have disrupted traditional hospitality business models.

"It is much needed, otherwise it is unfair by the hoteliers that are paying heavy taxes of about 35% to 40%, whilethese e-commerce booking agencies aren't paying a cent to the Government," he added.

In terms of retaining the minimum room rate for the Colombo City hotels, the Minister said that they will have to compromise on the best interest of the country in finding a solution to the matter after speaking with stakeholders and the Sri Lanka Tourism Development Authority (SLTDA).

"An audit report has been produced and according to that almost all the city hotels have violated the rules described in the minimum room rate gazette notification. They are now giving all kinds of excuses, but now I am going to implement the rules strictly this time once we revoke the gazette. If they violate that then I will suspend their liquor licence for six months as a warning and if they continue to infringe then I will cancel their licences," Amaratunga emphasised.

Pointing out the fact that most city hoteliers have invested heavily on upgrading and building new hotels in Colombo, he said the stakeholders were faced with financial obligations.

"It is true that there is continuous debate on market liberalisation and having controls over pricing. We are listening to both sides of the story. After discussing we will compromise for the best interest of the country," he added.

The Minister also called on the investors and hoteliers already in the industry to look at opportunities outside the city limits for unique offerings to attract high-end travellers.

"The city has now become a concrete jungle and we want more players to invest outside Colombo. People around the world must know what Sri Lanka has to offer," he said.