26 top women leaders list their priority recommendations for Finance Ministry consideration in first of its kind opportunity at the 8th annual pre-Budget forum organised by Daily FT-Colombo Uni. MBA Alumni with strategic partnership of Standard Chartered Bank
By Charumini de Silva

In a first-of-its-kind forum, 26 top female professionals were given the opportunity to voice their opinion on a multitude of issues confronting them and the economy and shared their ideas and recommendations for the Government to consider ahead of next month's Budget.

The forthright comments on industry and gender issues and the appropriate solutions to resolve them were highlighted to a top team from the Finance Ministry at the unique Daily FT-Colombo University MBA Alumni Association-organised pre-Budget Forum at the Hilton Colombo. Standard Chartered Bank was the Strategic Partner for the eighth consecutive pre-Budget Forum.

State Minister of Finance Eran Wickramaratne, Senior Advisor to the Finance Ministry Mano Tittawella, Treasury Deputy Secretary S.R. Atygalle and Finance Ministry Economic Advisor Deshal de Mel were among the event's eminent attendees.

Outlining the objective of the forum Colombo Uni. MBA Alumni Association President Thusitha de Silva said that although the unique pre-Budget Forum has been held for the past seven years, this was the first time it was dedicated exclusively to women leaders in recognition of the important role played by women in the socio-economic development of Sri Lanka and promoting the need for greater female participation in policy formulation. Standard Chartered Bank CEO Jim McCabe also spoke (see box story).

The Daily FT Chief Executive and Editor Nisthar Cassim moderated the session for comments from the private sector women professionals and business leaders. Each of the 26 female leaders listed up to three primary challenges and problems as well as recommendations to overcome them. Following are excerpts of comments made by the leaders who were invited to speak in first-name-based alphabetical order.


Chathuri Ranasinghe – Chairperson, Women's Chamber of Industry and Commerce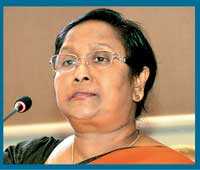 Chathuri Ranasinghe, Chairperson, Women's Chamber of Industry and Commerce (WCIC), proposed the need to improve the ease of doing business with a single window centre to be opened country-wide, equipped in all three languages, to attend to mandatory legal requirements and regulations in terms of starting an enterprise or business. Pointing out that irrespective of gender, many of the budding entrepreneurs had no knowledge on how to set about their aspirations, she believes this single window centre would help them build sustainable business models.

Highlighting access to finance as a critical challenge most entrepreneurs grapple with, she called on the Government to introduce microcredit schemes at micro and SME level, noting that micro finance projects with exorbitant interest rates of the private sector were not the answer.

She also recommended reforms in the education system, particularly in the areas of teacher training and vocational training. "These funds should be used for well-considered plans; drawn up with academics, professionals and knowledgeable individuals from the private and industrial sector to ensure the reforms would result in desired outputs and that they are sustainable," Ranasinghe added.


Chiranthi Cooray – Chief Human Resources Officer, Hatton National Bank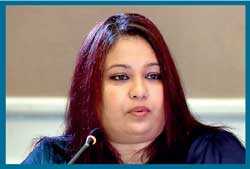 Chiranthi Cooray, Chief Human Resources Officer of Hatton National Bank, spoke broadly on human capital-based challenges at national level. Acknowledging the serious lack of women participation in the labour force, she highlighted safe commuting, lodging and duties as a primary caregiver as key impediments.

She said a policy strategy report has been submitted to the Prime Minister's Office through the National Human Resources Development Council (NHRDC) to provide safe transportation and safe accommodation where women are concentrated into workforces through Public Private Partnerships (PPPs), which is seen strongly in the hospitality industry and apparel sector.

"There was a discussion about creating a talent corporation, which registers qualified, IT literate women where they can work part-time, flexi hours or work from home and contribute work; while balancing the primary caregiver role and also as a dual income earner. This initiative has not made much progress. We really need to make accelerated progress and invest in setting it up, standardising it and bringing in the right knowledge and technical expertise to get it moving fast," she added.

With all self-sufficient models and statistics being provided for consideration, Cooray believes the Government would make some investments into these areas to action the proposals and strategies given.

In addition, she said imposing women benefits and welfare on private sector employers would act as a disincentive in the long run to hire women. "Expecting the private sector to bear the cost of hiring women with extended leave, benefits and day-care is really not going to work in the longer term."

Noting that duties as a primary caregiver disconnect the educated women and result in them making choices without proper alternatives, Cooray suggested that the Government could invest in providing vocational training to women who are migrating to manual labour jobs and retrain them to be day-care centre associates and caregivers, which will help the more qualified women to go to work or chose to work from home.

With many millennials migrating, she warned about the ageing population, which would result in a serious human capital issue. Thereby, she proposed the Government should invest in an initiative to get millennials and the younger generation to return, take pride in the nation and contribute to the workforce and economy of Sri Lanka.


Prof. Chitra Weddikkara – Chartered Architect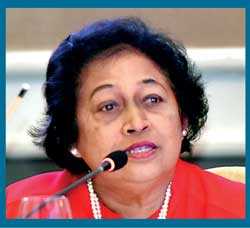 In a male-dominated construction industry, Prof. Chitra Weddikkara, Chartered Architect, called on the Government to introduce a women construction policy, where females could enter the sector at different levels.

"At the moment other than the professional women, there is no middle management level of female representation in the construction industry. We have a huge lack of labour in the construction sector, so we would like the women to come in for soft skills such as painting and plastering. We are trying our best to get these women to come in, but the Government is not helping. These women who are working day-to-day jobs cannot leave and cannot come for three months' training. We may have to give them some form of financial assistance to come for time period. The Government has promised there is Rs. 500 million allocated, but we haven't received a cent to train women for the construction industry. I would like the Budget to have some kind of allocation for training of these women," she said.

Prof. Wedikkara also suggested increasing the existing Withholding Tax at least to Rs. 5 million to allow the informal sector enter the industry, noting that otherwise they would not consider coming into the construction industry when they have to pay Rs. 50,000 tax.


Darshi Keerthisena – Creative Director, Buddhi Batiks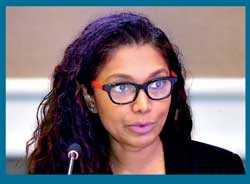 Darshi Keerthisena, Creative Director, Buddhi Batiks, representing the local batik craft, proposed that the Government should introduce a degree-level program at all State universities and set up a fund for entrepreneurs who wish to start craft entrepreneurship.

"Working with many crafts people around the country, I have seen the potential our crafts have on the global scale. However, the participation in crafts has declined over the past years. I think it is the lack of formal training, funds and other facilitates are the main issues. As there are few opportunities to learn designing, I would like to suggest a degree-level program and a fund for entrepreneurs who wish to start crafts entrepreneurship," she said.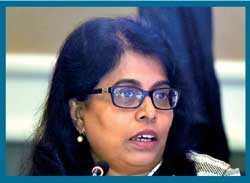 Gayani de Alwis – Chairperson, Chartered Institute of Logistics and Transport, Sri Lanka

Underscoring that 60% of road designs were not optimal, Gayani de Alwis, Chairperson, Chartered Institute of Logistics and Transport, Sri Lanka (CILT), recommended allocating additional funds to address this issue, which would help minimise road accidents that have become a big menace in the country.

She also suggested the use of plastic mixed with bitumen for road building, insisting that it would help Sri Lanka to practically minimise waste as well as construct roads with strengthened surfaces.

De Alwis also called the Government to consider alternative energy sources such as biogas and bio fuel to encourage green transportation, which will help to save an outflow of over $ 4 billion annually on the importation of fossil fuel.


Gowri Rajan – Director, Sun Match Company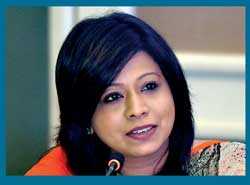 Gowri Rajan, Director, Sun Match Company, acknowledged the positive steps taken by the Government recently on correcting the trade margin on bottled drinking water, which benefits consumers. She called on the Government to consider giving tax breaks for research and development (R&D) to develop the bottled drinking water sector, noting that it would lead to a healthier nation and allow manufacturers to drive for innovation.

Citing a recent incident where the safety match industry went out of stock of key raw materials imported by the Government, which resulted in shutting down an entire sector, running into serious liquidity issues and over 8,500 people losing their jobs, to avoid such situations in future she recommended developing a process where the private sector could have its freedom to do business and called for preferential finance schemes under the Enterprise Sri Lanka program for companies that suffered.

"Instead of the Government trying to import the raw materials directly, give the license to the Match Manufacturing Association and based on our demand industry it will import chemicals. Since they fall under the mild explosive category, they can be stored at the Government Explosives Stores in Welisara. If the Government could release the raw material on demand, we could also make a payment for it. Until such legislation and because it was not our fault, we hope to get preferential finance schemes under the Enterprise Sri Lanka program for companies that suffered," she stressed.

Stating that although Rotary was not a NGO, it had been listed under the NGO category and of late it had to pay a NGO tax for all inward donations including Withholding Tax, she suggested it be removed from the list as Rotary was working extensively lot with the Government for the benefit of the people of Sri Lanka.


Indrani Fernando – Managing Director, Philips Hospital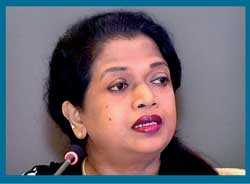 Representing the healthcare industry, Indrani Fernando, Managing Director, Philips Hospital, suggested the need to provide tax breaks to set up crèches, pointing that it was the only way to halt the dropout of nurses and paramedics after child birth.

Claiming that no Government had taken any efforts to develop and promote Sri Lanka as a medical tourism hub, she insisted authorities should consider this lucrative opportunity, adding that the country had all resources in terms of human capital and facilities.

Fernando also underscored the need to create a pragmatic PPP model to address the rising Non-Communicable Diseases (NCDs) in the country. "We have a lot of meetings with the ministers, but it stops there without an outcome. At the moment there is no PPP. NCDs are on the rise and the World Bank has given a big grant to address it. However, to date nothing has been done," she claimed.


Jayanthi Dharmasena – Director, Hayleys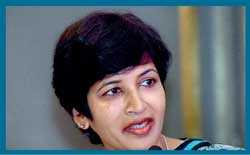 Jayanthi Dharmasena, Director, Hayleys Plc, proposed waiving off the duty imposed on agri modernisation equipment and machinery as a step to encourage farmers investing in modern agriculture.

"Climate changes and labour shortage are affecting the agriculture industry significantly. Thus, the Agriculture Ministry together with industry is now working on relief for agri modernisation. Nevertheless, the current 15% VAT, PAL and duty are making it expensive for the farmer and discourages him from investing in modern agriculture. If the Government wants rural farmers to reach the global market, then we have to make sure our produce is competitive," she added.


Laila Gunesekere – President, International Advertising Association Sri Lanka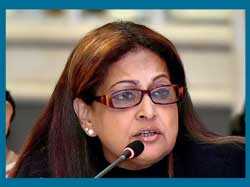 Pointing that Sri Lanka's ranking (111 out of 190 countries) in the latest Doing Business Index was proof that the country was not an easy place in which to do business, Laila Gunesekere, President, International Advertising Association Sri Lanka, recommended accelerating the implementation of digitalisation and online processes to make doing business easier.

Dismissing the claims that the country was absolutely on a digital bandwagon, she proposed the Government consider the possibility of bringing down experts from regional countries like Hong Kong and South Korea to bring Sri Lanka up to world standards in digitalisation.

Sharing the same opinion on the need to set up day-care centres at workplaces, Gunesekere said there was an alarming dropout of women from the advertising industry in the 30 to 39 age group, which is 22.9%, while in the same age group dropout of men is only 7%.


Lakmini Wijesundera – Chief Executive Officer, Iron One Technologies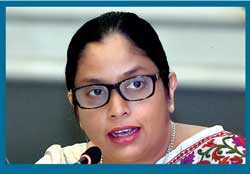 Lakmini Wijesundera, Chief Executive Officer, Iron One Technologies, called for assistance for businesses to grow, particularly for IT companies which have no collateral to obtain financial assistance.

She commended some of the initiatives undertaken by the previous Budget proposal on National Export Strategy (NES), Enterprise Sri Lanka and the Market Access program. However, in terms of the overall progress of the NES, she said the industry had still not received the full benefit of the initiative as there was a lot of bureaucracy and processes involved. Thereby, she requested Government to allocate additional funds to administer the implementation program as companies in need had not received the promised funds to develop businesses.

In terms of women participation in the workforce, she suggested introducing a Key Performance Index (KPI) to make smart decisions about the directions and sectors where female talent is required in the economy. Wijesundera also recommended creating a strong awareness program islandwide to promote the IT industry and its career opportunities.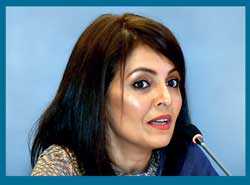 Linda Speldewinde – Founder/Managing Director, Fashion Market.lk

Linda Speldewinde, Founder/Managing Director, Fashion Market.lk, called for including creativity in the national economy agenda while owning it. "Creativity and economy is a topic that many don't relate together. The industry is structured in such a way that it blends well for women participation very easily. We have shown the impacts globally with the apparel industry, how we have gone up the value chain and how women can be restored in economic development," she pointed out.

She also recommended a monitoring unit to encourage these women entrepreneurs to scale up and introduce designing from tertiary level education to empower the future female workforce.


Marise Deckker – Chairperson, Astron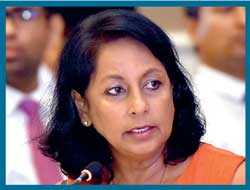 Marise Deckker, Chairperson, Astron Ltd., acknowledged the positive impacts of the buyback guarantee agreement of the Government, which resulted in the local pharmaceutical manufacturing companies growing from eight to 15 with their market share increasing from 8% to 18% and investing over Rs. 5 billion within a short span of four years.

However, with the buyback guarantee agreement lapsing next year, she called on the Government to extend the same, insisting that it would also encourage more players to enter the market and allow Sri Lanka to make its own pharmaceuticals.

In addition, she requested tax relief on imported raw materials, packaging materials, machinery and equipment. Claiming that imported finished goods come totally tax-free, she said the local pharmaceutical manufacturers have to pay 2.5% PAL on most imported raw materials and 7.5% on some other raw materials.

"We call for either waiving this off completely or bringing down the 7.5% PAL to 2.5%. Right now, only four machinery and equipment that are not so relevant are tax exempted. We appreciate if the 25% VAT, PAL and NBT is waived off from pharmaceutical manufacturing machinery and that it be listed under the HS codes," Deckker added.


Nilanthi Sivapragasam – Chief Financial Officer, Aitken Spence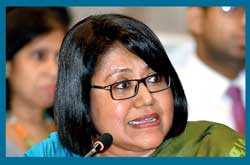 Nilanthi Sivapragasam, Chief Financial Officer, Aitken Spence Plc, highlighted on some of the anomalies which cut across several sectors and need to be corrected in the recently-introduced Inland Revenue Act on the concessionary rate applicable for certain entities in areas such as education sector, exports, ICT and agriculture.

"The new law says that the entity has to be predominately engaged in that particular activity. The Act defines as 80%, so what about companies engaged only up to 75% and gross income, which is not defined? With all these loopholes many companies will not fall within that 80% threshold. This is something I think needs to be addressed because this has implications even on tax payments. This is actually not simplifying the system, but making it much more complicated," she added.

The other issue was on incentives granted for industries such as solid waste management, dairy, pharmaceutical and renewable energy sector (exemption from VAT, PAL and payment of bank guarantee). "This was something that was brought later on under the Customs Ordinance and the Minster has given an order under the Customs Ordinance, but VAT, PAL, Cess don't come under the Customs Ordinance. This needs to be brought into those particular Acts to regularise it." Sivapragasam pointed out that these incentives were given to other industries and VAT for large-scale expansion projects.


Prasansini Mendis – Chief Executive Officer, NDB Securities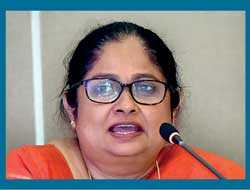 Prasansini Mendis, Chief Executive Officer, NDB Securities Ltd., proposed reintroducing incentives to encourage private companies to list in the capital market and to come up with a way to list the much-needed State-Owned Enterprises (SOE) to increase market capitalisation. She also insisted on fast-tracking the implementation of the mechanisms to attract funds outside the market at present. "We hope that the Central Depositary System (CCD) will at least be finished by 2019, to improve our rating." Mendis emphasised on the need to invest in research and education in relation to the capital market. "There is very low knowledge about capital market investments even among Advanced Level students in schools, which needs to be addressed immediately. We also depend on very outdated information and data. Therefore, we request an allocation of funds to create an up-to-date database, which will help in making smart decisions."


Roshanie Jayasundera-Moraes – Executive Vice President, John Keells Holdings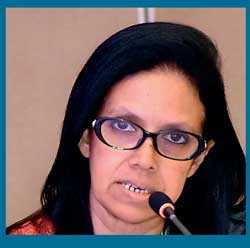 Outlining that implementation of the Real Estate Investment Trusts (REITs) have been a success globally, Roshanie Jayasundera-Moraes, Executive Vice President, John Keells Holdings Plc, requested fast-tracking the implementation of REITs with the help of the Securities Exchange Commission (SEC) and the Finance Ministry. She said REITs presented an opportunity to strengthen Sri Lanka's under-developed capital markets, while at the same time satisfying the real estate sector's growing need for additional sources of funds.

In addition, she suggested allowing foreigners to borrow up to 40% of their investment in condominiums from banks in local or foreign currency, which was included in 2016 and 2017 Budget proposals, but not implemented. "This will help grow the market and encourage Foreign Direct Investments (FDIs), as the balance 60% would be a foreign currency inflow. This would give greater confidence to investors due to the participation of local banks. The banks would make their own risk assessment on the borrower as well as possess adequate security over the asset," she added.

She also proposed foreigners working in Sri Lanka be allowed to make investments in condominium housing units by utilising their earnings (foreign/local currencies) generated in the country.


Samadanie Kiriwandeniya – Chairperson, SANASA Development Bank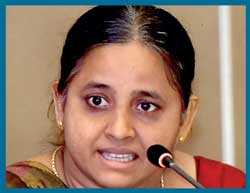 Samadanie Kiriwandeniya, Chairperson, SANASA Development Bank, emphasised on the need to look at the Budget in not in a daily fire-fighting manner, but in a more sustainable manner. She also pointed out that it took long years to recognise the critical role women play in economic development to give an opportunity to voice their concerns in a National Budget.

Kiriwandeniya cautioned that Sri Lanka would be stuck with a rapidly ageing and old rural community with depleted asset bases, if the authorities did not take necessary steps to address the rising health issues, rising social cost and migrating millennials. "I think we really have to look at the Budget in a more sustainable framework, without looking at it only from a monetary point, but increasing assets beyond money such as human capital, social capital and environmental capital for the future of our younger generation in the country."

She said the application of Withholding Tax on savings was eroding the savings base in the country. "I see that there is a clear disincentive with the Withholding Tax we put on every single rupee that is being saved. "

Kiriwandeniya also proposed providing incentives for the insurance industry to promote life insurance for women. "Most women in Sri Lanka do not have life insurance and there are sufficient statistics to support that health issues are on the rise, particularly NCDs. Women have neither a savings base nor any investments and are ageing in a very informal market without any security, which I believe is going to be a major issue for the country. Thus, I suggest to promote life insurance for women," she added.


Sandya Salgado – Business Partner, Good Karma Consultancy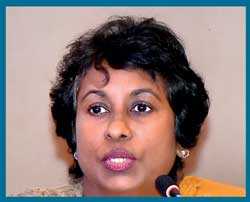 Acknowledging the opportunity given to voice women's concerns and recommendations in the national economy, Sandya Salgado, Business Partner, Good Karma Consultancy, suggested positioning and promoting Sri Lanka as a an ideal destination for cinema tourism.

"The industry has huge potential. As of last year, we generated around $7 million and it is envisaged that by 2020 it will be $15 million and can to go up to $30 million if the right environment is set up. We have proposed this to Prime Minister Ranil Wickremesinghe and he has accepted it. There is an important policy decision to be made in providing incentive which is what countries like Malaysia, South Africa and Mauritius are doing and they are attracting tremendous income from cinema tourism. Along with it aligned industries could also prosper because it is not just one aspect of tourism that is being looked at. This is really more jobs in international filming and thus more awareness is needed," she said. Despite this being proposed to the former Finance Minister who accepted it, she claimed it was not implemented.

Salgado also suggested a policy decision to introduce a quota system for women at board level, at least until the barrier is broken. "I have being mooting women representation at board level for years. Unfortunately, it's about 1% representation in the country despite there being some 295 listed companies in the country. I don't need to tell you about the importance and the value addition that women could bring to these boards, but since the boys' club hasn't accepted women, I suggest introducing a quota system for women at board level. Once the barrier is broken then the quota system can be removed," she stressed.


Shashi Kandambi Jassim – Senior Deputy General Manager, Sampath Bank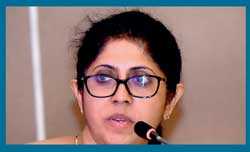 Shashi Kandambi Jassim, Senior Deputy General Manager, Sampath Bank, recommended releasing of some of the payments due from Government, insisting that small-scale entrepreneurs were grappling with multiple issues to survive in their businesses.

"The banking industry is facing major issues because of the delay in payments from the Government and related organisations. Increasing Non-Performing Loans (NPLs) and increasing interest rates have given signs to banks to sort of scale down credit growth, which will definitely hamper the industries. Although large companies can sustain to a certain extent because of the buffers they maintain, we see that the small-timers are really in trouble," she added.

Noting that with limited resources commercial banks could not embark on financing large projects, Jassim suggested setting up a development bank to support industries. She also called to push for consolidation within financial companies.

"Today NPLs are rising, not the banks but the finance companies are facing difficulties. Sometime back looking at this, the Central Bank pushed us for consolidation but it had a natural death thereafter. I believe it is timely now for the finance industry and Central Bank to look at the industrial gain for financial companies to push for consolidation," she pointed out.


Shehani Seneviratne – Chief Operating Officer, 99X Technologies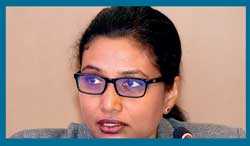 Shehani Seneviratne, Chief Operating Officer, 99X Technologies, suggested increasing State University output by 10% to 15% per year and to improve the quality aspect to work on the employability of the IT graduates.

"We have many vocational training centres within companies, but there is a question whether students who come out of these institutes can actually start working in our software exporting companies right away. We need to look at the curriculum, training teachers, provide better facilities and ensure people who train at these centres are better for employer," she added. To tackle the increasing brain drain she recommended providing incentives to retain talent, while also introducing some kind of a bond to bring back those who have left the country after benefiting from free education.

Seneviratne also highlighted the need to introduce part-time work, flexi hours, working from home, having on-site day care centres as being necessary to mitigate the number of female dropouts from the workforce. "At graduate level the male to female ratio is 50:50, but when it comes to the IT industry the ratio drops 75:25. It is very sad that a lot of female graduates don't work at all or halfway down the line they drop out. We need to think of having the productive female workforce coming into the industry, if not it's a loss to our entire labour force."


Shehara Jayawardana – Group Joint Managing Director, McLarens Group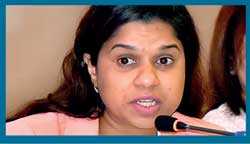 Shehara Jayawardana, Group Joint Managing Director, McLarens Group, proposed increasing the port handling capacity to make Sri Lanka a maritime hub in this part of the world. "We need to increase the number of ships that call at the Port of Colombo and increase the services we offer for these ships and their cargo. Right now, Colombo is the fastest growing port in the region and as a result we are almost reaching capacity and we are at a shortage of deep-water terminals. The East Container Terminal has been partially completed but has been idle for the last four years, so bringing this on stream is vital," she added.

She also insisted on digitisation of processing systems relating to shipping industry and trade as a crucial part of improving the doing business environment and attracting foreign investors. Describing the bunker industry as a vital part of the shipping industry, Jayawardana said it was an area open for foreign investors, yet nobody was interested because of the lack of storage capacity, lack of ease of doing business, license for bunkering given only for one-year period and high taxes involved in the sector.

She suggested including marine services such as bunkering and ship handling into the concessionary rate. Pointing out that maritime and shipping industry female representation was extremely low, Jayawardana called on the Government to allocate funds for a program to encourage women, which would definitely improve the productivity of the industry.


Sherine Fernando – Director, Janet Group of Companies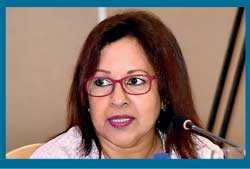 Sherine Fernando, Director, Janet Group of Companies, proposed safeguarding the interests of local manufacturing industries and providing better tax concessions for exports considering the fact that they brought much-needed foreign currency to the economy.
"At the moment we pay 1% from our total revenue to Sri Lanka Tourism. This is not on profit but on total revenue, which is a big expense to us. We also pay 15% VAT twice a month, which used to be a quarterly payment before and added to this we pay 24% corporate tax. On top of this, we are also burdened with ad hoc charges by Government departments for the panels we display. These are very unfair charges that we have to pay," she claimed.
At a time where people prefer investing in high interest bank instruments, she said the Government should look after local businesses that still manage to run an industry and contribute to the economic development.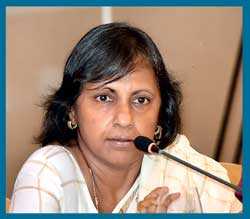 Shiromal Cooray – Managing Director, Jetwing Travels

Despite tourism being identified as low-hanging fruit in bringing in much-needed foreign exchange to the economy, Shiromal Cooray, Managing Director, Jetwing Travels Ltd., claimed that bureaucracy and an unfair taxation system which applies only to the formal players which represent 40% of the sector was at a point where stakeholders find it difficult to continue businesses at present.

"We all know that the way of doing business has changed in the world and tourism is one sector that has not seen many changes. However, I wonder if the tax authorities understand these changes, appreciate it and understand when developing tax policies. We know that most tourists now patronise the informal sector. Does that mean that the burden of taxing is getting increased only for the formal players in this sector, until perhaps not feasible to continue business anymore?" she asked.

While many industries acknowledge it appears that bureaucracy is now crippling business rather than enabling enterprises, Cooray alleged that competition among bureaucrats had delayed the extremely important global tourism campaign for years.

Noting that the Treasury had taken a lot of money from Tourism Promotion which she claims is partly the industry's fault, she requested allocating funds to educate the general public about solo female travellers, which is increasingly becoming popular locally and internationally.

"Women are looked at as sex objects and not as normal human beings to be respected. As a woman, I feel ashamed that Sri Lankan men behave like this. I think we need to educate the general public and it needs to be done quickly," she emphasised.


Sonali Wickremaratne – Director/Head, Global Internal Audit Department, Virtusa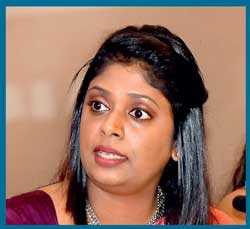 Sharing ideas to improve the Business Process Outsourcing/Management (BPO/BPM) industry, Sonali Wickremaratne, Director/Head, Global Internal Audit Department, Virtusa, proposed increasing the quality of university education to reduce the lag of professionals in the industry.

"Establish universities with 70% Government subsidised payment schemes which offer an intensive one-year industry-influenced curriculum, two years of full-time industry experience at very low pay rates, and a final year of part work, part study model where they further specialise in one industry related skill," she explained.

Wickremaratne requested providing concessions for the BPM/BPO/IT industry workers to attract, retain talent and expand businesses. "A 3% PAYE tax reduction proposed within each tax bracket for the BPM/BPO/IT worker. Mandate childcare facilities at Government-stipulated childcare rates for BPM/BPO/ITOs which are equal to or greater than 500 in total head count or IT parks which host a total of 500 head count across companies or at Government-sponsored IT parks. Provide tax concessions for childcare providers offering services to these industries."

She believes these suggestions extend employment opportunities, reach out to women who the Government has invested in, in IT education, and are not contributing to the economy, and assist the industry to retain talented resources. In addition, she suggested tax concessions for export revenue generating companies.


Dr. Sulochana Segera – Chairperson, Women in Management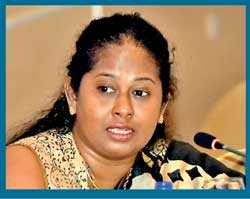 Dr. Sulochana Segera, Chairperson, Women in Management (WIM), suggested exporting women-produced products to export markets and exporting women with skill and knowledge.

She claimed that unless the Government invests enough to educate teachers, the country will not grow as they are the people who can make an impactful attitude change in the country. Segera pointed out it was necessary to create an environment for both men and women to be given equal rights to financial assistance and social entrepreneurship, noting domestic violence and social issues would otherwise increase. She called on the Government to allocate money to change the law for women and children. "We don't have a law related to workplace harassment, it is only in the Constitution, not as a law or as a labour law. Furthermore, women harassment comes under civil law and not a criminal law. This needs to be changed," Segera said.


Surekha Alles – Managing Director, Allianz Insurance Lanka

Surekha Alles, Managing Director, Allianz Insurance Lanka Ltd., proposed ruling out the tax imposed on the policyholders, as it would further discourage people buying insurance policies.

"Since of late there is a tax which is imposed when we declare the bonus to the customer, from that component we charge 14% as tax for the first three years and thereafter tax is increased to 28% from the policyholder. I propose not to charge this tax from policyholders because insurance policy is not only a saving or an investment, but more of a protection," she added.

Highlighting that private sector insurance companies were restricted from writing Government business a few years back, Alles suggested that Government business be opened up for the private sector to create a level playing field.


Sushanya Samarakkody – Director, S A Perera & Company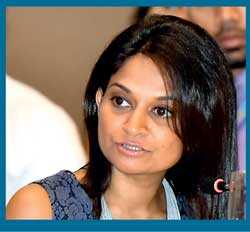 Representing the leather industry, Sushanya Samarakkody, Director, S A Perera & Company, called for land, infrastructure and technology assistance to build a leather city to take the business forward.

She said the industry currently employs over 400,000 families directly and indirectly, but is unable to sustain the business without adequate land, infrastructure and right type of technology. "For the past 10 years we are facing a huge drop in production quantity and quality. Factories have shut down, people have lost jobs and the excess raw material has gone to waste," she added. Noting that 40% production cost is equal to the chemicals they import, where only a few items are duty and cess free, Samarakkody called for waiving off or reducing PAL, VAT and NBT which constitute over 25% of their CIF prices to revive the industry.

Pix by Daminda Harsha Perera, Lasantha Kumara and Indraratne Balasuriya
---
Better gender balance key to success: Standard Chartered Bank CEO
Standard Chartered Bank Sri Lanka CEO Jim McCabe said that businesses would benefit with the right balance of gender to better manage risks and resources and optimise outcomes.

Noting that Standard Chartered Bank had over 86,000 employees in 63 markets, he said they were proud to be represented in a wide range of cultures and diverse working places in different communities.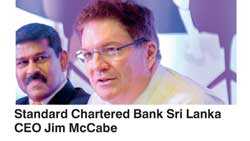 "We have seen an increase in female representation with 26% in senior management and 31% at Board level. Our managing team has over 42% female representation. Around four of our regional heads are women. In Sri Lanka, 48% of our workforce are females and 54% under my country leadership team are females," he said.

McCabe said Standard Chartered Bank believed in creating equality to contribute to and grow the career paths of women. With the population of women rising globally, he said businesses must focus on catering to their needs to optimise business opportunities and profitability.

Given its continued commitment to private sector-led socioeconomic growth for the past several years, Standard Chartered Bank has been an integral part of this unique pre-Budget Forum initiative.
---
Govt. committed to balance industry and consumer interests: Eran
State Finance Minister Eran Wickramaratne said recommendations by women leaders were broad and went far beyond the Budget itself, noting that balancing industry interest with public and consumer welfare was a challenge that the Government was committed to get right in ushering in greater socio-economic prosperity.

He suggested the women leaders and professionals submit the Budget proposals in writing with specific details, while insisting they continue to take the macro issues up with relevant ministries and agencies.



Pointing out that a country's budget was no different to a company's budget, where to give one has to take from the other, Wickramaratne said it was always about balancing priorities.

"The Government also has a continuous issue in balancing priorities between manufacturers, producers and consumers — which is the largest base as well as the voter base," he added.

Wickramaratne expressed surprise at the lack of mention of corruption in the system. "No one talked about corruption, which really surprised me. Sri Lanka has a systemic corruption problem and this is what happens when you try to do reforms and they get delayed."

He said the next presidential candidate's mandate should include public sector reforms as the key factor.

Assuring that the Government was taking necessary legal reforms in terms of harassment and engagement of women in the economy, the State Finance Minster emphasised that all stakeholders should look at overall gender equality, beyond the Budget, for holistic and sustainable growth in the country.

The State Minister also acknowledged the need to invest in R&D, which had now turned into a major problem with Government underspending in the sector. "It worries me more now, with students studying in science streams declining at a rapid pace."

Wickramaratne also highlighted the need for scientists' representation on tender boards and technical committees to make smart decisions.

Treasury Deputy Secretary S.R. Attygalle also reiterated that the Government was striving to balance industry interests by providing incentives and tax concessions to encourage businesses, particularly on the issues that were raised in relation to raw materials and machinery.

With the gradual removal of para tariffs, he pointed out that the industries would benefit in time to come in a broader manner.

"A lot of concerns that were raised here have already been recognised and initiated. However, we understand that these projects needs to be implemented and fast-tracked," he added.

He said through the 'Enterprise Sri Lanka' program, the Government together with State banks had made notable progress in addressing the issue of access to finance by providing loan facilities without collateral at low interest rates.
---

From left: Ministry of Finance Senior Advisor Mano Tittawella, Deputy Treasury Secretary S. R. Attygalle, Daily FT Editor Nisthar Cassim, State Minister of Finance Eran Wickramaratne, University of Colombo MBA Alumni Association President Thusitha De Silva and Standard Chartered Bank, Sri Lanka CEO Jim McCabe.