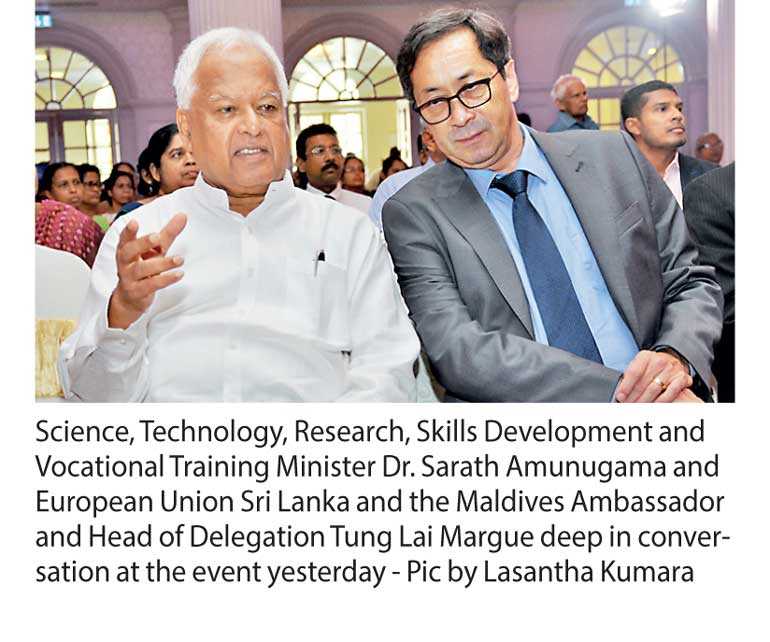 Amunugama pledges to ensure accreditation meets global standards
Backs outsourcing as state agencies lack capacity and time
Accreditation would help SL tell world about its quality exports
Catalyst to attract investment and expand into advanced markets
By Charumini de Silva

Sri Lanka's exports could expand their footprint and break into new markets if the country could upgrade accreditation mechanisms to denote quality and improve market differentiation, top officials said yesterday.

Science, Technology, Research, Skills Development and Vocational Training Minister Dr. Sarath Amunugama called on all agencies that were providing accreditation functions in a transparent, efficient and conscientious manner to ensure that Sri Lanka's seal would be treated with respect in the international market.

The Minister was addressing a national seminar organised in conjunction with World Accreditation Day 2018 under the theme 'Accreditation: Delivering a Safer World' in Colombo.

"I think accreditation is a very vital component. I am determined to see that this process is transparent and free of corruption, which is what the Sri Lankan public demands of these accreditation agencies. The general public needs to rest assured that the commodities they consume meet those global standards," he added.

The Minister asserted that Sri Lanka gives serious consideration to formulating regulations and implementing mechanisms for public safety, environmental protection and consumer protection.

"The country cannot afford to have a reputation in the world that these things can be easily fixed or negotiated. These things will never happen under my purview," he assured.

Dr. Amunugama said that he had allowed certain elements to be outsourced to universities in situations where accreditation agencies lack capacity and time.

He urged the accreditation agencies to issue the required certifications to businesses highlighting the fact that the delays would cost those firms a competitive edge in the international market.

The European Union Sri Lanka and the Maldives Ambassador and Head of Delegation Tung Lai Margue said that the country should reflect globally about the quality of its exports, insisting that accreditation helped market differentiation and offered objective proof that products were safe.

"It will help Sri Lanka act locally but think globally about the quality of its exports. This is the reason we want to invest in your country's systems to ensure food safety, health and a cleaner environment," he said.

He said the possibilities for Sri Lanka to develop better regulations and to have better monitoring and inspection schemes that protect citizens and the environment rely enormously on the technical capacity of laboratories, inspectors and certification entities.

"In essence, accreditation and certification will help businesses importing to the EU demonstrate compliance with best practices by implementing a health and safety management system," he pointed out.

As the country will rely on having more and better accredited conformity assessment bodies, the Ambassador said that within the framework of the EU-funded 'EU-Sri Lanka Trade-related Assistance' project, UNIDO's work with the Sri Lanka Accreditation Board (SLAB) addresses several aspects of ensuring a safer world., where the project will continue to support SLAB in training and capacity building with respect to accreditation to personnel certification, proficiency testing agencies and product certification, covering organic and geographical indication.

In addition, he said the EU, through another program, namely SWITCH Asia, was currently working with SLAB and the Sri Lanka Standards Institute (SLSI) to help design an eco-labelling platform, which will encourage demand and supply for products and services that are less harmful to the environment.

"In today's free-market societies, people have an expectation and a right to the availability of safe products and services. The EU attaches great importance to a safer world for its citizens and the world at large," he added.

Saying that World Accreditation Day was celebrated on 9 June, the Ambassador stated that now was the perfect time for organisations to consider the role ISO and related standards could play in their operation, not just for trade but for sustainable consumption and production, where everyone could depend on obtaining products that were safe and reliable.

With the world facing critical challenges to ensure food safety and nutrition in the decades to come, Margue questioned as to how nine billion people living on Earth would have access to a sufficient supply of safe and nutritious food by 2050.

"Well the answer to this question is not an easy one. We have to consider that the world's natural resources are being steadily depleted and the effects of climate change are yet to be fully felt. Already today 10% of the population faces chronic food insecurity, with one billion people suffering chronic hunger," he said.

He said the EU was committed to implementing policies and legislation that supported sustainable food systems, in close co-operation with its member states and agri-food chain stakeholders, discussing together with all countries on the best way forward as the EU believes it has a key role to play in achieving the ultimate goal of food sustainability.