Panel from left: Ambassador of Thailand to Sri Lanka Chulamanee Chartsuwan, Thai Chamber of Commerce and Board of Trade Chairman Kalin Sarasin, Moderator Daily FT Editor Nisthar Cassim, Sri Lanka-Thailand Business Council President Rizan Nazeer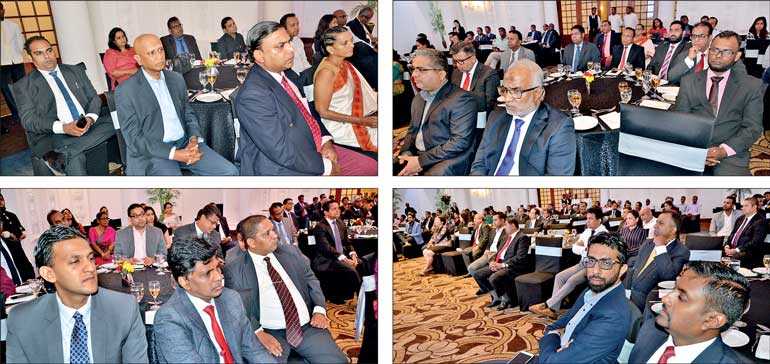 Advices Sri Lanka tourism to differentiate, not to market destination as cheap
"We asked the military to do something, because the country has to go forward not backward, and whatever you do to make the right decision"
Presents model of effective partnership with Government as enabler
On unity within Thai biz community: "We must learn to respect all, we are here to work together to gain benefit for the country"
By Darshana Abayasingha
Thai business leader, Thai Chamber of Commerce and Board of Trade Chairman and Tourism Authority of Thailand former Chairman Kalin Sarasin last week in Colombo shared valuable insights as to how his country succeeded in tourism, trade and investments despite facing multiple challenges emanating from local politics and global issues.

What stood out in Sarasin's presentation was the unity within Thailand's private sector, and the level of influence it wielded with Government on all aspects of economic strategy and development. Sarasin explained that the role of the private sector within the Thai economy was explicitly spelt out and complied with.

These were to provide advice via the Chamber and Board of Trade to Government committees on national strategy, provide constant feedback to the Prime Minister and relevant Ministers on programs and policy, work in tandem with state institutions to enhance the efficiency of the bureaucratic machinery. The Thai private sector has successfully engaged the Government to change its role from regulator instead into a facilitator, promoter and enabler of growth.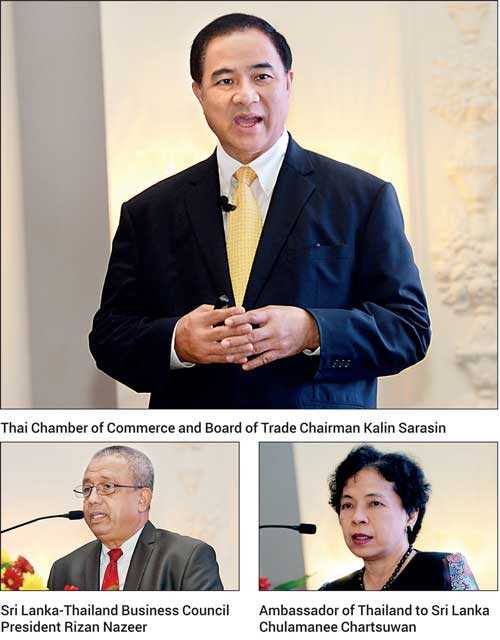 The key projects and the level of engagement and position of the private sector was spelt out clearly on a comprehensive dashboard split into two. Projects that Enhance Competitive Advantage and the other being Reducing Social Inequality.

These were then further divided into three segments, the first of which was Projects Encourage Government to Do – and the one program listed under this category was improve 'Ease of Doing Business, Revision of Laws and Regulations and Promote e-government', underscoring the State's primary role as an enabler for doing business.

Many other programs across multiple sectors including a Digital Tourism Platform, Enhancing SME Competitiveness, Promoting International Trade, Recycling, Agricultural Cooperatives and Improving Product and Service Standards were all spearheaded by the Thai Chamber of Commerce, whilst joint programs with the State focused on uplifting infrastructure.

With much of Sri Lanka's trade chambers and industry groups scattered all over, Daily FT Editor Nisthar Cassim, who later moderated a forum with Sarasin and Thailand's Ambassador to Sri Lanka, asked the Thai Chamber Head how they managed to unify his country's segments. Sarasin said: "You must always respect one another. We have longstanding permanent members on chamber bodies and institutions, and then there are others that are new. But we must learn to respect all of them and be open to everyone's view and ideas, and compromise where necessary. After all, we are here to work together to gain benefit for the country."

Through this effective public-private partnership between the Thai Chamber and the Government, Thailand has made marginal gains in its doing business index over the past two years, and anti-corruption initiatives are high on the agenda. These include programs to overhaul laws and regulations, wasteful projects and drive digitalisation.

Thailand in effect is currently under a military Government, following the coup d'état of 2014 with elections held earlier this year. The military Government, Sarasin said, admitted it doesn't know anything about business and asked the trade bodies to help manage the economy and its future.

Accordingly, under the leadership of the Chambers and relevant ministers, 12 committees have been formed to provide guidance and direction for key industries. The Government is very open-minded to business, he averred.

Since Thailand has also been a hotbed for political instability in the past akin to Sri Lanka, the forum posed the question as to how Thailand's private sector adjusted or managed transitions between civil and military states.

"Thailand has actually grown very strong economically, because our private sector is very strong. Five or six years ago this wasn't so, and we felt insecure. So, we grouped together and we asked the military to do something, because at the time we didn't know who was whom in Thailand. So, we asked the military to do something, because the country has to go forward not backward, and whatever you do to make the right decision and that we will help them after. That is why after the coup d'état they asked the private sector to help run the country. Right now, once again are adopting to a new system."

Over the past couple of years, Thailand's business community has been promoting e-governance to enhance civil services and tourism, overhaul outdated regulatory systems, plus, tremendous emphasis on recycling waste and sustainability.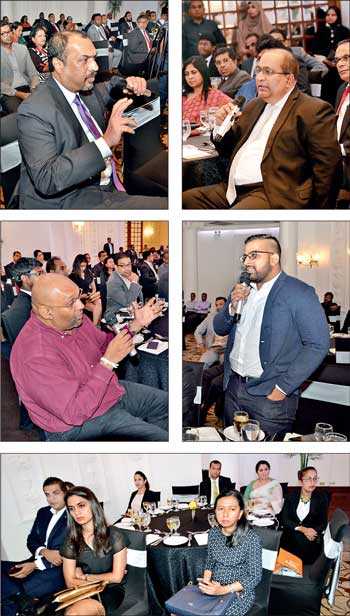 In Thailand, 55% of GDP comes from the services sector, whilst industry provides 31.7% and agriculture 8.2%. The services sector has grown by over 10% over the last two decades, with agriculture decreasing in number despite still employing over 31.7% of the workforce.

Sarasin said his chamber hopes to grow the Thai services sector to over 69% of GDP as seen in economies such as the US and Singapore. In Sri Lanka, services amount to 55% of GDP and industry averages 28%. However, there are huge disparities in the revenues earned by the two countries.

Thailand attracted over 38.27 million foreign visitors to the country last year with tourism revenues well over 2.02 trillion baht, which amounts to $ 65 billion. On average, international tourists spent five days in Thailand, spending over $ 1,700 per person.

10 million of international tourists into Thailand last year came from China. In comparison, Sri Lanka receives over 2.2 million foreign travellers annually, spending 11 nights in the country on average, but only spending $ 170 a day in contrast to Thailand's $ 340.

Sri Lanka Tourism Promotion Board Chairman Johanne Jayaratne, who attended the forum, posed the question to Sarasin, as to how Thailand enhanced its tourism product to earn over $ 300 a day per traveller, and its volume over value principles. Sarasin replied there are large segments of travellers willing to pay high value for quality facilities and services, and this cannot be achieved if a country was still marketing itself as cheap.

"You must market your country as a quality destination," he stated. Sarasin pointed out there are instances when Western travellers question how four and five-star hotels are full of Chinese and Asian travellers, and the simple answer is "they are willing to pay".

He conceded that there was a time Thailand focused on attracting large volumes of tourists, and this had exerted immense pressure on the country and its infrastructure, and it has now shifted its focus to primarily attract tourists who can spend more. "This even benefits the people, as high-spending tourists spend more at restaurants, shopping and other facilities – even the people are happier when you have quality tourists coming to visit."

Sarasin shared a very detailed picture of the tourism value chain in Thailand, which was worth over 3.1 trillion baht –$ 101 billion – with shopping and accommodation both making up 50% of the value, whilst 21% came from food.

"Safety, security and health are very important. Arrivals dropped immediately after the coup, but people still continued to come because they knew Thailand, and they knew Thailand is not just Bangkok. More than 50% of travellers to Thailand return more than twice. We are very keen on getting repeat clientele, and for that we must offer a quality product, which is why safety and hygiene are important. Hygiene is clean food and clean toilets; we are trying to do just as well as Japan. Then there must convenient connectivity be it trains or even a bike, your infrastructure must be synchronised," he advised.

Sarasin stressed that tourism must be inclusive, and that its benefits must reach every province in the country, and touch lives and livelihoods even outside the central eco-system. Over 65% of tourism revenue in Thailand has come from Bangkok, Phuket and Chonburi, and now a concerted policy program has been launched to promote other parts of the country and its elements of touristic value. Developing complimenting infrastructure and consideration of the value chain becomes very important for this step.

"Everyone is connected to tourism, even though they may not think so. If people come and visit new restaurants they will eat more, which means there must be more food. This is good for farmers and livestock producers. Similarly, if people rush into visit an area and there is a traffic jam that too then impacts people who are not directly involved in the sector.

"So, tourism concerns others too. You have to think of the local people who are not included in the sector who are affected – that's inclusiveness. We must pay attention to what's going on in the village and we have to help them enhance their revenues. That way, they don't have to come to the big city to get basic facilities and find work. This is our plan, and that way everyone becomes a good host."

Sarasin also advised his Sri Lankan counterparts to look at building stories and value around our culture and to differentiate products in the global marketplace. He stressed the need to create narratives around brands and locations in order to build emotional connections with visitors – explaining how he made it a point to return to popular retailer, Barefoot, despite this very short visit to the island.

These narratives and experiences are also born out of proper segmenting of target customers, and identifying what they want. This was a program carried out by Thai tourist authorities over a period of four-to-five years; segmenting and sorting its potential tourism products and target markets.

He also pointed to Japan and Korea who have effectively marketed their cultural economy, attaching an emotional connection. Japan and Korea have effectively marketed their cuisines, music and entertainment industry (K-pop), and Thailand too is now looking to adopt a similar strategy with its cultural products. He pointed to Sri Lanka's tea industry and historic locations and said they posed many opportunities to build and develop stories and experiences around these products, though highly underutilised.

"Differentiation is important, and we must add value to products and services. They must be innovative and creative, they must be sustainable and with excellent quality, targeted and customers must feel unique about the experience. These must be tied to digital platforms, and now we are helping the government to set these up as they directly benefit travellers. They enhance convenience and help connect Thai SMEs directly to tourists, which grows inclusiveness."

Sarasin also paid great emphasis to recycling adding that a concerted program was underway to build awareness amongst communities led by the private sector, as Thailand was recently ranked sixth in the world for dumping plastic waste in the ocean. In addition to the war on plastic, there is also significant attention being focused on reducing food waste to improve sustainability and as means to feed the poor.

Sarasin also invited Sri Lankan entrepreneurs and industrialists to take advantage of Thailand's growing economy, adding that the country is currently promoting its eastern economic corridor for investments. The Chamber and the Government are hosting the ASEAN Business Investment Summit on 2 and 3 November in Bangkok, and Sarasin feels investors from all across the region could take advantage of the friendly business climate, similar to how China has been doing with themselves and Vietnam.

– Pix by Shehan Gunasekara