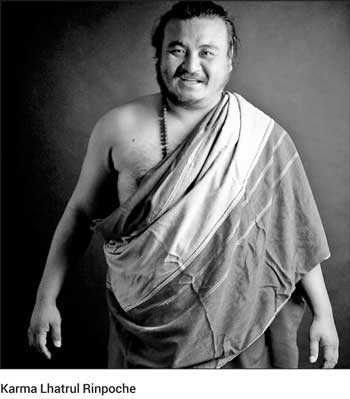 By Suryamithra Vishwa

The term Karma is often seen as a religious term connected with Hinduism and Buddhism. However over time attempts have been made to give practical explanations through the scientific lenses to look at Karma akin to how one looks at physics, a science based on proof and verifiability and which holds that every action has an equal and opposite reaction.

It could be said that each human's inner world is more complex than all the laboratories in the world. How that inner world, which ultimately generates actions that manifests in the outer world, and triggers off sometimes unfathomable reactions by the cosmic force could be one way of describing Karma. Whether one believes in this theory or not, it is certainly an intriguing one to view diverse phenomena that occurs as a parallel eco-system of justice to the human made legal system.

Often societies such as those in Bhutan attribute their general happiness and the lack of crime in the country, to their belief in the Karmic forces, based on the philosophy of Buddhism. To the rest of South Asia which is caught in a spiral of modernity and where people, from political leaders to others in powerful positions and the average citizen, have little time to study the inner workings of this human centred cosmic mystery.

Even if one listens to a Buddhistic sermon on Karma, the chances are that the listening ears are too blocked with daily worries and chores. Whatever the words heard would just be words. These would be forgotten the moment one is confronted with everyday lived life where our entire education, family and economic and governance system is based on ego, competition and greed which has woven for us an ugly second skin. But what if concepts such as Karma can motivate us towards better living ethics, whatever our religious background, and is distilled into works of aesthetic appreciation so that it could easily reach the masses? The cinematic mode is one among several that is a powerful form of mass communication that can have a significant impact on our minds.

Taking to the cinematic mode to speak a universal truth of our actions having equal reactions (whether in this life or next as Buddhism and Hinduism holds) is what Karma Lhatrul Rinpoche (36) has done, breaking down a complex premise into a simple fable of love. Rinpoche started treading his spiritual path at the age of three when he was entrusted to the great Terton Kunzang Dechen Lingpa Rinpoche (Lama Terton) after he started recalling his past life and still a toddler, left his home to find his past life family.

Lama Rinpoch adopted the child as his 'heart son' and after passing onto him the great teachings of the Mahayana Buddhist tradition sent him for further forest based training in Assam which included training with 8 Maha yogis. Three years later he was put onto training in the Vajrayana and tantric yoga meditation practice and after the death of his guru Kunzang Dechen Lingpa Rinpoche Karma left monastic life to return to Bhutan and decided to start travelling to 'learn' about this new world he had entered after 20 years in forest based monasteries.

He soon decided that he would teach himself film making to give to the world in the form of cinematic parables, some of the wisdom that he had contemplated upon in his training as a young monk.

His film 'The Wind of Karma', a Bhutanese version of a typical Romeo and Juliet tragic love story, but with a profound teaching of the concept of Karma, was screened at the SAARC film festival held last week in Colombo. The film has won several accolades from the Bhutan National Film Awards (BNFA) and was internationally screened for the first time at the 2019 SAARC film festival organised by the SAARC Cultural Centre and held at the National Film Corporation in Colombo.

The film reveals the impossibility for two young people to fulfil their wish of spending the rest of their life together because of material based differences. Spiritually they are equal and have a sense of oneness with each other, developed it seems over many lifetimes of companionship, but in this particular lifetime that the film plays out, their fate is to be separated. Starring prominent film stars of Bhutan; Karma Choe Chong, Tshering Zam, Mummy Zam and Kinzang Thinley, whose acting is better described as living their role on screen, the saga of Yethro, the beautiful and rich only child of a rural land lord, and that of Phuentsho, an orphan and peasant who takes on menial tasks in the countryside home of Yethro's parents.

Throughout the film the exhilarating beauty of Bhutan's mountains and forests fascinate a mind wedged in Sri Lanka's concrete abomination euphemistically called by Lankans as 'development'. Rincpoche's film gives anyone who has not travelled to Bhutan a glimpse into both the country's fairy tale landscape of its natural world and the simplicity of a lifestyle that contrasts with rest of South Asia's increasingly consumerist lifestyle. Above all it gives in the form of a heart wrenching love-tragedy, food for thought that every action in this life may be carried on to another to connect with the life energy of the past and be attached to a new birth.

The connections of their deeper consciousness first begins when Yethro is saved by Phuentsho when she slips on a dangerous mountain slope and is about to be caste below a yawning rocky expanse. That moment is recorded with acute cinematography when life and death hangs in balance and one human being strives towards the goal of saving another as if it was his own life itself. In contrast the film ends with Yethro, forced to marry a rich man's son by her parents, giving alcohol mixed with poison to Phuentsho who she loves, in order to save him from her new husband who hunts her lover and waits for him to return from a long errand he is sent on by Yethro's family.

Karma Rinpoche points out that there are two versions of the film; one that is meant for a Bhutanese audience and one for the Western world. What was screened in Sri Lanka was the Bhutanese version of the film which ends with Yethro who also shares the poisoned drink telling Phuentsho to be born in his next life as a rich man's son and come in search of her.

The last scene in the movie of this Bhutanese version is a shift of landscape and instead of a tree cover based enclave where the film was based on, it is the city and the camera falls on a high rise apartment. A man stands on a balcony and looks out into the city expanse to see opposite to his building an attractive woman. The camera focusing on one side of her face shows a beautiful face but the camera moves to focus on the other side of that face to show bruises and a black eye."This last scene of the film plays out as part of the full film in the version made for the western world, says Rincpoche, where the film focuses on the woman that was Yethro in her past life, married to a drunken man and struggling to bring up her young daughter and living in close proximity to a rich bachelor whose life revolves around women and drink. Although unfulfilled love of their past life catches up with them the film ends with the woman being killed by her husband. The Karmic impact of her past act of killing Phuentsho, (even if it was to save him from a more terrible fate) does not escape Karmic retribution.
(Note: Part two of this article will be carried next week focusing on the philosophy, aesthetic as well as community work of Karma Lhatrul Rinpoche, currently based in Assam, who leads a community self-help centre he had initiated to save the environment and engage in recycling based rural entrepreneurship on the premise that recycling is part of keeping one's karma in good shape.)
Suryamithra Vishwa is part of the Earth Life Water Knowledge Trails initiative that attempts to show that much of what we call 'education' in the modern context, is information gathering, that needs introspective meaning and love, for our country, ourselves and others; for humans, plants, animals and water resources. ELW Knowledge Trails attempts to contribute to make education a journey of joy, curiosity, understanding, compassion and empathy through a series of diverse initiatives.
---
Other stories in Today "HARMONY PAGE"