MR dismisses any possibility that an SLFP candidate could replace his brother
Insists talks not to form one party but to remain separate and work together to win upcoming elections
Says Govt. already worried about GR's strength as a candidate
Says UNP hiding behind its constitution to conceal party rift over presidential candidate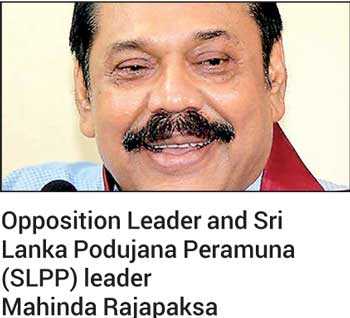 Opposition Leader and Sri Lanka Podujana Peramuna (SLPP) leader Mahinda Rajapaksa yesterday said the SLPP will not revise its decision to name former Defence Secretary Gotabaya Rajapaksa as its presidential candidate despite ongoing talks with the Sri Lanka Freedom Party (SLFP) to form a coalition to contest the upcoming Presidential Election together.

Speaking to media at the Bandaranaike Memorial International Conference Hall (BMICH), on the side-lines of attending the FACETS International Gem and Jewellery Exhibition 2019, Rajapaksa said ongoing talks between the SLPP and SLFP will not change their stance on their Presidential candidate. He also said talks between the two parties were aimed at them maintaining separate identities.

"When we take a decision we have to stick to that decision. The decision to name Gotabaya Rajapaksa as the SLPP Presidential candidate will not be changed because that was a well-thought out decision," Rajapaksa said.
He pointed out that discussions between the SLFP and SLPP is not focused on creating one party but working together to win the Presidential Election. Rajapaksa noted talks between the SLFP and SLPP were successful and talks between the SLFP and Gotabaya Rajapaksa was also progressing well.

"The Government is afraid of Gotabaya Rajapaksa. That is why they spread false information about Gotabaya. I think we named our presidential candidate at the right time. That is why the Janatha Vimukthi Peramuna (JVP) also announced their presidential candidate a week after us."

According to Rajapaksa, the United National Party (UNP) was unable to name its presidential candidate due to its internal tussles. "The UNP is trying to use the party's constitution to cover up its internal problems. If constitutions are followed consistently to the letter by parties then that is a good thing."

The SLFP and the SLPP held talks on Tuesday at the Opposition Leader's office on the proposed coalition. During the discussion, both parties had agreed on the policy framework of the proposed coalition. That same night, President Maithripala Sirisena and Opposition Leader Mahinda Rajapaksa met for the first time after the presidential candidate was announced by the SLPP discuss the formalisation of the coalition.

However, on Wednesday, SLFP General Secretary Dayasiri Jayasekara told reporters that the SLFP had not deviated from the stance that its leader, President Sirisena, should contest for a second term.