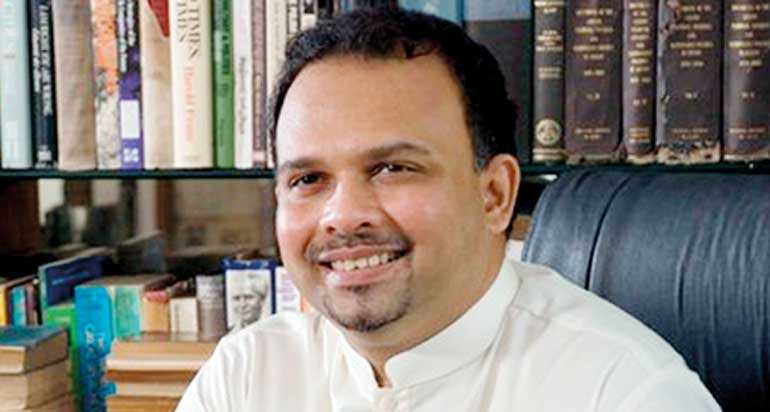 Plantation Industries Minister Navin Dissanayake
---
Possibility of barter system to be explored, says Navin
Plans underway to get ceylontea.com for Sri Lanka
Says issue with sugar content in tea now under control


A Government delegation is set to hold talks with Iranian officials this week to develop a payment mechanism for Sri Lankan tea exports to Iran, Plantation Industries Minister Navin Dissanayake said.

The Government is yet to find an effective mechanism to bypass US sanctions imposed on Iran, one of Sri Lanka's largest tea markets. The sanctions have impacted tea industry payments where direct remittances through banks were not possible.

"We will see if we can set up a barter system for payments, we can export tea and we can get one of their products such as oil in exchange instead of payments," the Minister told Daily FT.

Tea exports to Iran have suffered since economic sanctions were imposed by the US Government, with the country dropping to the fifth place from being the second largest importer of Ceylon Tea in 2016.

According to the Tea Board Annual Report of 2016, the Middle Eastern country imported 33.9 million kilograms during the year, making it the prime destination for Ceylon Tea after Russia.

However, according to the Tea Exporters Association, the quantity of exports dropped to 27, 418 million kilograms in 2017 and to 23,914 kilograms in 2018. This year's first quarter has recorded a slight increase, with 7,077 million kilograms being exported to the destination, compared to 7,014 million kilograms last year in the same period.

The Sri Lankan delegation will also include Central Bank officials and Foreign Ministry officials along with Tea Board Chairman Lucille Wijewardena and Minister Dissanayake.

Minister Dissanayake is also expected to fly to Korea to take over possession of the domain name 'Ceylon Tea' which is currently controlled by a Korean company. The company has agreed to give the domain name to Sri Lanka for free, he said.

"I will go to Korea next month to sign the agreement handing over the domain name to Sri Lanka. The company has agreed to give it free of charge," he said. Currently Sri Lanka only has domain name 'pureceylontea.com' as the domain name 'ceylontea.com' has been registered by a different entity for over 20 years.

The Tea Board has also strictly imposed standards introduced on sugar content in teas from 1 June to ensure tea exports conform to international standards. The standards which were developed by the Tea Research Institute have been in place for three months, with about 90% compliance, Wijewardena told Daily FT.

Those who are caught with physical possession of sugar or syrup during inspection of factories will be imposed with a 1.5 month long suspension, he said.

Last week three factories were slapped with such suspensions, he said.

"There were some big names who were also doing this, but they have promised that they will not do so from this month," he said. "We have managed to bring it down, with 90% of the samples testing negative."

Random checks will be done on the baseline triggers sucrose, fructose and glucose content; if any sample out of 30 taken is tested positive, action will be taken against the producers.