Urges Govt. to maintain same tax system for five years uninterrupted
The Hotels Association of Sri Lanka (THASL) yesterday welcomed the Government's decision to grant export status to the tourism industry and its latest decision to reduce and simplify taxation.

"We commend the Government for the speedy implementation of its election pledges and believe that tourism's new status together with the proposed tax cuts are the right measures to boost the economy and increase investment," THASL President Sanath Ukwatte said.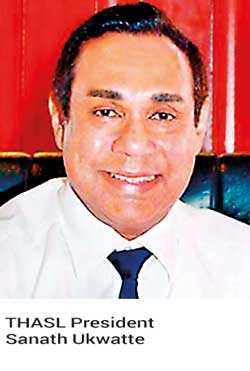 He said tourism's recognition as an export industry is a long overdue and hugely positive measure for which THASL has been lobbying actively for the last few years. Eliminating NBT and the reductions to VAT in line with other export industries will help Sri Lanka's tourism compete with regional countries and create a highly favourable environment for business to grow. He also thanked the Government for its efforts.

"The proposed tax measures, when they come into force, will not only simplify the tax structure but will promote investment and help create more jobs, not only in tourism but for the wider economy. We urge the Government to maintain this tax structure uninterrupted for a minimum period of five years. This will allow businesses to plan in advance, bringing stability to the economy and boosting growth. Policy inconsistency and overnight fluctuations in taxation has been detrimental to planning and the business environment. Unexpected variations in taxes is costly for business. Many businesses keep large provisions for such fluctuations, taking money away from much needed investment and keeping prices high for consumers," the THASL chief said.

"We are confident that if the Government maintains their new lower and simplified tax structure for the duration of its term, that this will boost economic growth and increase prosperity for all Sri Lankans.

We applaud the courage which the President, Prime Minister and the Government has shown in taking decisive action to stimulate investment and growth. We assure the Government of our fullest support and look forward to working together to achieve our collective objectives," Ukwatte added.