Urges politicians not to use critical tourism industry as platform for petty posturing
---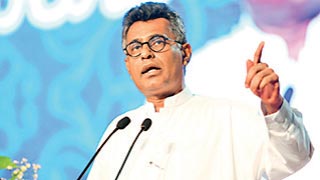 MP Patali Champika Ranawaka
---
The Hotels Association of Sri Lanka (THASL) in a statement yesterday rejected the allegation by MP Patali Champika Ranawaka that tourism had aggravated the COVID pandemic in Sri Lanka, especially the third wave.

The MP made this charge recently at a media briefing and blamed Sri Lanka Tourism Chairperson Kimarli Fernando and former Lankan Envoy to Russia Udayanga Weeratunga who promoted tourists from Ukraine as a pilot project during the second wave.

"The industry is shocked to hear a scathing attack naming two persons, one a high official in tourism and the other who was instrumental in bringing tourists into the country, as being responsible for COVID-19 variants being introduced into this country," THASL said in a statement, adding: "This is a totally unfounded and a false claim."

THASL said the tourist industry had evolved, especially over the last six decades or so, with the unstinted support of every regime that was in power.

"The people too have helped shape this industry which has paid respect to the traditions, customs and sensitivities of all our ethnic, religious and other groups. Our nation prides itself for its hospitality going beyond our written history of 2,500 years to the ancient Hela civilisation depicted in the Ramayana 6,000 years ago," it said.

THASL said to help not only the millions whose livelihoods had been affected directly but also all citizens who were touched by tourism, Sri Lanka needed all to work very hard to find a path to recovery through tourism bubbles to survive in the new normal.

"Our plea, hope and prayer is that politicians of any hue do not make this industry, which is in the very fabric of our society, a platform for petty political posturing in the future," THASL said in its statement.