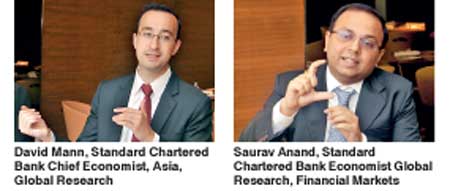 By Charumini de Silva

Standard Chartered Bank's Global Research economists said Sri Lanka is "quite hot" to attract foreign investors due to its extremely high yields followed by the Government's recent policy reforms where it expressed confidence that 2017 would see the economy doing well.

Standard Charted Bank Chief Economist Asia Global Research David Mann said foreign investor confidence in Sri Lanka has seen a notable increase, especially in investing in fixed income channels including sovereign bonds and local currencies as the yields were quite attractive compared to other countries.

"There are extremely high yields compared to other economies, which had a lot more foreign participation. More gains are in store for Sri Lanka bonds due to their performance. You can say it is partly because of the IMF program and the path of travel," he told journalists in Colombo yesterday.

Despite the speculation of a gradual depreciation, he said it was impossible to ignore the attractiveness of Sri Lanka's yields.

In terms of the global perspective, Mann said the big focus for the next few months was to see if US President Donald Trump would deliver actions rather than words, which is threatening a Government shutdown and the start of a war where markets will be put on shakier ground.

"What we have seen so far is that, I would argue, disappointment over delivery on fiscal policy, which was meant to be a big stimulator and why many of the emerging markets took a huge hit at the end of last year. So far the actions of President Trump have not been matching his words. I think the global economy is quite aware of this by now. The pressure will be more on creating jobs over inflations risks at present. As infrastructure, healthcare and tax policy proposals were mere words, the only area he could work on now is trade."

He said that no drastic fiscal action will be taken by the Federal Reserve for 2017 as there is no time. "The Federal Reserve does not want to disrupt the market. At this stage they are absolutely adamant that they are not going to trigger some sort of market volatility."

It was pointed that there is a lot of money on the sidelines still waiting to enter emerging markets for either better value or for some major event driven sell-off which will then trigger the offering of the opportunities they are looking for.

"They are still spending the whole time waiting, meanwhile everything keeps climbing stronger and you actually see a lot of foreign investors starting to be obliged to get more adventurous. That is exactly somewhere behind why we have seen a surge of interest for markets like Sri Lanka, amongst all our foreign investor clients. They are willing to get a lot more adventurous because they are running out of the usual suspects that are not offering the same value anymore," he explained.

Standard Chartered Bank Economist Global Research Financial Markets Saurav Anand said the fundamental changes in the Government, especially with regards to reforms, have worked in favour of the economy, while adding that another 25 basis point rate hike is expected during the course of the year.

Commending the fiscal performance, he asserted that the Government has exceeded everyone's expectations by increasing its revenue collection last year with the implementation of VAT and said the trend would likely continue this year as well.

Further, it was highlighted that policy consistency, ease of doing business and the expansion of trade agreements were key factors to attract much-needed foreign direct investment (FDIs) to Sri Lanka, while admitting FDI per capita was low compared to other countries from the region.

"Tax changes have been ad hoc in the past. The investor needs to be assured that the tax policies will not be changed and getting the whole Inland Revenue Bill is critical at this point. Sri Lanka needs to attract FDIs that can bolster exports as most of the FDIs that have come to the country are in non-tradable sectors like construction."

While acknowledging that the Government was working on these issues to smoothen the inflow of FDIs, he noted that the revamping of the Board of Investment (BOI) and Customs Department were time consuming. However, he expressed optimism over non-tradable FDIs once the Colombo Port City Project commences towards the second half of next year.

Though the country might see some pressure in growth in Q2 and Q3 because of the floods, he stated that things would pick up from the last quarter of the year. Noting that the new Central Bank Governor Dr. Indrajit Coomaraswamy was of the view that currency depreciation could be limited to 3%-4%, he said they held the same perception.

It was pointed out that inflation is likely to average around 5% compared to 6.4% in the first half of the year as food prices soften, while core inflation is to be around 4%-5%.

However, Anand claimed the recent move to increase credit card interest rates from 24% to 28% would deter the consumption.

Asserting that foreign exchange risks look manageable, he said: "We maintain our forecast to be $ 155 as capital account dynamics are likely to remain favourable. The signing Hambantota Port deal in July 2017 is likely to alleviate further near-term BoP concerns and as a part of the deal, the Sri Lanka Treasury will receive around $ 900 million by January 2018. In addition, the Government is trying to amend the law which will help it to borrow for future events. I think 2020/21 debt repayment can be taken care of."

He said the Central Bank has purchased $ 722 million since March 2017, consistent with their view that it is now trying to build foreign reserves.

In terms of global oil prices, Mann said they would remain in the range of the mid $ 50 towards the end of this year, insisting that growth demand had surpassed everyone's expectations.

He believes that the era of extreme volatility in oil prices has finally come to an end with many countries moving towards alternative energy sources while gulf countries are also trying to diversify their income generation avenues.
Pix by Ruwan Walpola