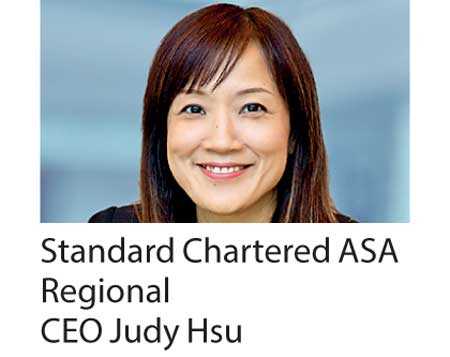 Standard Chartered's ASEAN and South Asia (ASA) Regional Chief Executive Officer (CEO) Judy Hsu is on an official visit to Sri Lanka. During her visit, she will meet with key industry leaders, Government officials, clients, employees and the management team of Sri Lanka. Hsu, a member of the Group Management Team, assumed the role of ASA Regional CEO on 1 June and is responsible for strengthening key client and government relationships across ASA markets.

Prior to this, she was appointed Singapore CEO in October 2015, and led the business development and execution of strategy for the Bank in Singapore, the second highest contributor to the Group and major driver of the performance in ASA region.

Singapore is a global business hub for the Group, and Hsu has been playing an active role in shaping and contributing to Singapore's growth as a financial centre. Hsu is the Vice Chairperson of the Association of Banks in Singapore and serves on several industry and statutory bodies, including The Institute of Banking and Finance, the Financial Sector Tripartite Committee and Workforce Singapore.

In addition, she was appointed to the Urban and Redevelopment Authority Board with effect from 1 April. Hsu joined the Bank in 2009 as Global Head of Wealth Management. She led the strategic development and management of wealth management products and investment strategy and advisory for the Bank.

Prior to joining Standard Chartered, she spent 18 years in Citibank in various leadership positions in retail banking, wealth management and segment strategy. Hsu holds a Bachelor degree in Microbiology and a MBA in Finance from the University of British Columbia, Canada.