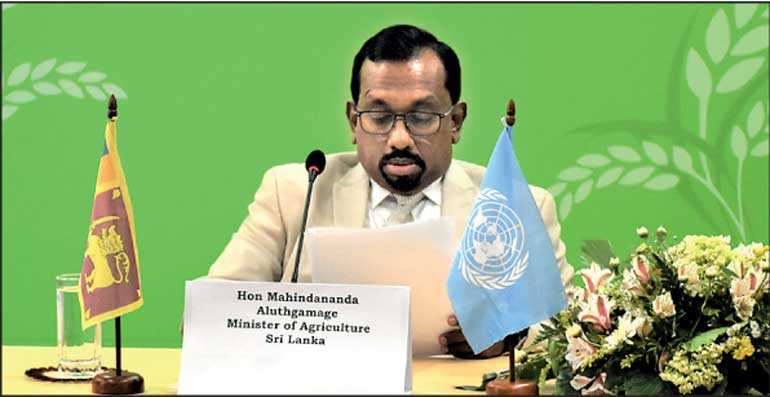 Minister of Agriculture Mahindananda Aluthgamage addresses the 35th Session of the FAO Asia-Pacific Regional Conference
Minister Aluthgamage makes strong case at virtual FAO Asia-Pacific Regional Conference
Addressing the 35th Session of the FAO Regional Conference for Asia and the Pacific (APRC), Minister of Agriculture Mahi-ndananda Aluthgamage underscored the importance of promoting sustainable agriculture through innovation including digital agriculture solutions. He reiterated that the access to and dissemination of latest technologies and innovations was imperative to improve the productivity of the agriculture sector.

Building resilient food systems, and increasing the adaptation capacity in the agriculture sector towards climate change while promoting the wise use of natural resources are also essential, the Minister stated.

Minister Aluthgamage who is heading the Sri Lankan delegation participating in the APRC welcomed the strong partnership between Sri Lanka and the Food and Agriculture Organization of the United Nations (FAO), ever since the country became a FAO member nation in 1948. He stated that FAO's technical and advisory support has helped the country immensely, to transform the agriculture sector from a livelihood subsector to a dynamic income earning production sector, a vital pillar of the national economy.

The Sri Lankan delegation drew attention to the present concerns in the agriculture sector such as poor profit margin for smallholder farmers, non-availability of a proper insurance scheme for growers, the lack of improved agrochemical management and the inability to predict seasonal forecasts. FAO's continuous technical, policy and programmatic assistance in these areas were anticipated.

Addressing the APRC, FAO Director General Qu Dongyu stated that it is time to take full advantage of the digital age through innovative partnerships with national governments, farmers, the private sector, academia, NGOs and many others. Enabling these partnerships is the Hand-in-Hand Initiative implemented by FAO. This evidence-based, country-led and country-owned initiative aims to accelerate agricultural transformation and sustainable rural development to eradicate poverty and end hunger and all forms of malnutrition.

"The initiative prioritises countries where national capacities and international support are the most limited or where operational challenges, including natural or man-made crises are the greatest," stated the FAO Director General.

The FAO Regional Conference for Asia and the Pacific (APRC) is a forum to discuss current country and regional priorities and pressing issues in the region such as the impact of COVID-19, the state of agriculture, natural resources management, food security and nutrition. It also provides an opportunity to highlight examples of partnerships, innovation and digital technologies that are helping to improve food security and nutrition across the region as well as regional and global policy and regulatory matters.

This year Government representatives from 46 Member Nations joined the four-day conference which commenced on 1 September through videoconferencing in light of the COVID-19 pandemic and associated public health concerns. More than 400 delegates participated in the virtual APRC meeting hosted by the Royal Government of Bhutan.