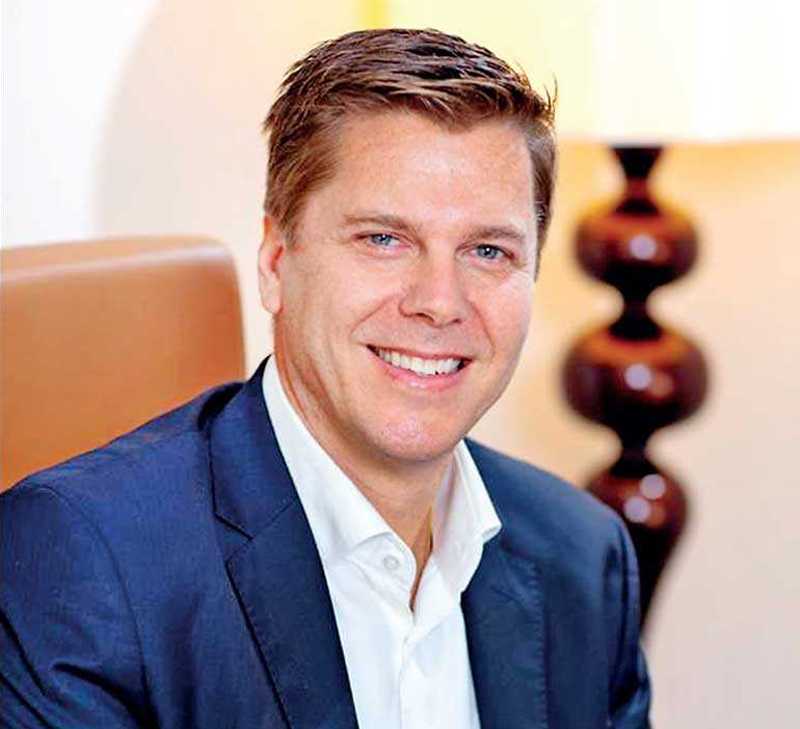 Cinnamon Hotels & Resorts CEO Mikael Svensson
---
The career of 50-year-old Mikael Svensson in the hospitality business can be described as a perfect case study for any aspirational intern in the industry. At the age of 18, he started as a restaurant and room service waiter at Strand Hotel, in his hometown, Stockholm, Sweden. In his 32-year career since, he has worked in almost every position within the industry, before excelling as a General Manager at several renowned hotels around the world.

Mikael recalls, "When I worked as a waiter, I would learn about the recipes and everything on the menu. I would go home and study the recipe that the Chef had given me. I felt that should a guest inquire about the menu, I should be in a position to confidently respond, whilst ensuring a better service experience. That was my attitude from the beginning, as I believed that knowledge makes you more confident, and gives you the ability to stand out from the rest."

This attention to detail and attitude for meticulous planning and preparation, as well as the passion and personality to serve guests better, helped Mikael progress throughout his career, whilst becoming a role model to others. This, in turn, rejuvenated his own sense of motivation to pursue continuous improvement and excellence on a daily basis.

In his first interview since assuming duties as the CEO of Cinnamon Hotels & Resorts, Mikael epitomises this passion, knowledge and exuberance, and shares his candid views on Sri Lanka having what it takes to become a truly vibrant tourist and hospitality destination.

He strongly feels that as the country prepares itself to attract increasing numbers of tourists and travellers, Sri Lanka should stay true to its core values, such as the warmth of its people, its unique cuisine, its preservation of nature, wildlife and beaches, its culture, and all other aspects that are unique to its DNA which other competing destinations don't have.

Mikael first joined Cinnamon Hotels & Resorts and John Keels Holdings (JKH) as Sector Head, Cinnamon City Hotels and Executive Vice President – JKH.

Prior to this appointment, Mikael was Senior Vice President of Singapore-based Louis T Collection, an innovative force in hospitality management and building solutions. The company manages, provides services to, and owns a portfolio of hotels.

His extensive international experience includes senior leadership roles in managing and operating large-scale luxury hotels across Asia, the Middle East and Australia, of which over 20 years were with the Hyatt Group.

Mikael shares key insights into his roles, and the opportunities and challenges that lie ahead for the tourism and hospitality industry of Sri Lanka in becoming increasingly dynamic, and in turn adding value to the country's socio-economic growth.

Here are excerpts:
---
By Nisthar Cassim
---
Q: How have you settled down in Sri Lanka and in your latest career opportunity?
I have now lived in Sri Lanka for over a year. I arrived here shortly after the very sad events of the 2019 Easter Sunday attacks, followed all too swiftly by the challenges of the COVID-19 pandemic. Prior to moving here, I was in Colombo for work with my former firm and was introduced to the Cinnamon Life project. I met with the senior management of JKH and the rest is history.

By nature, I am a creative person, which is what drew me to the Hyatt Group where I spent the majority of my career, and subsequently to JKH and Cinnamon Hotels & Resorts. When you have a reputed and solid conglomerate such as John Keells offering you an opportunity to be part of a team that has a strong blend of creative and corporate strengths, and to work in transforming what is already a strong brand like Cinnamon into something bigger with Cinnamon Life, it isn't a difficult decision to make. I also met my wife, who is an interior designer, and part Sri Lankan, part Swedish; so, in Sri Lanka I found both my ideal job and my love.
Q: Did you get to know Sri Lanka much earlier?
I got to know Sri Lanka as a youngster. My father headed Scandinavian Airlines (SAS) and was in charge of Asia, so we moved from Sweden to Thailand, and we used to come to Sri Lanka as a family from the 1980s onwards. Sri Lanka is the 12th country I am living in. Many of the other destinations that I worked and lived in were also in Asia, so I am well versed with the cultures of the Asia Pacific region.

Looking back, it amazes me that, prior to moving here, I wasn't more aware of all that Sri Lanka has to offer. It is an absolute jewel. However, it is not yet top-of-mind recall for global audiences, reiterating the potential the country has to promote and attract tourism business.
Q: In your early visits what did you take back from Sri Lanka as a youngster?
The natural beauty, differences in landscapes across the country, and the warmth of the people are what really resonated with me during those early visits. Now coming back to live and work here, it clearly solidifies my first impressions of Sri Lanka and its people.
Q: What do JKH and the Cinnamon brand mean to you?
When I looked at JKH and Cinnamon before joining, I didn't fully realise the strength the conglomerate had, from infrastructure to strategic business acumen, and the overall organisational structure, in supporting the Cinnamon brand. My pre-assessment was that there must be something unique with JKH to be investing $ 900 million on a project such as Cinnamon Life. This certainly was a view from the outside. But as I joined, I fully appreciated its inherent character and strength. I feel Cinnamon Life is an excellent opportunity to showcase Sri Lanka to the rest of the world, and I saw in it a great opportunity to develop the brand and realise its vision.
Q: What are the challenges a project like Cinnamon Life has in realising this vision?
Sri Lanka already has a developed tourism sector, a reasonable number of hotels, and international brands with clear corporate, leisure and resorts sectors. What it doesn't have is an integrated mega resort. In that context, JKH's move is bold and will be hugely successful with the support and ability to increase tourism, MICE (Meeting, Incentives, Conferences and Exhibitions) tourism, and attractions in the city, as well as externally. JKH and Cinnamon Life have reinforced the need for this area of tourism and pioneered a key concept.
Q: How confident are you?
The tourism industry is solid in Sri Lanka and the country is a natural destination. While we are building something new, the challenge for Sri Lanka is to stand out as a destination and attract more global tourists. We are in a transitional period, as more integrated resorts are being built. Sri Lanka and the industry must stand up and fully harness its potential. My confidence is that the tourism sector and the city will further develop to support and sustain integrated resorts. I believe the tourism sector and the country will seize the opportunity and align accordingly, such as better air connectivity and related infrastructure, to make the city and the country more attractive.
Q: Sri Lanka is an emerging market with regard to integrated tourism projects. How can Sri Lanka learn from mature markets or from those who have succeeded?
In my first year in Sri Lanka, I have seen people, especially industry leaders, remain positive despite the twin setbacks of the Easter Sunday attacks and the COVID-19 pandemic. The industry is eager to progress and everyone has the right attitude of wanting to do things. Despite many challenges, we can take strength from this positivity. The positive nature of the people and the industry are commendable. The challenge lies in determining how to do what you want.

Sri Lanka certainly has the resources when it comes to tourist attractions, which makes it easier to expedite what is required to develop tourism. Given Sri Lanka's timely response to the COVID-19 pandemic, the country has an additional opportunity to position itself as a safe and secure destination. Sri Lankans often don't give themselves enough credit for the knowledge and abilities they have. The country mitigated the crisis to some extent, bringing together its base of knowledge and expertise to handle the situation. Yet, there were others who still continued to look overseas, seeking examples on how to better manoeuvre the crisis.

So when the world reopens, the best opportunities to thrive in tourism will be from those countries that have gained the most and used the 'off-time' to its best advantage; quite like when a safety car comes out in a Grand Prix race, and everyone has to line up again. Then when the race is back on, it's about who takes the best opportunity to gain advantage. Right now, the entire world is impacted by COVID-19, but we must truly showcase all that Sri Lanka has to offer when we reopen the country. We certainly have an advantage, with an abundance of opportunities to attract more tourists to the country.
Q: Do you think Sri Lanka has what it takes to do it?
Absolutely, we do! That said, while we attempt to increase tourism, we need to do so, whilst staying true to the core of Sri Lankan values. In my view, these values are epitomised in the incredible combination of warmth of the people, the unique cuisine, nature, beaches, culture, wildlife and so many other things, which many of our competitor destinations don't have. The question is, however, are we forceful enough in delivering this message of Sri Lanka's beauty to the world? Do we have the stamina to continuously maintain this message for it to take root? It's not a sprint, but a marathon, and as such, we need to sustain our tourism efforts for the long haul. If all our local stakeholders can align themselves better to this message, we can be very effective.

There are many ways to realise these tourism goals including campaigns, positive press via visits by international journalists and publications, industry leaders or travel/tour agents visiting source markets, etc. Whichever way, greater cohesion amongst the local industry to promote the unique core of Sri Lanka is critical to its long-term success.

JKH, for instance, would have had many international brands and chains interested in positioning themselves in Sri Lanka via Cinnamon Life, but our Chairman and the Board felt this project to be a representation of Sri Lanka and its people. To give away the blood and sweat spent on building the Cinnamon Life brand doesn't make sense to me. Instead, I hope to be part of this journey, contributing to building our local industry and cementing our core values. This will create an impetus, allowing the likes of Cinnamon Life to stand out as an iconic property for Colombo and Sri Lanka, and proudly showcase what is distinctly Sri Lankan.
Q: What have been your early learnings of JKH and Cinnamon as an institution and a brand?
This is my first time working for a conglomerate; and as an institution, it is inspiring how well JKH is structured and organised, representing and mirroring the economy and its future via key sectors. Its people-centric values across the board are outstanding, and something I feel proud to be a part of.

With regard to Cinnamon as a brand, I was able to gain valuable insight during my time overseeing the city hotels, the planning and operational structure of Cinnamon Life, as well as the brand development overall. One of my first impressions was the opportunity and synergies that existed by bringing the operational silos of city hotels and resorts (in Sri Lanka) and the Maldives under a unified organisational structure, ensuring an even more focused leadership and synergised approach, strengthening the brand and enhancing our competitive abilities.

As such, JKH recently introduced a new way forward for Cinnamon, and in turn we are better equipped to cater to our guests' needs, providing compelling experiences across the brand. With this new structure, we continue to strengthen Cinnamon Hotels & Resorts as one of the foremost hospitality providers in the region.
Q: What is the DNA of the Cinnamon brand?
One of my first tasks when I joined the brand was to analyse how guests view the brand. Do they view the property, the value, or the service element?

In all our hotels, whether in Colombo, resorts or the Maldives, I feel there is room for improved differentiation that allows for easy classification of the type of hotel. For instance, if a guest were to visit Cinnamon Red, which is an efficient lean luxury property, what will they feel differentiates apart from pricing? It is imperative that, as a hotel brand, we are disciplined in setting clear boundaries of the brand. It is this clarity that we must offer our guests. This discipline enables the brand to stand apart.

We face a challenge as we classify all our properties under Cinnamon Hotels & Resorts, be it Cinnamon Grand, Lakeside or Red, and the many resorts. Once Cinnamon Life opens, it will be even more imperative that we make it clear to the world and to our guests any differentiation of experience that exists between any of these properties and how we classify them.

As an example, we can look to Hyatt, which has Hyatt Regency, Grand Hyatt and Park Hyatt. In the early days, it was difficult to establish these distinct brands. However, over time and with sufficient brand discipline they perfected it to such an extent that a Hyatt Regency can be in the city or in a resort, but delivers what the brand promises. This would be applicable to amenities, types of restaurants, size of hotel, interiors and rooms, versus a Grand Hyatt or the boutique Park Hyatt.

We at Cinnamon are in the process of developing that clarity. This is an exciting part of brand development, the part that aims to enhance the customer journey whilst retaining the silver thread of what is distinctively Cinnamon.

For instance, we may say our purpose is 'creating inspired moments,' but to further enhance these inspired moments we need to define these more precisely. As a strong Sri Lankan brand, these inspired moments must have a distinctively Sri Lankan flavour and come with all the qualities that are experienced as distinctively Sri Lankan by our guests. We know what we have to do, be it in Sri Lanka or in the Maldives, or elsewhere and as we further define our brand, we are able to transform Cinnamon into a globally distinct brand.

This transformation and enhancing of the brand are particularly important to have in place by the time we open Cinnamon Life. An integrated resort of this scale brings its own attention and focus, and it will be important for guests, partners and our stakeholders to understand how we define our various types of Cinnamon Hotels & Resorts. Cinnamon today is a trusted brand and it is imperative that we expand on that, as we create inspired moments and experiences to an increasingly global clientele.
Q: What are your other areas of key focus?
Brand is one, talent is the other.

I am at times asked about how I view our talent and how we go about identifying and finding talent. In my view, half the battle is won with the right attitude. We need to ensure that talent that possesses the right attitude is sharpened further with the right training, learning and development at a very high level. We are working both internally and externally with several international and local third-party specialist institutions, in establishing strong training platforms. The best part is that we don't need to wait for the wider industry to up its game; we already have thousands of people within Cinnamon who are able to take it forward and lead by example.

During my time working in the UAE, some of my best talent originated from Sri Lanka.

They had the right attitude, the right understanding, service touch and ethics of hard work. One of the challenges we face in Sri Lanka, however, is the same as in many parts of the world: we export our best. Understandably higher pay is attractive, so it is a challenge in how we attract them back. I hope over time we can see the industry remuneration gap reduced, to be on par with some of the countries to which we lose most of our talent.

I feel confident, however, that most of the best Sri Lankan talent, currently serving the hospitality industry overseas, would prefer to return home if we were to see a reduction in this pay gap. As our industry expands, this will be critically important, and we've seen it happen in tourist countries such as Thailand. You no longer see a large amount of the best Thai talent outside their country, but the best service of the Thai hospitality industry is in Thailand. I am confident that as our local industry expands, we will see this as a reality for Sri Lanka too.
Q: Sri Lanka has talent, but there are issues in terms of finesse. Yet being efficient, having ethics, energy and passion is beyond comparison to popular tourist destinations elsewhere with which Sri Lanka competes. Can you comment?
Partly, I believe this perception comes from the expectations that are set by industry leaders. For instance, in some other leading tourism destinations, you may see less numbers of staff in a restaurant, but their efficiency is higher. Establishing parameters of expectations of every employee and how we engage is important. Partly, I also believe as the industry expands and guest demands naturally increase, we will see a natural elevation in service expectation and efficiency. That said, in certain destinations we may find service more efficient, but the attitude towards service lagging, so it is important we find the right balance to compete effectively with mature tourist markets.

At Cinnamon Life, our General Manager is Alessandro Cabela, who was the opening General Manager for Marina Bay Sands, Singapore. One of our key considerations was to have a General Manager with high-level international experience, as well as knowledge of managing larger properties with large staff cadres, whilst being a great motivator to energise the efforts.
Q: What are the macro challenges for Sri Lanka as a tourist destination?
Despite a difficult history and significant setbacks, the Sri Lankan tourism industry has been resilient. The industry should feel confident about what Sri Lanka has to offer the world, not only as a tourist destination, but as an industry with confidence in its leaders.

Given the way in which the COVID-19 pandemic was managed initially, there is greater onus for the industry to be more confident. We are best in class in many areas, or progressive in comparison to other destinations. We need to fully exude what we are and what we have as a destination, as well as an industry, in the most effective and consistent way for the rest of the world to take notice.

It is not about the size of Sri Lanka as a destination, as there are other small countries; nor is it about the people or security or safety. Sri Lanka has what it takes, including a diverse group of talent, experience and resources, to be a vibrant tourist destination. This can be done, provided we enhance the messaging globally.
Q: Post the Easter Sunday setback, what key initiatives have you embarked on?
Outside the obvious security aspects, we redeveloped and improved our digital presence and online platforms, which saw our online bookings increase soon after. We have also made improvements to our customer analysis, which better helps target both local and global campaigns.

Another area that is of importance to us is sustainability. Cinnamon has had a good track record with several pioneering initiatives that reiterate our sustainable corporate ethos. More recently, a wider sustainability initiative was introduced with the implementation of biodegradable delivery packaging. We continue to identify areas in which we can, as a group, improve our sustainability stance.

In terms of stakeholders and talent management, a key focus is our drive to improve diversity, particularly enhancing the participation of women in the workforce via measures of empowerment, as well as working on identifying and educating on unconscious gender bias.
Q: What is the biggest challenge when it comes to talent?
Currently, one of our largest challenges is finding ways in which we can attract talented Sri Lankans to come back home and employ their skillsets gained in more developed tourist markets into our own industry.

Another challenge is training and how we can enhance service to deliver a superior experience to our guests. It is about recognising the personality traits and the attitude which allows for success and implementing these across the industry. One of the issues we are often faced with is the limitations on how we deliver service and the mindset in which we do so. For example, you may observe whilst dining in a restaurant that the person who serves the water can't take the cheque, or that the person who presents the cheque can't clean the table. These limitations aren't as prevalent in the more successful tourism markets, and it is a hindrance to the guest experience, and in turn the greater good of our industry. However, by tackling these issues and increasingly offering cohesive and collective training to staff, we can achieve the right attitude and deliver great service. It is important that we ensure that all our staff are empowered, knowledgeable and flexible to cater to any situational demand.

Luxury in the hospitality industry in the past was defined as unobtrusive service, then saw a shift to efficient service. Today, it is a more intimate and personal unobtrusive experience, rather than sequential.