The Sri Lanka Tourism Development Authority (SLTDA) yesterday announced the launch of one-day license renewal to tourism service providers.
The main objective of the initiative is to facilitate the renewal of licenses much faster, which is an annual requirement, and to deliver enhanced satisfaction to the tourism service providers.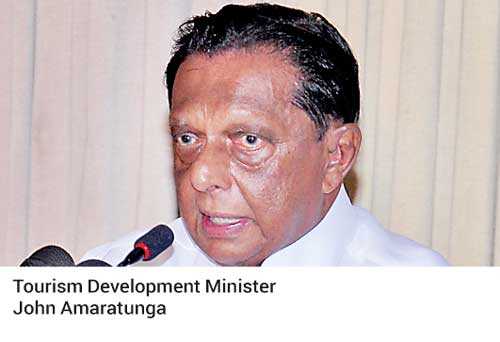 "SLTDA is now fully geared to issue renewals for accommodation and service providers in one day once the relevant documents for each category are submitted," Tourism Development Minister John Amaratunga told journalists yesterday.

The Minister pointed out that this initiative would enable an effective service in issuing the annual licenses to over 5,000 registered establishments around the country.

"Issuance of license was considered a tedious, time-consuming task for many service providers, which we often received complaints. With this new system our service providers can now obtain their license within a day," Amaratunga added.

The Minister also said that four teams had been assigned to inspect the relevant establishments prior to their expiry date of the license, so that when they apply with all documents, SLTDA would have the information to issue license.

SLTDA Chairman Johanne Jayaratne said the Standard and Quality Assurance Division of SLTDA was now fully operational on providing license renewals within a day.

"We are looking at a complete automation of the process by the division at the end of the month where the only human involvement would be the site inspection of the property," Jayaratne pointed out.

The one-day license renewal process includes five steps: 1) Submit the requested two forms with all the necessary documents between 8:30 a.m. and 10 a.m.; 2) Collect the receipt of acknowledgement; 3) Payment of Tourism Development Levy (TDL) and renewal fees; 4) Collect your payment receipts and handover copies to the counter; 5) Collect your license between 3:30 pm and 4:15 p.m.

For more information tourism service providers could visit www.sltda.gov.lk.