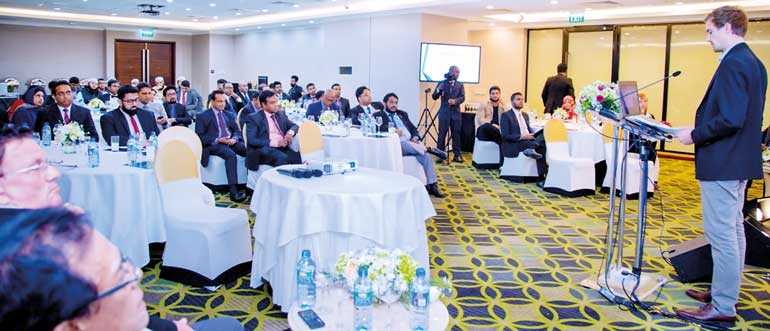 Kevin Cordshagen addressing at the Asia-Pacific Executives Forum at Hilton Colombo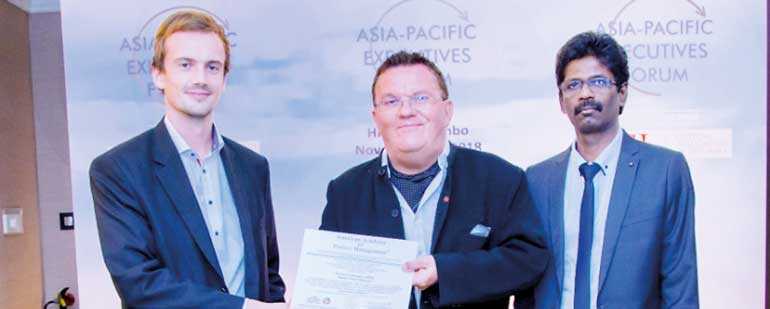 Kevin Cordshagen awarded 'Master Project Manager' Certification from Colorado, USA based American Academy of Project Management(AAPM) for his works on 'Sports Exchange: Potentials and Advantages of Sport Tourism for Sri Lanka'; he receives his certification from Founder/CEO of the AGSEP Dr. Dietmar Doering and Representative for AAPM in Sri Lanka and The Maldives Rajkumar Kanagasingam.
Visiting German university interns under sports exchange in a beauty pageant in Sri Lanka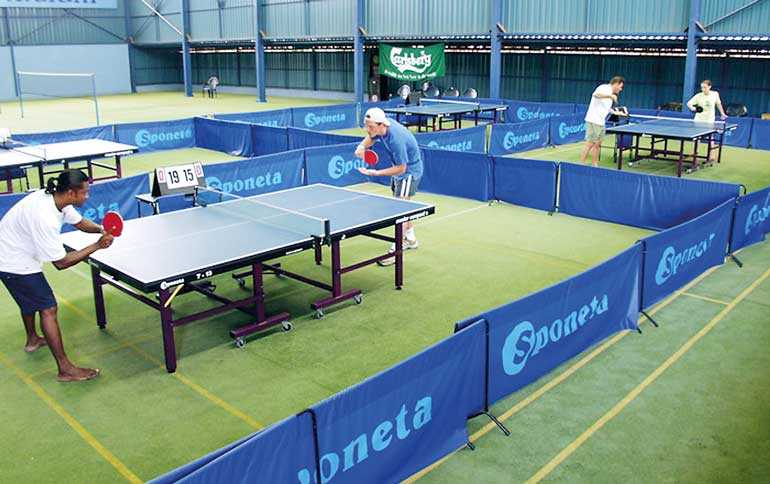 Table Tennis Tournament at the AGSEP indoor stadium in Marawila
---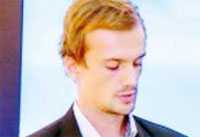 By Kevin Cordshagen
I have undertaken this assignment to establish the potentials of sport tourism towards the development of Sri Lanka.

With the inception of AGSEP in 1989 in Sri Lanka, table tennis has experienced a revival through a reciprocal sports exchange programs between Sri Lanka and Germany. Sri Lankan table tennis national teams took part in exchange programs for 12 consecutive years. They were visiting 10-12 table tennis clubs during their German tours while extending invitations to the German clubs for return matches in Sri Lanka. The recent visit of the German table tennis national coach Martin Adomeit is an ideal initiator to promote Sri Lanka as a destination for sport tourism in Germany.

AGSEP Research, an arm of Asian German Sports Exchange Program has been engaged in fundamental research studies, surveys and scientific publications on the subjects of social impacts of sport events. It extensively studied how sport events influence better understanding among groups in divided societies. Former intern of AGSEP Research Dr. Nico Schulenkorf, in his ground-breaking thesis has proved, sports in general could be an ideal catalyst to bridge divided societies.

Based on these findings, I have launched an innovative e-marketing campaign by contacting 5,000 German table tennis clubs; I have introduced Sri Lanka as a peaceful sport holiday destination.

Sri Lanka has been awarded as the number one destination for travellers for the year 2019 by the famous travel magazine, 'Lonely Planet'. Nonetheless, the approximate annual tourist arrivals for 2016 was only 2 million. On the other hand, Vietnam with similar touristic requirements counted to 10 million. The reason for the great gap between Sri Lanka and Vietnam is different perceptions influenced by the tourism marketing. Vietnam spends approximately $ 20 million for the promotion of the country, or $ 2.0 per tourist, whereas Sri Lanka only spends $ 0.39 per tourist.

Today the impact on the GDP by the tourism industry is around 12%. With an increase of 8 million tourists per year, it could grow up to 58%.

Since Sri Lanka has resumed to normal since 2009, I have taken this opportunity to promote Sri Lanka highlighting its ideal climate, friendly people, beautiful flora and fauna and interesting historical sites.

There are over 20 million sport people registered in German sport teams and represent a major target group for enhancing tourist arrivals in Sri Lanka.

My goal is to reach this target group by organising at least 30 exchange programmes in the initial stage. If each team comes with 40 members, that will increase 1200 tourist arrivals for the year 2019.
Sport tourists not only participate in sport events but also in shopping, visiting around the cities and scenic rural areas. These activities will facilitate additional revenue towards transportation, hotels, restaurants and so on. The local economic development can manifest itself in the form of job creations and infrastructural development. The sport tourism will also contribute to the attractiveness of the local destinations.

Sport tourism can facilitate a more sustainable tourism development in the country. Thailand and Vietnam suffer from the problems of mass tourism which creates beach pollution and environmental degradation. The foreign investments for touristic purposes in these countries do not directly benefit the local community, the revenues actually go back to those foreign states. The unsustainable mass tourism only created a few more jobs but with many problems. The management of mass tourism involves high costs and exceeds often the revenues. The sport exchange programmes create on the other hand cultural exchange and direct contacts with locals. Since there is no significant foreign investments needed for sport exchange, the tourist expenditures almost remain within the country.

The plastic pollution and environment degradation are big problems in the country. The polluted beaches not only decrease the attractiveness of the region but also affect the health of the people. Increasing mass tourism will fuel this problem further and will require high investment to resolve it later on. A well-promoted sport tourism will improve the sustainable economy and the image of Sri Lanka as a 'green' country.

The misunderstanding in the term 'off-season' in relation to the east and west coast of Sri Lanka affects the tourism industry significantly. International travel agencies promote a raining season or a monsoon terming 'off-season'; it leads to the assumption that there is heavy and continuous raining in this period. In a survey by AGSEP Research in 2018 of which 1007 people took part, it revealed most of the surveyed tourists who travelled during the 'off-season' never experienced the negative climate change which could have affected their trips. The sport exchange isn't linked to this seasonality concept and can provide another view for the tourists that so called harmful monsoon period doesn't really exist in Sri Lanka.

(The writer is a German university intern/researcher attached to AGSEP Research and undertaking 'Sports Exchange: Potentials and Advantages of Sport Tourism for Sri Lanka' as his internship.)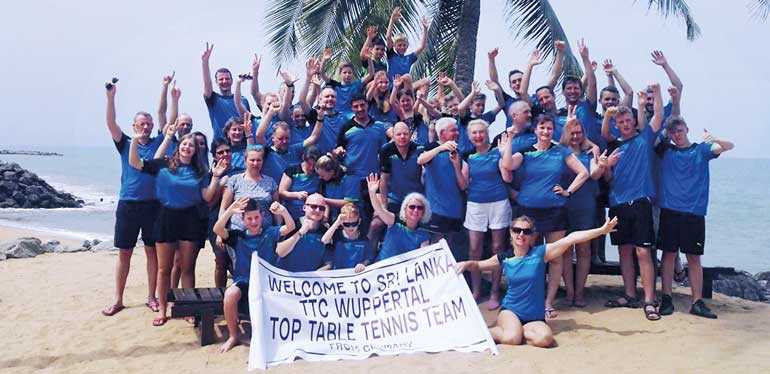 Visiting Table Tennis Team at Marawila beach, Sri Lanka