Tells Parliament he will consider submissions made to appoint Select Committee and in support of MR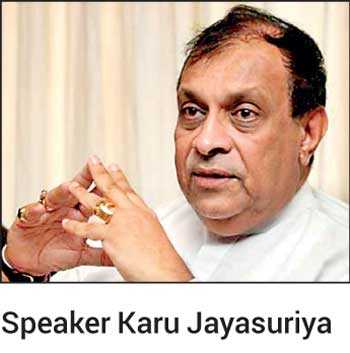 By Ashwin Hemmathagama, Our Lobby Correspondent

Speaker Karu Jayasuriya yesterday postponed his decision on whether MP Mahinda Rajapaksa would be Opposition Leader despite the request for the appointment of a Parliament Select Committee.

Extending the period to deliver his decision, Speaker Jayasuriya informed the House he has received letters from a group of lawmakers seeking a committee to be appointed to investigate the matter.

United People's Freedom Alliance (UPFA) General Secretary Mahinda Amaraweera earlier this week wrote to the Speaker in support of MP Rajapaksa while MP M.A. Sumanthiran and Leader of the House Lakshman Kiriella raised objections to his appointment.

Seeking time to reach his decision, Speaker Jayasuriya said: "Leader of the House MP Lakshman Kiriella and ITAK MP M.A. Sumanthiran raised concerns on the Opposition Leader appointment on 18 December 2018. I was to present my decision on the matter today.

A group of lawmakers have requested in writing to appoint a special committee. UPFA Secretary General Mahinda Amaraweera has written to me on the matter. So, I will give my decisions as soon as possible after considering the requests and opinions received."

Speaker Jayasuriya appointed MP Rajapaksa as the Leader of the Opposition soon after Parliament convened on Wednesday despite protests from parliamentarians. When the Speaker's decision was announced in Parliament, Sumanthiran made the observation that 49 members of Parliament, including Rajapaksa himself, who had contested on the Sri Lanka Freedom Party (SLFP) ticket, had in writing resigned their membership when switching to the Sri Lanka Podujana Peramuna (SLPP) during the constitutional crisis.

Sumanthiran contended that under the Constitution (Section 99(13(a)), all 49 had vacated their seats a month after the crossover. Further it was held that when the President, who heads the SLFP, holds three portfolios, it is not possible for Rajapaksa to claim to be in Opposition, Sumanthiran argued.

Accordingly, the contention is that the President too has to resign his portfolios. Since the President is part of the Government, a member of his party cannot be part of the Opposition.