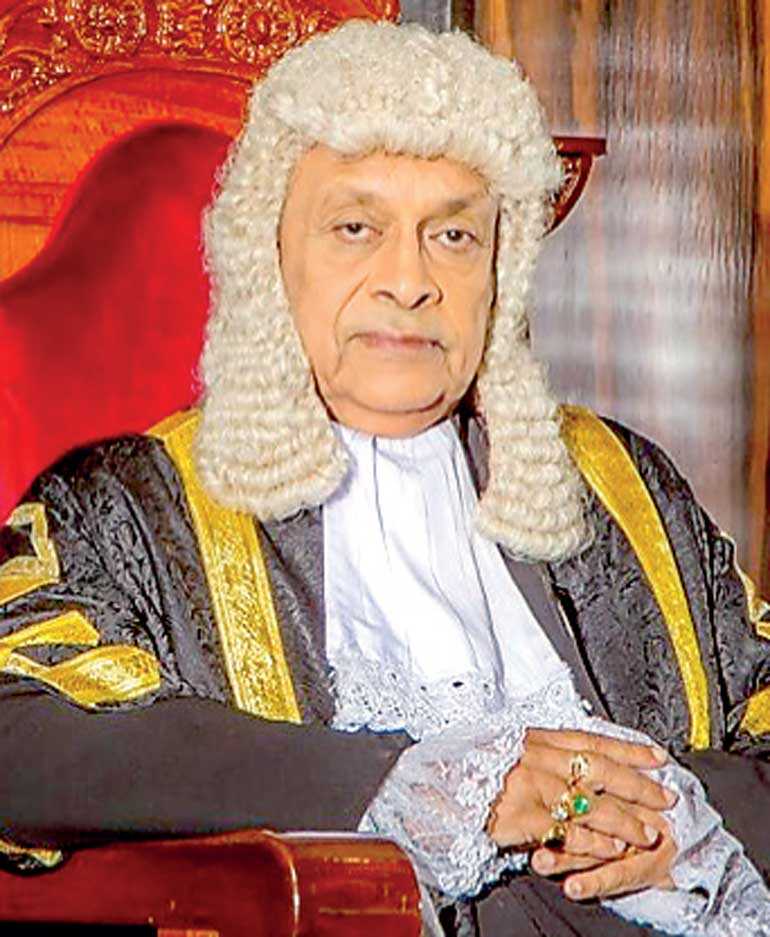 Speaker Karu Jayasuriya
Party leaders to meet at 8.30 a.m. ahead of commencement of sittings
Says public can take pride in the country's judiciary which treated issue as matter of grave national importance
Asks all Sri Lankans to peacefully accept the determinations of the judiciary and Parliament
By Our Parliament Correspondent

Speaker Karu Jayasuriya summoned Parliament to meet at 10.00 a.m. today, hours after the Supreme Court stayed the gazette notification dissolving Parliament.

"Parliament shall convene at the Chamber of Parliament at 10:00 a.m. in accordance with the Proclamation issued by the President per Extraordinary Gazette Notification Number 2095/50 dated 4th November 2018," the Speaker said in a statement.

President Maithripala Sirisena had issued the gazette summoning Parliament to meet today after he prorogued the House on 27 October.

The Speaker said that he had discussed the development in the wake of the Supreme Court ruling with the Secretary-General of Parliament and several party leaders and that a party leaders meeting would be held at the Parliament complex at 8.30 a.m. today.

The Speaker's statement said that over the last two days, the Supreme Court had heard arguments in several petitions challenging the 9 November 2018 proclamation that purported to dissolve the 8th Parliament of Sri Lanka and gave an interim order suspending until 7 December 2018 the operation of the Extraordinary Gazette Notification No. 2096/70 by which the President sought to dissolve Parliament.

"As this order by the Supreme Court renders the Gazette Notification ineffective, Parliament is bound by the previous Extraordinary Gazette Notification Number 2095/50 dated 4 November 2018 by which the President summoned Parliament to convene at 10:00 a.m. on 14 November 2018," the Speaker's statement said.

He added that after several days of political uncertainty, the public could take pride in the country's judiciary, which had risen to the occasion and treated this matter of grave national importance with due urgency and deliberation.

"Parliament must now perform its role by allowing the elected representatives of the people to reach a determination on the legitimacy of their Government. I urge the public to find comfort in the day's events and to share my confidence in our elected representatives," the Speaker said.

He added that it was important that the general public and especially persons in positions of responsibility conducted themselves in a calm and dignified manner in order to avoid unnecessary provocation and instability and asked all Sri Lankans to peacefully accept the determinations of the judiciary and Parliament.