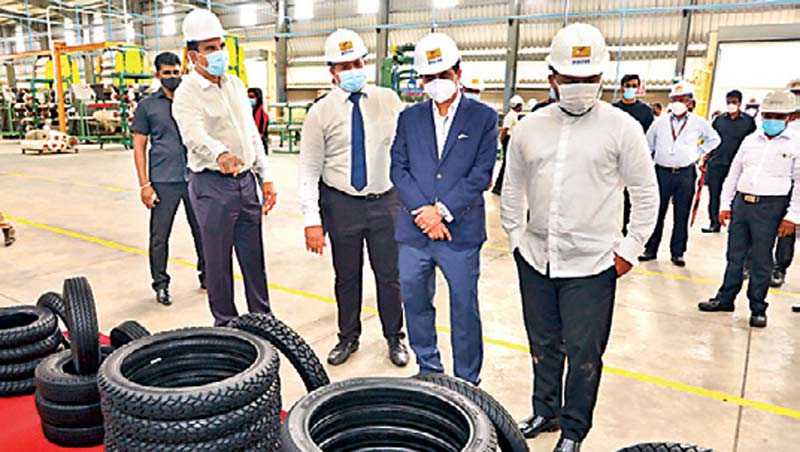 Ceylon Steel Corporation Chairman Nandana Lokuwithana giving a guided tour of the upcoming tyre factory in Horana to State Minister of Aviation and Investment Zone Development D.V. Chanaka, Board of Investment Chairman Sanjaya Mohottala and other officials
---
By Daminda Harsha Perera
---
Southeast Asia's largest tyre manufacturing facility Ferentino Tyre Ltd. will be declared open today by President Gotabaya Rajapaksa and Prime Minister Mahinda Rajapaksa.

With an investment of $ 250 million, the project's Phase 1 has been completed while Phase 2 is slated to be completed and ready for commissioning in March 2021.

Ferentino Tyres is the brainchild of respected entrepreneur and Ceylon Steel Corporation Chairman Nandana Lokuwithana.

Ferentino Tyre Corporation Ltd. is a venture facilitated by the Board of Investment of Sri Lanka (BOI) and features state-of-the-art European technology optimised to deliver a premium output.

"I am excited about the project as I'm confident it will serve to bolster the economy by way of boosting export revenue as well as generate many new occupational opportunities. We also intend to source our entire requirement for rubber locally, thereby empowering the rubber farmers. This project is certainly a win-win for all parties involved," Lokuwithana said.

The landmark project is the first and only of its kind in Sri Lanka and is tipped to be the largest such facility in the whole of Southeast Asia manufacturing Passenger Car Radials (PCR) including specialised category for SUVs, two-wheelers, three-wheelers, trucks, buses and solid tyres, seamlessly combining local talent with sophisticated European technology.

This export-oriented manufacturing plant with its impressive production capacity is expected to bolster the economy by revitalising exports at this decisive juncture strengthening Government's efforts to stabilise local currency in the face of the global pandemic. It is also expected to usher in thousands of new job opportunities, both directly and indirectly, once operations commence mid-January next year.

Lokuwithana, who is the Chairman of Ferentino Tyre Corporation Ltd., heads ONYX Group in the UAE, Mariott Al Jaddaf Hotel in Dubai and the up-coming state-of-the-art cement factory in Mirijjawila, Hambantota valued at $ 75 million.

State Minister of Aviation and Export Zones Development D.V. Chanaka who visited the site of the factory last week said that the Government would motivate more local entrepreneurs who were willing to come and invest in Sri Lanka and said this factory was an example of that and would help bring valuable foreign exchange to the country.

"There are many other factories coming in. There are many other investors who are willing to invest in Sri Lanka and we have started negotiating with them. In the next couple of months, we will announce these," Chanaka added.

Ferentino Executive Director Dhammika Lokuwithana said the company's agreement with BOI was that it would export 80% of its products and the remaining 20% would be for the local market. The export destinations include the USA and Europe.

"We completed this project ahead of the scheduled timeline. We will begin promotion production after the factory is declared open. We can proudly send a high-quality Sri Lankan product made to international standards to the world. We have got all the concessions given to investors and we will expand our business here," he added.