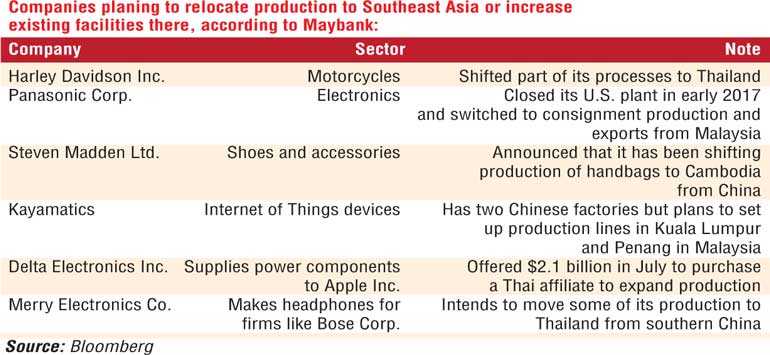 Bloomberg: Southeast Asia is seeing a boom in foreign direct investment as the intensifying trade war between the US and China prompts companies to shift production to the region. Vietnam saw manufacturing inflows jump 18% in the first nine months of 2018, driven by investments, including a $ 1.2 billion polypropylene production project by South Korea's Hyosung Corp., according to a Maybank Kim Eng Research Pte. note on Monday.

In January through July, Thailand's net FDI rose 53% from a year earlier to $ 7.6 billion, with manufacturing inflows surging almost five times, according to central bank data. In the Philippines, net FDI into manufacturing surged to $ 861 million in the same period from $ 144 million a year earlier.

"The US-China trade war may be attracting more firms to set up in Asean to circumvent the tariffs," Maybank economists Chua Hak Bin and Lee Ju Ye said in the note. "Sectors such as consumer products, industrial, technology and telecom hardware, automotive and chemicals have indicated interest in Southeast Asia."

Southeast Asia is finding there's some upside to the trade war, as it becomes an alternative base for firms relocating production away from China to avoid levies. About one-third of more than 430 American companies in China have or are considering moving production sites abroad amid the tensions, according to a 29 August- 5 September survey.

"Escalated trade tensions only accelerate the ongoing trend," said Trinh Nguyen, a senior economist at Natixis Asia Ltd. in Hong Kong. "Southeast Asia serves both as a great growth market, a place to offshore thanks to lower costs of production and liberalisation of trade, as well as a source of mitigation from geopolitical risks."

Still, the region certainly isn't immune to the fallout from the dispute - a report out today cited the trade war as a factor in Thailand's unexpected exports slump in September. See graphic for list of possible investments.