Minister claims all promotional initiatives in limbo as a result of political crisis
Shortlisted names for independent boards to be submitted to PM soon
Assures no political henchmen to top positions, only knowledgeable, capable individuals will be appointed to drive industry


Sri Lanka Tourism will launch the much-anticipated global tourism promotion campaign as well as the newest logo in March at the world's largest tourism trade fair, ITB Berlin, as part of overall efforts to draw four million visitors and earn $ 5 billion next year.
"The global promotional campaign along with our tourism logo 'So Sri Lanka' will be launched at the Internationale Tourismus-Börse (ITB) in Berlin next March as scheduled earlier," Tourism Development Minister John Amaratunga said, reassuming duties at the Ministry on Friday.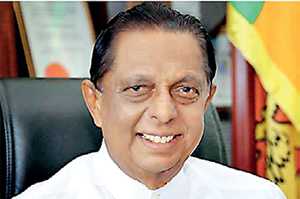 Tourism Development Minister John Amaratunga
He confirmed that it was the same logo which was launched in concurrence with the Digital Promotional Campaign at World Tourism Mart (WTM) in London.

The Minister claimed that all the promotional initiatives were in limbo as a result of the political crisis which erupted since 26 October. "All promotional campaigns are in limbo. We have to now roll them out again," he added.

Amaratunga also said that Lonely Planet officials were to visit Sri Lanka to launch a fresh program to showcase Sri Lanka, which too was delayed.

Setting out a very ambitious target of four million tourists for next year, Amaratunga emphasised that it would only be possible if all stakeholders, particularly the officials of the line ministries and boards, supported the initiatives.

The Minister is expected to send shortlisted nominations for the post of Chairman of the four institutions – Sri Lanka Tourism Promotion Bureau (SLTPB), Sri Lanka Tourism Development Authority (SLTDA), Sri Lanka Institute of Tourism and Hotel Management (SLITHM), and Sri Lanka Convention Bureau (SLCB) – for the Prime Minister's approval shortly.

"The Prime Minister has said to put forward the names to be appointed as chairmen of the four boards. We are now in the process of shortlisting the best candidates. We are trying to get the best people who can contribute to the development of the industry; no political henchmen, only people who are knowledgeable in the industry and who are capable of driving it," he asserted.

The Minister assured that there would be no change in the second line of officials, such as director-general, accountants, and other officials. However, Amaratunga said the boards were determined according to the respective Acts which had created the boards. "The appointment of chairmen is at the entire discretion of the Minister, and we will do this in consultation with some efficient and capable people."

Amaratunga is scheduled to assume duties of the Wildlife portfolio at the Ministry in Rajagiriya today.