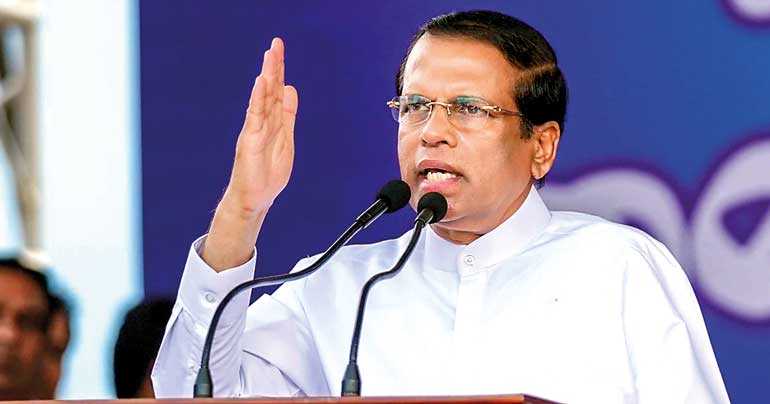 President Maithripala Sirisena yesterday ruled out stepping down from politics in 2020, insisting he would convert the Sri Lanka Freedom Party (SLFP) into a people-centric entity capable of fighting corruption and effectively deliver the expectations of the people.

Addressing the SLFP May Day rally in Batticaloa, held under the theme "Labour Power for National Harmony", Sirisena spiritedly dismissed claims he would step down from politics in 2020, noting that "the main story in many social media platforms and websites is my leaving politics in 2020. I know there are many people desperate to come to power who are dreaming for exactly this same thing, but I will not step down.
I have much more work left to do." "My intention is to stay on and work for the people," he continued. "Spinning fairy tales will not help the people or assist them to achieve their aspirations. What they need are leaders who are honest and courageous, and will work for the benefit of the country. They must be people who understand the political pulse of the people," he told the gathering. "You should not mislead the people just to get power. Some people are trying to grab power without any plans. I ask you how many genuine political leaders this country has now. How many who have not committed murder, who has not stolen? We need a new way forward, but for that we do not need murderers, thieves and thugs."

He also called on such leaders to unite to take the country forward. "I have heard people, even in our Government, talking of a new Government in 2020. I ask of them all, let only those who are fit to hold office step forward. Everyone knows who the real thieves and corrupt people are."

Of the 16 dissenting SLFP members, only Social Empowerment Minister S.B. Dissanayake and MP Sumedha G. Jayasena were observed on the stage, while MPs Dayasiri Jayasekara, Dilan Perera and Thilanga Sumathipala were observed at the entrance to the ground.

Several others, including Chandima Weerakkody, Lakshman Yapa Abeywardena, W. D. J. Seneviratne, Anura Priyadharshana Yapa, Susil Premajayantha, Susantha Punchinilame, Anuradha Jayaratne, T. B. Ekanayake, and Sudarshini Fernandopulle were notable absentees.

However, this did not dampen Sirisena's oratory. "The SLFP has weathered worse times than this before. There was a time when the SLFP was reduced to just seven seats in Parliament, but we were able to rebuild, and the same will happen again. My intention is to rejuvenate the SLFP as a party through reforms that will put people at the centre of its decision making. It will be a party that functions in a democratic manner, and will support the democratic principles this country has been founded on. From this point, we will go forward. I hope the working people of this country will join us in this effort."

Sirisena also praised former SLFP leaders and party members, who he insisted had implemented stronger labour laws in Sri Lanka, and given dignity to workers by resisting exploitative practices.