Briefs media and academia from newly opened Lotus Tower
Says China's development support to SL backed by all political parties
Dismisses allegations of Chinese debt trap, using SL for geopolitical stronghold
​By Nisthar Cassim

Chinese Ambassador Cheng Xueyuan yesterday declared that ties with Sri Lanka have risen to their greatest height to date under the Belt and Road Initiative (BRI), and all political parties were supportive.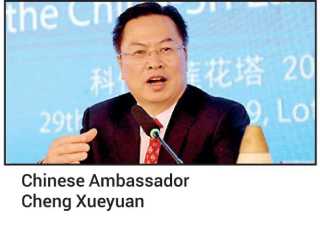 Speaking at the first ever media conference at the Lotus Tower, Ambassador Cheng said, "China and Sri Lanka are good neighbours, good friends, and good partners."

Leading a group of media, academics, and think tanks to tour of some of the flagship and successful Chinese investments and projects – the Port City, the Colombo International Container Terminal (CICT) and the Lotus Tower – the Ambassador said the strong bilateral ties have been "renewed and pushed forward steadily and smoothly, developing even better under the guidance of BRI and entering into a rising period in history."

The visits, as well as the engagement with stakeholders, were termed "Dialogue on the China-Sri Lanka Pragmatic Cooperation."

Speaking in Chinese, with Prof. Hao Weimin translating eloquently in Sinhala, Ambassador Cheng said this gesture, as well as the choice of Lotus Tower for the briefing, was symbolic of the strong foundation, friendship, and cooperation between China and Sri Lanka.

"The nature of the China-Sri Lanka pragmatic cooperation is of mutual benefit and a win-win outcome. The China-Sri Lanka friendship and cooperation is gradually becoming a cross-political party, cross-nationality consensus," he added.

Cheng reiterated that China has become the largest partner to Sri Lanka in terms of foreign investment, contracting construction, tourist volume, and foreign aid. During the engagement with media and academia, he highlighted a host of key initiatives and projects.

The Ambassador also countered misinformation about an alleged Chinese debt trap, stating that of the $ 6 billion loans, 60% were at preferential rates, far lower than the market.

"Sri Lanka is using low interest rate loans from China to repay the ones of much higher rate from Western countries. China is not setting up, but instead helping Sri Lanka out of a 'debt trap'," pointed out Ambassador Cheng.

He said that loans from China are mostly used on ports, roads, and water conservancy projects that matter to people's livelihood, meeting the desperate need of Sri Lanka's socio-economic development. The cooperation projects and loans from China have largely helped improve the infrastructure construction, thus promoting the economic progress, improving livelihood, and providing more power for Sri Lanka's future development.

The Ambassador also stressed that the China-Sri Lanka pragmatic cooperation will never harm Sri Lanka's sovereignty and security. "Some Western media have been hyping up that China is planning to build a 'military base' by constructing and operating ports and airports, which cannot be more absurd. President Maithripala Sirisena, Prime Minister Ranil Wickremesinghe, Speaker Karu Jayasuriya and former President Mahinda Rajapaksa have all stood up criticising those claims," emphasised Ambassador Cheng.