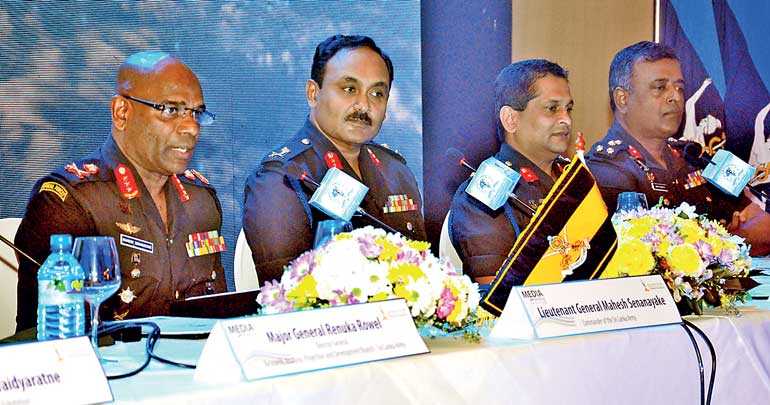 By Rahel Kirinde

The Sri Lanka Signal Corps (SLSC) last week launched a new website and logo to mark its 75th anniversary which falls this year, with elaborate celebrations planned for October and November.

The launch highlighted the role of the Signal Corps in the present day context, which mainly includes preventing cybercrime.

"With the rapid advancement of technology and globalisation, the risk of exposure of confidential documentation and information also increases. Therefore it is the duty of the Sri Lankan Army to ensure cyber security is maintained within the boundaries of Sri Lanka," said Army Commander Lieutenant General Mahesh Senanayake.

He mentioned that cyber outbreaks were considered a battle of minds and the most powerful countries in the world were considered to have the upper hand in dealing with them but even a country as small as Sri Lanka had the potential to become well-endowed in technological expertise.

"In the past, warfare had only three dimensions, namely land, sea and air. By the 21st century it has expanded to fourth, fifth and sixth dimensions. Cyberspace being the fifth dimension of war is currently the biggest threat to Sri Lanka."

"That's why we organised the symposium and ICT exhibition named 'Cyber Space: Perpetual battlefront for future' to raise awareness on the importance of having tight cyber security as a country. This will be a window of opportunity for the Sri Lankan Army to develop its Command, Control, Communications, Computer, Cyber and Intelligence (C5I) skills and help build a capacity-based sustainable army," said Senanayake.

Both events are scheduled to be held on 28 and 29 November at the BMICH and will run parallel to one another. The ICT exhibition will be open to the public.

Military and non-military representatives, including university students, will be present at the symposium and exhibition to showcase their potential cyber skills, comprising the ways of combating the new generation of cyber threats and stepping up cyber security. Special attention will be given to the impact of social media. ICT professionals from England, Russia, China, India, Pakistan and Bangladesh are confirmed to attend the symposium to share their insights on maintaining cyber security.

SLSC is the foremost organisation in the Army responsible for providing communication support for command, control and administrationwhen facing electronic warfare activities and maintaining cyber security during times of war and peace.

It is one of the oldest regiments in the Sri Lanka Army and was inaugurated as a small communication unit in 1943 as part of the Ceylon Defence Force. The SLSC made an immense contribution to the war against the Liberation Tigers of Tamil Eelam (LTTE), having performed an infantry role in the field.

Currently, the Sri Lanka Signal Corps has developed into a well-structured and highly integrated organisation extending its operations into the fields of technology and intelligence.