Ports and Shipping Minister Mahinda Samarasinghe, in a recent interview with the Daily FT, recapped the success of concluding the mega-lease deal of Hambantota Port, which he identified as critical, and outlined plans for the development of other ports in the country aimed at enhancing Sri Lanka's hub status and socio-economic development. Here are excerpts:
By Nisthar Cassim

Q: What is the update on the lease of Hambantota Port?

A: To date, $974 million has come into the Treasury, and under the concession agreement, another $146 million will come in within a month, to be invested to a port or marine-related project jointly decided by CMPort and the Government within the Hambantota Port. CMPort has also communicated to us that they are looking at $400-600 million to be invested in the next three years to complete the third phase. So, there is a lot more money to come in terms of FDIs.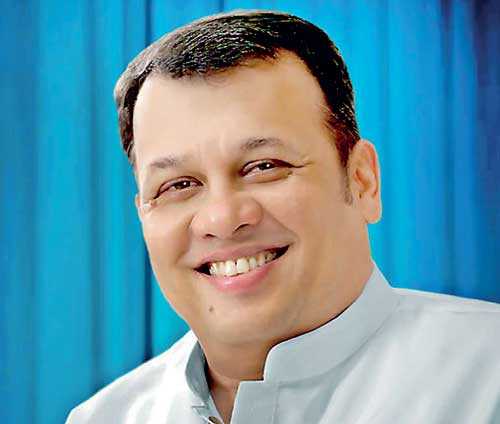 There has been a 100% increase in transhipment of vehicles, and Hambantota Port will start bunkering next. There was a windmill renewable energy project by the CEB, which has decided to demobilise, not opting to enter into a fresh contract with HIPG. This will be demobilised as we had to empty the oil tanks for the release of final payment. The windmill operations will be demobilised by the CEB.

Regarding the LAUGFS Gas Terminals project, the parties are negotiating new terms. The Government, which owns 30% stake in the Hambantota Port, will ensure local companies are not squeezed out. We have been told by CMPort that there are around 15 proposals, with an investment of over $100 million, which are keen to set up within the Hambantota Port area, and a $750 million LNG project.


Q: Any comments on concluding this mega agreement?

A: It was negotiated as a 100% commercial transaction. We had to make sure that the necessary safeguards were built-in which protected the statutory mandates, and that the obligations of different state entities such as Sri Lanka Ports Authority vis-à-vis SLPA Act weren't compromised. Local laws had to be acknowledged, respected and adhered to. These were covered in the Concessions Agreement. These included the Harbour Master's role, pilotage, etc., which will be handled by the SLPA. We also ensured that the security aspect was handled by the Government via the Sri Lanka Navy. The latter will continue to use the existing pier for five more years, until the construction of a larger new pier in a yet-to-be identified location with greater depth, to accommodate larger naval vessels or other defence carriers. For these HIPG or HIPS have no role to play but will be dealt by Government-to-Government arrangements. We also made sure that any new developments that take place must be marine and/or port-related.

When I assumed office as Minister of Ports and Shipping, negotiations were for an 80:20 equity arrangement. However, I ensured that the Government has a larger equity stake without compromising the $1.12 billion investment. We were successful in securing a stake of 30.1%, with CMPort getting 69.9%. Under the former 80:20 equity arrangement, the investment was to be $1.12 billion, which is 80% of $1.4 billion, the valuation of Hambantota Port. When we increased our equity, the money coming in to the Treasury was reduced to $974 million, but we still insisted on an FDI of $1.12 billion, and negotiated for the additional $146 million as an investment. We also got CMPort to agree on the setting up of two Sri Lankan joint venture companies, for the overall operations of the Hambantota Port.

More importantly, the inflow of nearly $1 billion over the Hambantota Port lease has also boosted the reserves. This puts Sri Lanka in a better position to face the challenge of debt repayment, starting from next year.


Q: How did SLPA manage the additional financial commitment to a larger equity stake?

A: We got our 30.1% stake gratis on goodwill. However, in the future, any fresh investments will require contribution from the SLPA in proportion to its stake, with approval of the SLPA Board.


Q: Chinese investment in Hambantota port is viewed by some as a strategic geopolitical exercise. Do you agree?

A: We don't want to play politics in terms of the Hambantota Port development, or its future. Both India and China are our traditional friends. I don't think there is a need for India to be reassured over and above the reassurances we have already built into the concessions agreement. All countries are open to use the facilities at Hambantota Port. If there were to be a request for an Indian naval vessel to call at Hambantota Port, the Government will facilitate it. Defence ships are called at ports for various purposes, such as enhancing bilateral ties, as part of a regional tour, or to receive supplies etc. We have had a policy of good relationships with all countries.

Ever since the new Government took office, we have reached out to the entire world, rather than being selective. I like to recall that when President Maithripala Sirisena undertook a State Visit to Germany and I too was part of the delegation, Chancellor Merkel was asked by the media as to why the Sri Lankan President was invited. Her spontaneous response was, "President Sirisena has reached out to us and we have reciprocated." In reaching out, our Government didn't look at how countries voted in the Geneva UNHRC session to determine future relationships, so we are enjoying a lot of goodwill, support, and cooperation internationally.

I have always believed a small country like Sri Lanka must remain neutral. I have had several meetings with the Indian High Commissioner, as part of our strong bilateral ties, and as an important development partner. We have clarified issues from time to time. We have also engaged India for the funding of several key projects. For example, for the development of Kankesanthurai Port, there is $40 million earmarked under an Indian line of credit. There is also a Japanese-Indian LNG project in the proposed West Terminal in Colombo Port, which the Cabinet has approved in principle. A feasibility study must be done, followed by a MoU between the SLPA and the Japanese-Indian consortium. Additionally, the Government is also finalising an Indian investment to revitalise the Mattala Airport, as well as plans to fully enhance the use of oil tanks in Trincomalee. So, there is a lot happening within the Indo-Lanka ties.

As much as we finalised the lease agreement of Hambantota Port, it is important that we don't delay in finalising the Indian projects as well, so that India understands and appreciates that ours is purely a commercial interest and nothing more.


Q: This sincerity however came under question when the Government overturned a previous decision to include Indian investors to run the East Terminal in Colombo Port. Can you comment?

A: I think President Sirisena was very correct in the stance he took, that as much as he wants to send the right messages to India and facilitate various new Indian investments in Sri Lanka, he also must look at the national interest. The SLPA had taken a clear stand that its long-term survival depends on East Container Terminal being owned and operated by the SLPA. The depth of existing Jaya Container Terminals is not enough to service the larger ships to call, when the global trend is towards mega ships in the interest of economies of scale. So, the East Container Terminal is of paramount interest for the future success of the SLPA, as only CICT is positioned to accommodate larger ships.


Q: What are the specific plans on port development?

A: We have got Cabinet approval for JCT 5, and we hope to bring in the equipment, for which tenders have been called. For ECT, the National Economic Council has asked the Ministry to prepare a Cabinet paper to operationalise it. The long-term procurement of machinery and equipment usually takes 15 to 24 months to finalise and take delivery.

We don't intend to wait that long to operationalise the ECT, hence we are looking at the option of a short-term lease of machinery and equipment within the next three months, as an interim measure. Once Cabinet approves, we will go for international tender. An investment of $100 million is earmarked for ECT. For JCT 5, it will be around $70 million. For the proposed West Terminal, we are open for FDIs and it has been advertised. We have also got Cabinet approval for an ADB feasibility study for a North Terminal at Colombo Port.

The course for the development of the Trincomalee Port will be the same, along with an industrial zone in SLPA-owned land of 5,000 hectares. Cabinet has approved the $40 million Indian line of credit for the development of Kankesanthurai port. We are awaiting the appointment of a Technical Evaluation Committee and the Cabinet-Approved Negotiating Committee to proceed on this and call for proposals.

We have also called for RFPs for a marina, initially in Galle Port to enhance the tourism offering. In terms of Oluvil, we have resolved a host of issues. It is beset with sand accumulation, which has prevented the operation of the Oluvil port. It is also beset with coastal erosion. We have been in discussions with DANIDA.

I have Cabinet approval for a two-part solution. One is capital dredging to take place via a concessionary loan negotiated by ERD, pumping up the excess sand to the area affected by coastal erosion in partnership with the Coast Conservation Department. To ensure prevention of sand accumulation, SLPA will purchase a dredger and fix it for operation on a permanent basis. We are also looking at the adjoining fisheries harbour, to make it fully operational. We have called for EOIs for investment opportunities within the Oluvil harbour, followed by RFPs.


Q: Doesn't the land accumulation aspect and other defects make Oluvil an unwise investment?

A: The choice was whether to close it, which meant write off the $50 million spent, or look at ways to operationalise Oluvil and make it viable. We believe it can be made operational, with the implementation of the new measures taken.


Q: We are seeing SLPA further deepening its involvement and business, instead of taking up the role of landlord. We also have not yet seen the establishment of a regulator for Port business, despite the privatisation of terminals.

A: The Public Utilities Commission (PUSCL) is looking at the regulatory aspect. The SLPA, with nearly 10,000 employees, will not look at being a mere landlord.


Q: What is the progress of reforming SLPA? SLPA must service all these loans.

A: Today the SLPA is a viable operator. Last year, we made Rs. 13.3 billion in profits. 1Q shows a 20% growth in JCT business. With ECT being operationalised shortly, the viability will further enhance. We are not burdening the Treasury. With the progressive leadership of the Chairman and Board of Directors, we will continue to focus on improving the efficiency and competitiveness of SLPA and Colombo Port. We have the financial muscle and leadership to undertake these new projects, and the performance of SLPA will further improve.


Q: There have been some concerns over the new Gazette No. 2069/38, which some allege allows market forces to determine tariffs between ship owners and agents. Your views?

A: That Gazette was issued in consultation with the industry and the regulator Director General of Merchant Shipping. With the abolition of the Exchange Control Department and the setting up of a new Agency, we had to issue a new Gazette, with the Ministry taking over the relevant powers. These are not things that are cast in stone.

Our objective is to facilitate the industry, and not to favour one group or another. We don't intend to push people out of business but facilitate further business. We haven't closed the door to anyone. If there are short comings or concerns, parties can make further representation to the Director General of Merchant Shipping, who in turn can make further recommendations if needed. Freight rates are determined by market forces. We don't get involved.


Q: How is the Ceylon Shipping Corporation faring?

A: It is satisfactory, whilst our challenge is to service the loans taken on the procurement of two ships, for which CSC had paid far too much. This is being investigated. The CSC is also looking at other revenue-enhancing measures. I have told the CSC Board to come up with suggestions to meet the debt servicing, as well as revitalise the business. I am keen to take the CSC back to its hey-day when it owned several ships, but to do that, the CSC needs to be in a better financial position.


Q: Post-Hambantota deal, what are your immediate focus areas?

A: Now that the Hambantota lease project is over, I am focused on fast-tracking the new projects which we have earmarked and strengthening the SLPA. We are working with the industry stakeholders to come up with a national shipping policy, to achieve sustainable development and growth. Once ready, we will present it to Cabinet for approval.