Former CID Director arrested for "fabricating evidence"
Allegations tied to murder case involving ex-Police officer Vaas Gunawardena
Arrest made by CCD
Says arrest made after evidence against Abeysekara from two other Police officers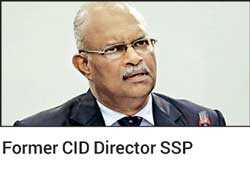 Former CID Director SSP Shani Abeysekara was remanded till 7 August by the Gampaha Magistrate last night.

Abeysekara was arrested by officers from the Colombo Crimes Division (CCD) yesterday over allegations that he fabricated evidence in a 2013 murder investigation involving former Police officer Vaas Gunawardena, and was produced before the Magistrate after a statement from him was recorded by the CID.

Abeysekara, who served as CID Director from September 2017 until November 2019, was arrested early last morning at his home at Elvitigala Flats in Narahenpita, Police Spokesman SP Jaliya Senaratne said.

He said the arrest was based on evidence given by two other Police officers, as well as two other persons, that Abeysekera had fabricated evidence tied to firearms involved in the murder case.

Among the large number of prominent cases investigated by Abeysekera is the abduction and contract killing of businessman Mohamed Shiyam by a group of persons, including then-DIG Vaas Gunawardena.

The former DIG, his son, and four others were sentenced to death by the High Court in 2015 for the businessman's murder, and an appeal is pending before the Supreme Court.

In addition to the conviction in the murder case, Vaas Gunawardena was found guilty by the High Court of threatening to kill CID detectives, including Abeysekera, in 2013, and sentenced to five years of rigorous imprisonment.

However, Abeysekara has fallen from grace since the election of President Gotabaya Rajapaksa last November.

He was transferred out from the CID soon after the new President took office, to serve as the Personal Assistant to the Deputy Inspector General of Police, Galle Range, and has been under interdiction since January.
---
Shani arrest sneak preview of witch-hunt to come: Mangala
Former MP Mangala Samaraweera yesterday said the arrest of former CID Director Shani Abeysekera is a sneak preview of the witch-hunt to come.

Samaraweera took to Twitter, soon after news broke of the senior Police officer's arrest, and said Abeysekera is a CID officer with "impeccable credentials."

"Do not shoot Shani - he is only the investigator! CID officer with impeccable credentials who investigated Rajapaksa and Co. arrested while the head of state who initiated such investigations is contesting with the ruling alliance," he wrote.
---
SBJ condemns Shani Abeysekara arrest
Says no secret Abeysekara led investigations into cases involving powerful people in present Govt.
Claims independence of NPC under threat


The Samagi Jana Balawegaya (SBJ) yesterday condemned the arrest of former CID Director Shani Abeysekera, and called on all democratic forces in the country to rally against such moves.

"The fact that Shani Abeysekera led investigations in cases involving powerful persons in the present Government, and that this has led to a witch-hunt against him, is no secret. Hence, he was transferred soon after the new Government took over, and later interdicted," SBJ General Secretary Ranjith Madduma Bandara said in a news release.

He said that the entire Police Department must take note of this arrest, and said this is aimed at intimidating officers who work in an honest and forthright manner.

"The independence given to the Police Department by setting up the National Police Commission is facing a serious threat today. If the Government is behaving in this manner amidst an election campaign, how will it behave after the election? It is important to grasp the danger posed to democracy and Judiciary authority by such moves," he said.