Raises questions on sport tender purchases
Says SJB will reveal those responsible soon
---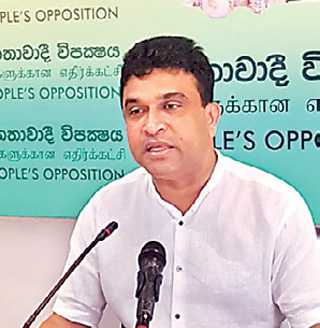 SJB Parliamentarian Nalin Bandara addressing reporters at the Opposition Leader's office yesterday
---
Samagi Jana Balawegaya (SJB) Parliamentarian Nalin Bandara yesterday charged there were substantial irregularities in coal procurement, which could pave the way for what he described as a return of the "coal mafia" and significant loss of public funds.

Addressing the press at the Opposition Leader's office yesterday, Bandara charged that the Government was trying to let one supplier monopolise the coal needed for power plants without calling competitive tenders for the purchase.

"Before 2015, one supplier named 'Nobel' was given the monopoly to supply coal to power plants. This Government is trying to revive this mafia.

Annually, Sri Lanka needs to import approximately 2.5 million metric tonnes of coal to run the Norochcholai power station and generate 900MW from the plant. After the Government changed in 2015, a new process was started and the tender system was introduced but we are now seeing a return to the old ways," Bandara charged.

Bandara pointed out that coal for the Norochcholai power plant was purchased using two methods. "One of which was on term contracts, which was used to purchase a large quantity of coal (normally a year's worth of supply), and the other was to call spot tenders for emergency purchases."

However, the opposition MP stated that the last spot tender was given at a rate of $ 59 per metric tonnes but recently a new spot tender was issued at the rate of $90 per metric tonne.

"The fourth spot tender was made at $59 per MT and the fifth spot tender was given at $90. Why is there such a big increase? We have seen other countries make emergency purchases of coal in the final quarter at $60 an MT but Sri Lanka is paying $90 per MT. How can this be? What is this mafia? It is clear that there is corruption at play."

Bandara said the SJB will reveal to the public who was behind the new alleged corruption in the coming days.

"The coal mafia affects the electricity bill that the public has to pay. It has destroyed the Ceylon Electricity Board (CEB) and left it in debt. The Government is making room for their friends to profit at the taxpayers' expense. This needs to be stopped," Bandara stressed.