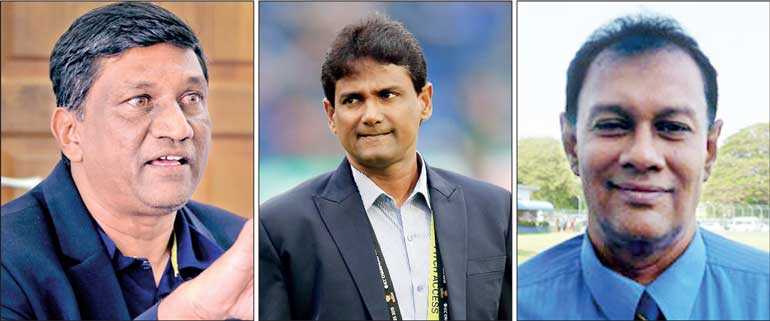 The paucity of candidates for the selection panel has resulted in the three currently serving selectors Ashantha de Mel (Chairman), Chaminda Mendis and Vinothen John being nominated again by the member clubs.
---
SLC bankrupt to find potential names to form selection committee
---
By Sa'adi Thawfeeq
---
Usually it is the national cricket selectors who are faced with a quandary with regard to selections, but today we are faced with a different kind of situation where Sri Lanka Cricket (SLC) find themselves bankrupt and unable to provide ten potential names to the Minister of Sports to form a four or five-member selection committee.

It is not a new situation faced by SLC, for in the past too they have failed to forward 10 names and still formed the four or five-member selection committees.

"During that time also we sent only about five or six names but we spoke to the Sports Minister and we gave our recommendations so we didn't have an issue," said a highly-placed SLC source.

However in the present instance with a new Sports Minister in place, there is an insistence to stick to the rules which were drafted during the period Dayasiri Jayasekera was the Minister of Sport from 2015-2018.

Currently only four names are available to SLC – the three serving selectors Ashantha de Mel (Chairman), Chaminda Mendis and Vinothen John, and former selector Pramodya Wickramasinghe whose name SLC has added, but one with a track record of having accused the national side of "unnatural match patterns" and player selections. Thus it is not appropriate to have Wickramasinghe in the selection committee as some of the players he implicated are still playing.

"According to the Sports Ministry requirements we are supposed to send them 10 names. We wrote to all the member clubs, which is the usual tradition, and invited them to send names for the selection committee. Unfortunately only those four names have been sent in by the clubs," the source stated.

"In addition to that we have also spoken to a few past cricketers who have declined as some of them have shown a reluctance to be associated with SLC. Most of the former selectors had some issue or other as certain remarks have been made during their terms by Ministers against them, so we are reluctant to invite them.

"When you send names they must be qualified people. Most of them who have played for Sri Lanka are engaged with SLC, and some of them are overseas. We are left with only a handful and, most of them are also reluctant. We didn't have a problem selecting 10 names for the junior selection committee and for the women's selection committee," the source added.

Although the deadline to submit the ten names for selectors has been long past (it expired in August 2020), the SLC, Daily FT learned, has asked for a little more time to rope in a few more names before submitting it to the Minister of Sport, who will put it to the National Selection Committee for final approval from the National Sports Council which is headed by former national cricket captain Mahela Jayawardene and also comprises another national cricket captain in Kumar Sangakkara.

With the current COVID-19 situation in the country SLC could still buy more time to pick suitable candidates to form the selection committee for even if the selectors have been appointed there is very little they will be called upon to do with the suspension of domestic and international cricket currently in force due to the pandemic.