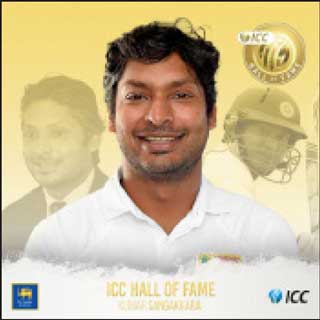 Kumar Sangakkara
---
Sri Lankan cricket legend Kumar Sangakkara to be inducted into ICC Hall of Fame, ICC announced. Kumar Sangakkara is the second Sri Lankan to be inducted into the ICC Hall of Fame. Muttiah Muralidaran is the only other player who was inducted into the Hall of Fame.


The International Cricket Council (ICC) today announced a special edition intake of 10 cricket icons into the ICC Hall of Fame to celebrate the prestigious history of Test cricket, and to coincide with the first-ever ICC World Test Championship Final. The 10 legends of the game to be inducted have all made a significant contribution to the history of Test cricket, and join an illustrious list of ICC Hall of Famers, taking the total number to 103 as a result of this intake. Along with Sangakkara, Andy Flower is to be inducted as a player in the Modern Era. In the 'Early Cricket Era' (pre-1918), South African Aubrey Faulkner was inducted, along with Australia's Monty Noble. In the Inter-War Era (1918-1945), West Indies' Learie Constantine and Stan McCabe of Australia were inducted.

In the 1946-1970 Post-Era category, Ted Dexter of England and Mankad were chosen. In the ODI Era, Desmond Haynes of the West Indies and the late Bob Willis were named.