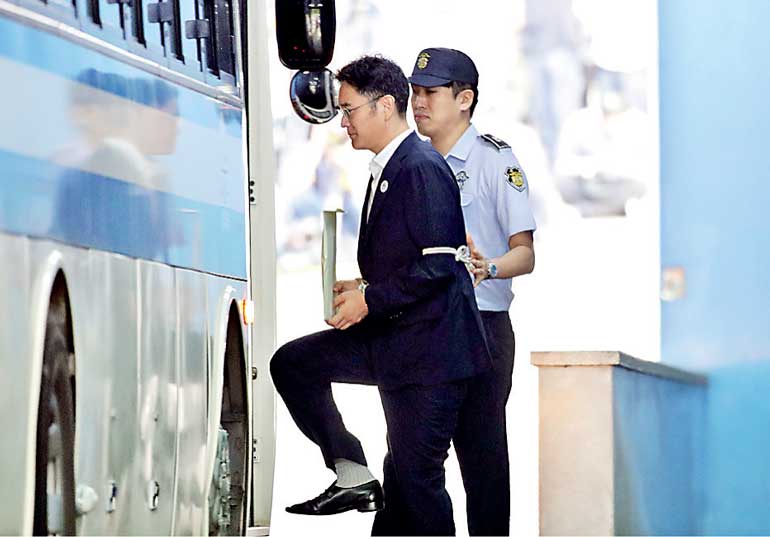 AFP: The heir to the Samsung empire was convicted of bribery and other offences Friday and jailed for five years in connection with the scandal that brought down South Korean president Park Geun-Hye.

Lee Jae-Yong's penalty could leave the vast conglomerate, which includes the world's biggest smartphone maker, rudderless and hamper its ability to make key investment decisions for years.

The vice-chairman of Samsung Electronics, 49, arrived at Seoul Central District Court on a justice ministry bus handcuffed, bound with white rope around his dark jacket, and carrying an envelope of documents.

Lee was found guilty of bribery, perjury and other charges related to payments Samsung made to Park's secret confidante Choi Soon-Sil.

In total 8.9 billion won ($7.9 million) was paid in bribes in return for favours including government support for Lee's hereditary succession at the group after his father was left bedridden by a heart attack in 2014, the court found.

Lee had denied the charges, with the defence saying that he was not aware of the payments and did not approve them.

But presiding judge Kim Jin-Dong said: "He offered bribes in response to strong demands by the president."

The court found, however, that Samsung had no alternative but to comply with Park's browbeating in connection with another 22 billion won paid to foundations allegedly controlled by Choi.
Four other top Samsung executives were also convicted, with two jailed for up to four years, and the other pair given suspended terms.

Lee's lawyers said he would appeal, and supporters demonstrating outside the court broke down in tears.

Samsung is by far the biggest of the chaebols, as the family-controlled conglomerates that dominate Asia's fourth-largest economy are known, with its revenues equivalent to around a fifth of the country's GDP.