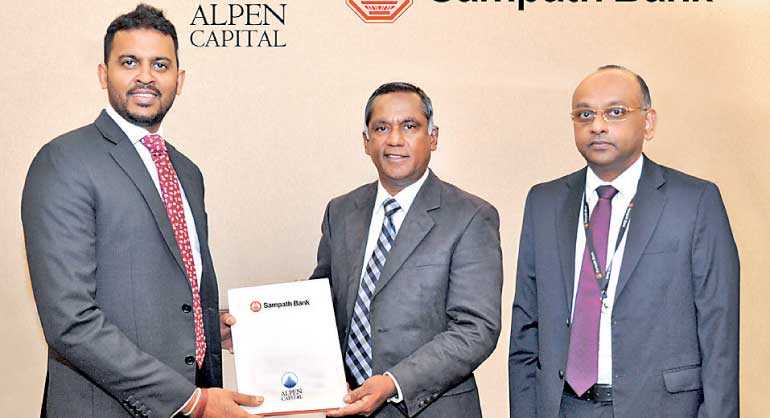 Alpen Capital Senior Director Dilip Samanthilaka with Sampath Bank Managing Director Nanda Fernando and Group Chief Financial Officer Ajantha De Vas Gunasekara
---
Sampath Bank PLC, one of Sri Lanka's leading commercial banks, has successfully raised $ 45 million via a medium-term syndicated facility.

The amount was disbursed in March 2020 and it is the first tranche of a $ 100 million signed facility. It is envisaged that the second tranche would be raised during the fourth quarter of this year.

The facility was provided by a consortium of banks in the Middle East and South Asia. Alpen Capital (ME) Ltd., an investment banking advisory firm based in the UAE, acted as the sole financial advisor to the transaction.
Sampath Bank will be utilising the funds to support its ongoing business and growth requirements.

"We are delighted to announce that we have been successful in raising funds, especially during these difficult times, from the Middle Eastern and South Asian markets. I would like to thank the funding banks for supporting our growth strategy and our advisors, Alpen Capital, for facilitating this transaction," said Sampath Bank PLC Managing Director Nanda Fernando.

"Sri Lanka is a very important market for Alpen Capital. We are extremely proud to support Sampath Bank PLC in its funding requirements. There exist many synergies between the GCC and South Asian markets and given our expertise in this space, we are able to successfully connect our clients with the right opportunities," said Alpen Capital (ME) Ltd. Executive Chairman Rohit Walia.

Established in 1987, Sampath Bank has become a state-of-the-art financial institution that continues to be a market leader today thanks to its constant innovation and customer focused approach to business. Its unique tailor-made solutions, superior services and convenience of access have allowed Sampath Bank to further differentiate itself from the competition and stand out as the bank of choice for many in Sri Lanka.

Alpen Capital (ME) Ltd. is incorporated as a limited liability company in the Dubai International Financial Centre, Dubai, United Arab Emirates and is licensed by the Dubai Financial Services Authority. Alpen Capital offers a full range of investment banking advisory services in the areas of M & A, Debt, Equity and Capital markets to some of the largest business conglomerates and financial institutions in the GCC and South Asia. Apart from the UAE, it has offices in Qatar, Oman and India.