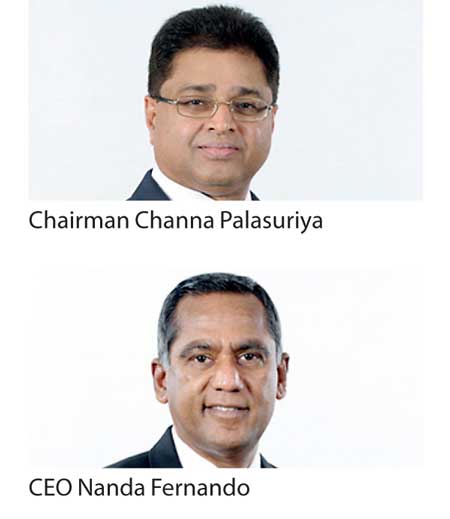 Sampath Bank said yesterday it has posted a Profit After Tax (PAT) of Rs. 12.1 billion for the year ended 31 December 2017, an impressive 32.7% YoY growth compared to Rs. 9.1 billion recorded in the previous year.

Profit Before Tax (PBT) too grew by 31.8% YoY to reach Rs. 16.6 billion for the period under review, as against the Rs. 12.6 billion reported for the previous year.

The group, which comprises the bank and four fully-owned subsidiary companies, also posted a growth in PAT and PBT of 33.5% and 32.5% respectively for the year ended 31 December 2017.

Net Interest Income (NII), the main source of income of the bank which accounts for more than 70% of the total operating income, recorded a growth of Rs. 5.6 billion (or 24.7%) to touch Rs. 28.4 billion in 2017, as opposed to Rs. 22.8 billion reported in the previous year.
This achievement was made possible thanks to the robust 22.5% growth recorded in the bank's advance portfolio coupled with timely re-pricing of the asset and the liability portfolios to overcome the pressure on net interest margins.
Non Fund Based Income (NFBI)
Net fee and commission income, consisting mainly of credit, trade, card and electronic channel related fees, grew by 23.9%YoY, from Rs. 6.6 billion recorded in 2016 to Rs. 8.2 billion in 2017, largely as a result of a strong uptick in advances, expansion of credit card operations and the growing demand for innovative value additions, especially electronic channel offerings.

Net gains from financial investments also grew by 12.1%, bolstered by an increase in dividend income earned from financial assets.

Other operating income recorded a YoY increase of 12.6% for the year ended 31 December 2017, led mainly by an increase in realised exchange income. Consequently, other operating income for the year 2017 increased to Rs. 3 billion, from Rs. 2.6 billion reported for 2016.

Net trading income also showed a YoY growth of 45.4%, mainly due to higher forward exchange contract revaluation gains reported for the year compared to the previous year.
Operating expenses
Total operating expenses for 2017 increased by 9.4% compared to the previous year. This was mainly the result of higher personnel expenses resulting from salary increments, increase in other expenses due to higher VAT rate and inflation along with higher IT expenses owing to system upgrades, etc. However, it is noteworthy to mention that growth in expenses remained well below the growth in total operating income for the year, in turn resulting in a remarkable 550 bps improvement in the Cost to Income Ratio, which for 2017 stood at 42.3%.
Impairment charges on loans and receivables
Impairment charges reported for 2017 amounted to Rs. 2.4 billion, an increase of Rs. 0.9 billion from the Rs. 1.5 billion tabled for the previous year. The 62.7% increase in impairment charges was partly due to the increase in the portfolio size and partly due to a few newly impaired individual customers.

The latter triggered an increase of Rs. 427.5 million (or 46.0%) in individually significant impairment provision for the year. The collective impairment provision too showed an increase of Rs. 455 million (or 90.9%), on par with the increase in portfolio size and due to improvements made to the models during the last quarter of 2016. Consequently, the NPA ratio too has increased marginally from 1.61% in December 2016 to 1.64% in December 2017.
Business growth
Sampath Bank's total asset base crossed the Rs. 750 billion landmark in 2017, growing from the Rs. 658.5 billion reported as at 31 December 2016 to Rs. 795.1 billion by the end of the review period, denoting an increase of Rs. 136.6 billion (or 20.7%).

In yet another landmark achievement, the bank's net loan book surpassed the Rs. 0.5 trillion mark in 2017, as gross loans, which stood at Rs. 468.5 billion as at 31 December 2016, grew by Rs. 105.4 billion (or 22.5%) to reach Rs. 573.9 billion by end 2017. In yet another noteworthy development, for the first time ever, the bank's gross annual loan growth exceeded Rs. 100 billion in 2017.

Meanwhile, for the second consecutive year Sampath Bank's deposit base expanded by more than Rs. 100 billion, enabling the bank's deposit book to surpass the Rs. 0.6 trillion mark for the first time in its 30-year history. Growing at an average of 22.1% in 2017, the bank's total deposit base reached Rs. 630.4 billion as at the reporting date compared to the Rs. 516.3 billion registered as at 31 December 2016.

Deposit growth was driven by the robust increase in term deposits and to a lesser extent by CASA products. Consequently, the bank's CASA ratio decreased slightly from 38.4% in 2016 to 34.9% in 2017.
Performance ratios
Higher PBT drove up ROA (before tax) to 2.29% in 2017, a significant improvement from 2.14% reported in 2016. However, despite the higher PAT, ROE (after tax) declined slightly from 23.47% in 2016 to 23.35% in 2017, mainly due to the infusion of Rs. 7.6 billion to the equity base by way of a Rights Issue in November 2017.

Nonetheless, the Basic Earnings per Share for the year registered an impressive YoY growth of 30.8% to reach Rs. 61.95 as against Rs. 47.35 recorded in 2016.

The Statutory Liquid Asset Ratio (SLAR) at DBU and FCBU levels stood at 22.22% and 24.90% respectively as at 31 December 2017, well above the mandatory requirement of 20%.
Capital adequacy
CBSL introduced Basel III to the Sri Lankan banking industry with effect from 1 July 2017. The full implementation would take place in three phases over a period of 18 months and is targeted to be completed by 1 January 2019, at which point Sampath Bank would need to maintain its Tier I Capital Adequacy Ratio (CAR) at 10% and Total CAR at 14%.

In order to fall in line with these new regulatory requirements, Sampath Bank raised Rs. 7.6 billion worth of Tier I Capital by way of a Rights Issue in November 2017 and Rs. 6 billion worth of Tier II Capital by way of a Basel III Compliant Debenture Issue in December 2017. The bank has also announced the intention to raise a further Rs. 5 billion by way of a Basel III Compliant Debenture with an option to go up to Rs. 7.5 billion to further strengthen its Tier II Capital in 2018.

Simultaneously, in order to strengthen the Tier I Capital requirements, a second Rights Issue was also announced in December 2017 to raise a further sum of Rs. 12.5 billion. Accordingly, Sampath Bank maintained its Common Equity Tier I Capital, Tier I Capital and Total Capital Adequacy ratios as at 31 December 2017 at 10.26%, 10.26% and 14.41% levels respectively. All three ratios stood well above the minimum regulatory requirement of 6.25%, 7.75% and 11.75% respectively applicable as at the reporting date.
Other information
2017 proved to be another rewarding year for Sampath Bank where the bank was honoured as 'Sri Lanka's Best Bank' at the prestigious Euromoney Awards for Excellence 2017. This is the fourth time Sampath Bank has been the recipient of this award, itself a phenomenal accomplishment.

The award recognises the top performing financial institutions in the world, based on stringent selection criteria to evaluate both quantitative and qualitative aspects of the business. For the fourth year running Sampath Bank was also recognised as the 'Best Commercial Bank 2017' and 'Best Retail Bank 2017' in Sri Lanka by the UK-based World Finance Magazine.