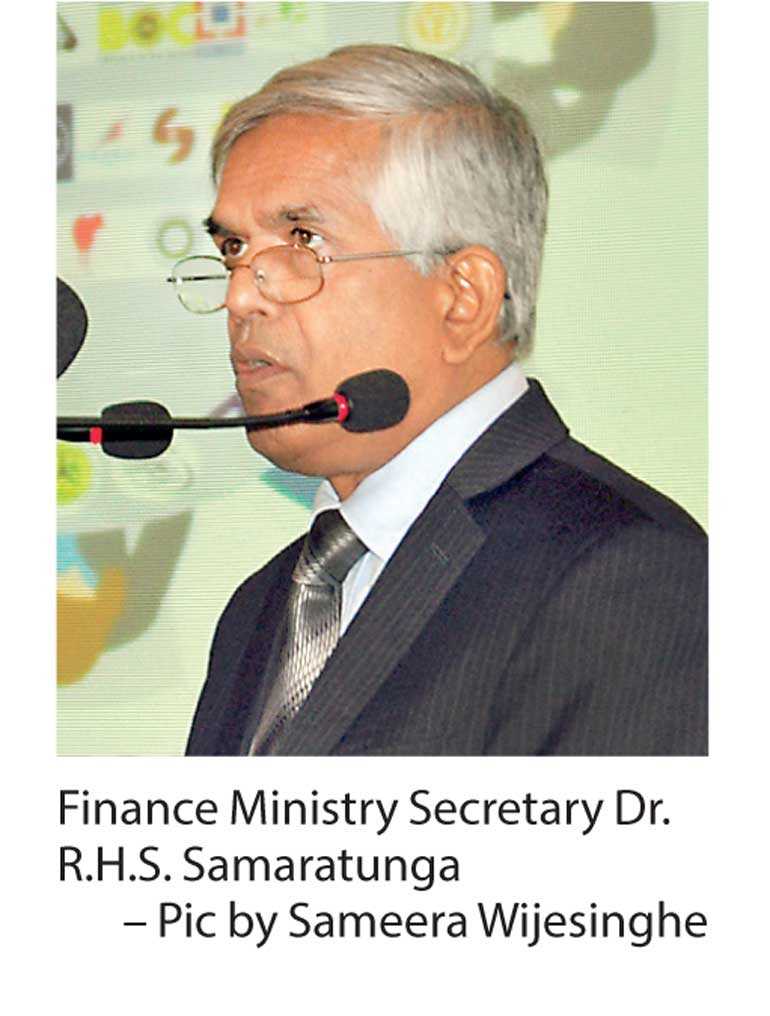 Treasury Secy. says 55 public enterprises with Rs. 1.1 trillion capital post return on assets of just 0.64%
Issues of improper fiscal planning, mismanagement, overstaffing, unqualified top management highlighted SL has 400 SOEs
Of 127 commercial business enterprises only 25% contributed dividends to consolidated fund
55 SOEs recorded Rs. 1, 755 billion turnover, about 13% of GDP
35 SOEs recorded net profit of Rs. 136 billion while 16 made net losses of Rs. 87 billion in 2017
Total asset base of SOEs grew by 13.6% in 2017, about 57% of GDP
Says Govt. committed to SOE reforms, warns SOE heads would be responsible for unlawful recruitments
By Uditha Jayasinghe

State-Owned Enterprises (SOEs) must mend their loss-making ways by improving governance to meet the growth demands of the Sri Lankan economy, the Treasury Secretary said yesterday, pointing out that the return on assets of key 55 enterprises that had capital of Rs. 1.1 trillion at end 2017 was a mere 0.64%.

Finance Ministry Secretary Dr. R.H.S. Samaratunga, speaking at a conference for the chairmen of SOEs, stressed the need to make a sea of changes in the operations of public business enterprises as well as SOEs in general. In an incisive address, Dr. Samaratunga highlighted improper financial planning, the mismanagement of human resource and assets, weak internal auditing systems, unsatisfactory debt management, violation of advance payments, overstaffing, subsidiaries being established without Treasury approval, adverse impacts of trade union decision-making, dearth of qualified personnel at senior management positions, a lack of commitment to shift to cost accounting systems and deficiencies in the appointments to the board of directors as reasons for losses.

He also censured funds accumulated in SOEs without Treasury approval, delays in the presentation of annual reports to Parliament and staff favouritism.

"We know public enterprises play a very important role in the delivery of public services in this country. It contributes directly and indirectly to the overall wellbeing of our population. The development expenditure of SOEs essentially reflect the Government's visions and public investment strategy. The boards of SOEs are vested with the responsibility to ensure that the entities operate as commercially viable entities having exercised good business practices and appointed people who are suitably qualified and have the capacity to guide these SOEs well," he said.

The Treasury Secretary called for SOEs to be professionally managed, pointing out that Sri Lanka currently had about 400 SOEs of which 264 were supervised by the Department of Public Enterprise of the Treasury, and the remaining 136 SOEs were under the supervision of the National Budget Department also under the Treasury.

The Government at the end of 2017 had contributed Rs. 1, 150 billion as capital to strategically important 55 SOEs, he said. Although the country has more than 127 commercial business enterprises, only 25% of them have contributed to the consolidated fund by way of levies and dividends in 2017, which amounts to Rs. 54 billion. However, the Government has channelled over Rs. 41 billion to SOEs through the Budget.

Last year 55 SOEs recorded a turnover of Rs. 1, 755 billion, which comes to about 13% of GDP. Out of these, 35 SOEs recorded net profit of Rs. 136 billion while 16 made net losses of Rs. 87 billion in 2017. The total asset base of SOEs grew by 13.6% in 2017, which made up about 57% of GDP.

"Even though SOEs occupy significant space in the economy it is by no means a reflection of their potential or capacity. In fact the return on assets is merely 0.64% if you put all 55 business enterprises together. The business enterprises have not been performing at full potential. The reasons include a lack of good governance, lack of clear accountability mechanisms, issues associated with policy and legal frameworks and a weak supervisory role played by SOE management," he stated.

Drawing from multiple Committee on Public Enterprises (COPE) reports, Dr. Samaratunga noted that many issues associated with the business enterprises and SOEs in general centred on procurement, recruitment and various allowances paid to employees. COPE has also specifically mentioned most SOEs do not present their annual reports on time.

"More importantly the mandate of these public enterprises is not properly understood by the senior managers, board directors and chairpersons. These issues have been highlighted by COPE over several decades. The boards of SOEs are vested with the responsibility to ensure the commercial viability of entities having exercised good business practices. While being entrusted to improve business turnover, the board needs to meet the demands of a rapidly growing economy, increasing socioeconomic returns in public investment. The Government is also committed to improving the performance of SOEs through improving management and to generate reasonable return on equity as the owner of SOEs."

As part of this effort, the Treasury will also monitor the payment of levies and dividends to its shareholders as a key indicator to measure progress.

"Public corporations, statutory boards and Government-owned companies have affected recruitment without the prior approval of the management services under the Treasury. All recruitment should be carried out only on the basis of approval taken from the Management Services Department unless specifically given permission by Cabinet. Promotions should be done in accordance with approved procedure, filling vacancies should only be done with the prior approval of the Management Services Department and depend on fund availability. This is a fact often overlooked by entities that are making losses. If there are doubts, consult the Management Services Department."

The Treasury Secretary insisted no recruitment should be made superseding the directions given in the management circulars. He warned that if such recruitments are made the heads of the institutions will be made personally responsible under a new Cabinet directive.

"The resources under SOEs are ultimately the resources of the people of this country," he emphasised.