Says President rejected four names proposed to SLRC Chairman's post since March
Subject Minister kept in dark about takeover
Says move raises questions due to upcoming polls
Hopes President will rethink move
President Maithripala Sirisena had rejected four names that were proposed for the Chairman's post of Sri Lanka Rupavahini Corporation (SLRC) before his sudden decision to place the State-owned television station under the Ministry of Defence, Mass Media Non-Cabinet Minister Ruwan Wijewardene said yesterday.

"From March up to this month, I have repeatedly tried to appoint a new Chairman to SLRC, but the President rejected all the names I put forward. Then he abruptly took over SLRC with no consultation with the Subject Minister," Wijewardene told reporters at a press briefing.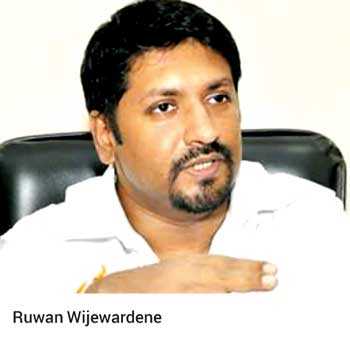 The President brought SLRC under the Defence Ministry by an Extraordinary Gazette notification on Monday night but has not given a reason for the decision.

Wijewardene said that the President's action is against democratic institutions in the country as well as the freedom of the media.

"I strongly condemn this action and, as a matter of principle, against a media institution being placed under the Defence Ministry," Wijewardena who is also the State Minister for Defence said.

He said that the move, coming close to an election, raises the question if it has been done to influence the polls or is a precursor to another coup like the one in October.

"While the President has the powers to take over SLRC or any other institution, this is bad for democracy and it is against media freedom," he said.

The Minister said that since he took over the Mass Media Ministry in February, he has held several rounds so talks with the President and apprised him of the need to change the management at SLRC.

"SLRC is facing imminent collapse. It is corrupt and mismanaged. The workers and trade union members have told me the Chairperson and her team must be removed so SLRC can turnaround financially, but I have been obstructed from doing so," he said.

Wijewardene said that the SLRC has fallen to sixth in ranking among TV stations in the country and the Treasury has to give money to pay salaries of staff. "We had to ask for Rs. 450 million to pay salaries. This is a burden on the public of this country. The Finance Minister has said the Treasury can't keep giving millions all the time unless there is a turnaround at the Corporation," he added.

Wijewardene added that he hopes the President will think of the seriousness of this move and take corrective action.