Challenges opponents of SLPP candidate Gotabaya Rajapaksa to defeat him at polls
Says petition exposes political bankruptcy of Rajapaksa's opponents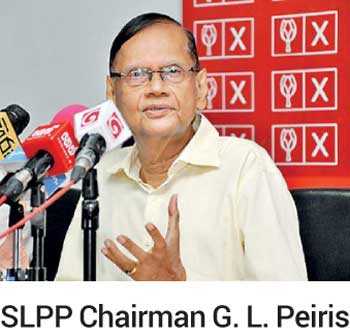 The SLPP yesterday welcomed the decision of the Court of Appeal, which dismissed the case regarding the citizenship of its presidential candidate Gotabaya Rajapaksa, and challenged its opponents to try and defeat the Party at the upcoming election.

"Don't expose your political bankruptcy but try and defeat Rajapaksa at the Presidential Election," SLPP Chairman G. L. Peiris said soon after the Court's decision was announced.

Peiris said that the petition filed against Rajapaksa was an attempt to silence SLPP's candidate and remove him from the presidential race without facing him at the ballot.

"The CA dismissed this case as it had no basis. The Supreme Court also dismissed a case this morning that sought to postpone the elections. Why are they afraid to face elections?" he queried.