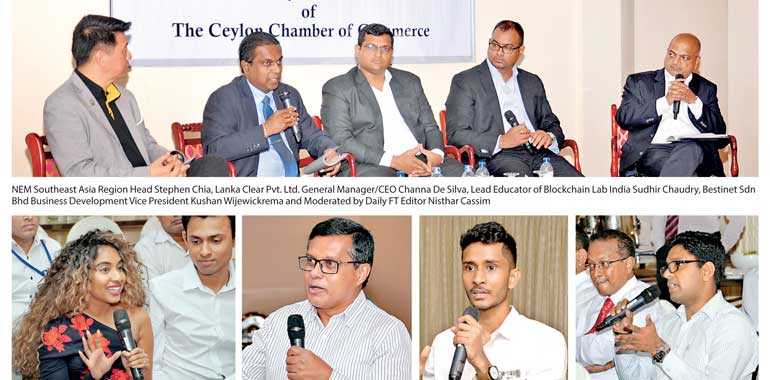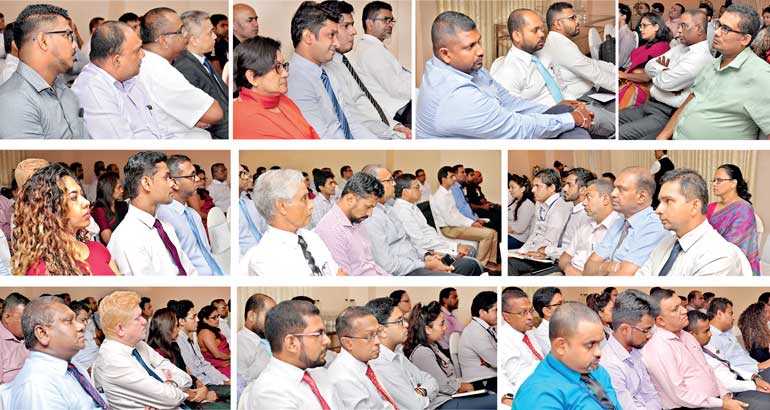 By Rahel Kirinde

The Sri Lanka-Malaysia Business Council (SLMBC) recently held an event elucidating the significant need of integrating blockchain in order to develop functions of a financial system.

The event included a keynote address by NEM Southeast Asia Region Head Stephen Chia followed by a panel discussion including Stephen Chia, Lanka Clear Ltd. General Manager/CEO Channa De Silva, Lead Educator of Blockchain Lab India Sudhir Chaudry, Bestinet SdnBhd Business Development Vice President Kushan Wijewickrema, moderated by Daily FT Editor Nisthar Cassim.

During his presentation themed Blockchain: The pathway to smart economy, Chia said that blockchain is not meant to replace banks or physical currency and that it is a mode of securely transferring funds or data.

"When you transact through blockchain you will be able to transfer funds without a middleman or a financial intermediary, it is not a ponzi scheme, it is also not illegal and not a method of evading tax.

He said that immutability is one of key features of blockcha in that ensures it remains secure and does not affect a user's privacy since external parties will not be able to edit or change encrypted data.

Elaborating on the controversy of accepting crypto currencies as real currency and the dilemma of central banking systems of the world Chia said, "It is the duty of the regulators of a country to choose whether they will move forward with the advancements of technology or whether they will stick to the old ways."

On a different note speaking on benefits of blockchain Chia said that blockchain could be used in the HR sector where the graduates'diplomas would be digitally uploaded using blockchain which companies will have direct access to when hiring new employees which will ultimately prevent related frauds and also eliminate the need for a physical diploma."The company will only have to go on to the school blockchain platform and they will get access to past school records including certificates and diplomas."

Panel discussion:
Q: The challenge of technology it cannot be felt or seen. Is blockchain reality or just another hype?
Sudhir: A very common question about blockchain is whether it is a hype or a new disruptive technology. It is definitely a disruptive technology. To see why we must understand that even the world wide web was thought to be a con until different people started creating various applications such as email and other social media apps and finally understood that information could be exchanged through a platform. Now blockchain is a disruption where you users will be able to share and transfer data without worrying about its security and any impact on their privacy.
Q: Do you feel that blockchain is still in a stage of evolution or can it be brought to market right now?
Sudhir: Blockchain right now is still a baby, but one that has already started running, now we need to show the baby the correct path. But it is definitely in a stage where it can be implemented from industry experts. We need to form a consortium to bring out the value. I see that the commercial implementation of blockchain is held back by the industry and not the technology or the skill of the technologists. The industry experts need to step up and take charge.

Kushan: We started blockchain technology Malaysia with the purpose of educating and bringing enterprise solutions to Sri Lanka, the first thing we did was educating the Central Bank and they formed a committee which could be seen as an initial step in understanding what this is.

In Sri Lanka we can see some companies including the insurance industry which is already looking at blockchain for their general insurance purposes and we have a leading life insurance company that is looking at blockchain for life insurance purposes. We have observed a few banks with other integrated businesses that is looking at blockchain to pay for their supply chain. For example, these banks that have other business verticals intend to use blockchain in order to reduce transaction costs by using loyalty tokens that can be redeemed.
Q: When people get loyalty points redeemed do they get rewarded with digital assets or currency that they are familiar with?
Stephen: A major confusion with blockchain users will be obliged to use digital assets such as bitcoin. As long as you have your own loyalty token it is that token that will be exchanged. For example if you are a mobile service provider you can create your own internal currency and use it.
Q: What is the opinion of the Central Bank regarding blockchain?
Channa: The thing with cryptocurrencies and blockchain is that despite the many positive attributes of it carries it also has few negative impacts. There are issues pyramid schemes, anti-money laundering (AML) especially with the parliament declaring Sri Lanka as a high-risk AML destination. This is one of the main reasons for the concerns of integrating blockchain. Cryptocurrencies are in the roadmap but it being implemented in the immediate future may not possible due to aforementioned reasons.

One use of blockchainfor the banking industry is creating a centralised authenticated system where banks will be able to share information that will be convenient for customers. Another use of blockchain will be related to foreign exchange remittances. A major issue with foreign remittances is that a portion of income we receive is illegal. Due to this getting an accurate calculation becomes difficult. Here using blockchain can be used for a KYC based form where both the sender and receiver will have to authenticate thereby eliminating issues regarding remittances.

Pix by Sameera Wijesinghe