From Left: Mother Sri Lanka Chairperson Janaki Kuruppu, Mount Lavinia Hotel Ltd. Chairman and Managing director Sanath Ukwatte, Armed Forces of Sri Lanka Commander-in-Chief Lt. General Mahesh Senanayake, Sri Lanka's cricket legend Roshan Mahanama, Laugfs Chairman Group CEO W.K.H. Wegapitiya, Global Strategic Corporate Sustainability Ltd. Chairman Dr. Ravi Fernando and Moderator CIC Industrial Solutions CEO Graham Marshall - Pix by Indraratne Balasuriya.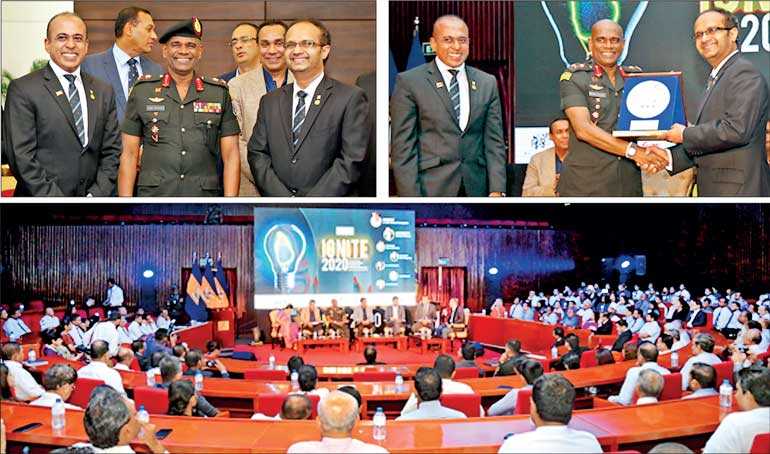 SLIM Ignite 2020 was held in a spectacular manner at the BMICH, with the voices of legends speaking on behalf of the spark of change. The direction was set towards ultimate prosperity by establishing the right tone for top professionals in the corporate sector.
Lt. Gen. Mahesh Senanayake who was the keynote speaker and the guest of honour was welcomed by SLIM President Suranjith Swaris and SLIM National Initiatives Project Chairman Charaka Perera. The panel consisted of Deshamanya Roshan Mahanama, LAUGFS Holdings Chairman Deshamanya W.K.H Wegaptiya, Global Strategic Corporate Sustainability Ltd. Chairman Dr. Ravi Fernando, Business Strategy and Social Research Consultant and Mother Sri Lanka Trust Chairperson Dr. Janaki Kurupu, Hoteliers Association of Sri Lanka President and Mount Lavinia Hotel Ltd. and Ceylon Hotels Ltd. Chairman Sanath Ukwatte, and CIC Industrial Solutions CEO and TBWA Sri Lanka Non-Executive Director Graham Marshal taking charge as the moderator.



"We lived up to the promise we made at SLIM Ignite 2020 by igniting a nation through the permeating values of SLIM, to showcase an ownership towards our country by establishing a knowledge centric power house with voices that will change a turbulent image. The event was executed with the aim of changing the course of direction towards tomorrow's opportunities. The thought provoking speeches inspired marketers and business heads to take ownership in their respective fields and to bear responsibility in changing the negative image of our country today, by adding new dimensions in driving that change towards economic prosperity," stated Suranjith Swaris.

Charaka Perera said: "I am very delighted to see such an outcome, that not only ignited a nation but fostered motivation to build reforms that will result in economic prosperity. SLIM has begun the journey of establishing marketing as the driving force, which enhances business and national value at Ignite 2020. To be able to have rallied the elite business heads from a cross section of industries and expertise to put the country first, as it is the only way forward, was a remarkable facet that was achieved at this forum."

The words of Army Commander Lt. Gen. Mahesh Senanayake during his inspiring keynote address, sparked fresh thinking in the businesses that one operates in.

Deshamanya Roshan Mahanama addressed the topic of leadership in building value proposition in governance, Deshamanya W.K.H. Wegapitiya educated the gathering on committed, charismatic entrepreneurial leadership traits, Dr. Ravi Fernando spoke on the one belt economic opportunity of Sri Lanka, Dr. Janaki Kuruppu emphasised upon the passion required take the country forward, and Sanath Ukwatte stated that each person has a responsibility and marketers are the ones who can fulfil it. Graham Marshall orchestrated and marshalled the all-star panel to ignite a powerful voice of change that truly inspired many.

"SLIM Ignite 2020 further flamed a message of unity, through real-life and practical examples with shared experiences of overcoming business obstacles and challenges in the economy, and the thriving of marketing in economic turbulences. The forum also showcased the means by which marketing and marketers are the key to unlocking the untapped potential in periods of uncertainty," Charaka Perera added.
Joined with SLIM as event sponsors were Nations Trust Bank, the Auto Miraj Group, Nivasi Developers Ltd., Perera & Sons Bakers Ltd., while the service sponsors were Mullen Lowe Sri Lanka, TV Derana, Fox FM and Fox entertainment, Anantaya Resorts & Spa, Ant Work, LMD and the BMICH.
Lt. Gen. Mahesh Senanayaka delivered an insightful and an inspiring keynote address, adding multiple dimensions of national security and its impact on the country's economy. Excerpts from his speech are below.

As a nation, we are now at an inflection point to determine the future of this country. This could be the finest hour to unite and work collectively under a well-crafted national plan to take our country into propitious future.

National Security in the most basic terms can be identified as creating a national environment suitable to progress national aspiration without any hindrance.

The economic potency of the country is the key pillar of national resilience. We need to look at the economic element of national security from holistic views. Those views shall include the role of debts, the government stability, industrial capability, diplomacy, energy, science, technology, societal cohesion and human capital etc. If the economic element of national security is neglected and misunderstood, nothing will be more dangerous to the nation and the generations to come.



The strengthening of national security will be a hard political choice. Therefore, I strongly believe that, to preserve our democracy and other core values, we need to have strong Armed Forces. If defence is an instrument of national power, then it is equally true that a weak defence instrument makes a weaker nation.

Therefore, the element of national defence should be based on a very strong foundation to ensure Sri Lanka's security. Under the present domestic security situation, major threats to our national security will always remain within.

Our country has not made the progress that we deserve. Sri Lanka is still a developing nation even after 71 years of independence and it seems we will continue to develop even after 100 years of independence we need to individually and collectively look into the problem of why our country has not been prosperous. What element has not worked so well?

Economy and security is inextricably interwoven and cannot be separated. In the absence of the feeling of 'Nation First' in the heart of each and every citizen, we will not succeed in attaining freedom from security threats.

The notion of security needs to be the prime concern of individuals, groups and the state. All government agencies and many elements of Sri Lanka's broader society should be encouraged to see themselves as being part of a wide-ranging national security community and to act accordingly in the best interest of the nation.

The future is defined by the choices we make today by foreseeing the future we want. It is time that we wake up, recognise our reality and start making some tough choices in order to take our country to the position it deserves to be. We deserve a better place than where we are today. Sri Lanka needs well integrated, forward looking, outcome based strategic plans in order to get away from the current turbulence.