'The Big Three' mean real business
---
By Sa'adi Thawfeeq
---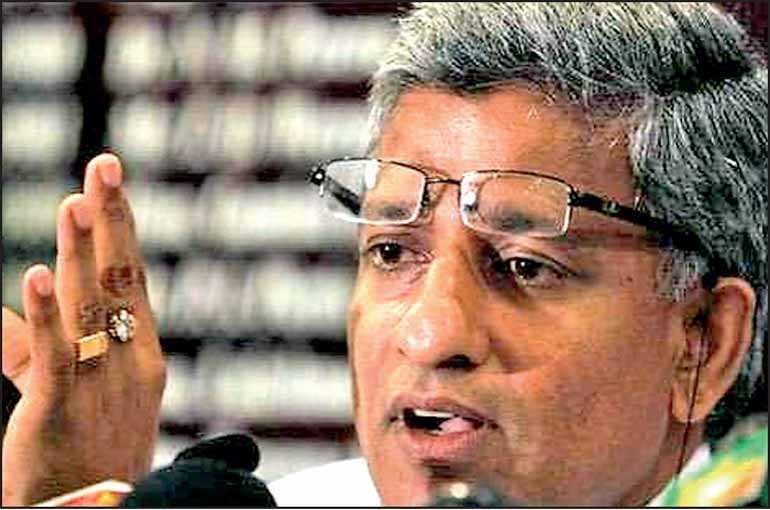 Nishantha Ranatunga
---
'The Big Three' as they call themselves – K. Mathivanan, Nishantha Ranatunga and Bandula Warnapura have filed objections against virtually every nominee put forward by the current administration running Sri Lanka Cricket (SLC) for the forthcoming elections.

At a media briefing held at the Colts Cricket Club premises yesterday, Club President Nishantha Ranatunga said: "The purpose of the press briefing is to enlighten the media and the general public of what we have done in terms of objections for the nominations submitted by the opposition. For the presidency post they have submitted three nominees, for the post of two vice-presidents – four nominees, post of secretary – three nominees, post of assistant secretary – four nominees, post of treasurer – four nominees and post of assistant treasurer – four nominees.

"We have filed objections to the Elections Commission appointed by the present SLC ExCo and we have also objected to the Sports Minister with regard to the time frame they are able to hold office. Usually, the time period to hold office is four years, but a maximum of two years. Last time the elections were held was on 20 February 2019. We have written to the Sports Minister and the Ministry Secretary and Director-General Sports and we were told that the matter has been referred to the Attorney General for advice."

Ranatunga expressed disappointment with the Elections Committee.

"We expected them to give us a positive response to our objections in terms of all the accusations we have made against the current office-bearers, and for all the violations they have made for which we have got documentary evidence. However, we are very disappointed with the response of the Elections Committee."

"To remind you, even in the last two elections held in 2017 and 2019 the same thing happened. In 2019, we had to go to the Appeal Court and we had to go to Courts to get the real outcome of our objections. Even with regard to 2017, we had to follow the same process. We had to go to court and we managed to keep some of the people who are not supposed to be eligible to contest, out," said Ranatunga.

Giving reasons why the three of them are coming forward to contest the elections Ranatunga said: "From our point of view, the most important thing is that our cricket level has gone down and there is a grave risk of us going back to the pre-Bandula Warnapura era where we played Division II or Division III cricket. Once we get into that arena again, the income of the game will go down. The present administrators are not interested, there interest is only to hold office. We want to address this issue and bring about a change to Sri Lanka Cricket."

Speaking further Ranatunga stated: "The purpose of us trying to get into office is because cricket in this country has fallen into a very low position, we have gone down in our rankings – 10th in T20, eighth in ODIs and seventh in Tests. A country that has won two World Cups and qualified for four World Cup finals and in 2015 was ranked no. 3 in all three formats; from 2015 till today, the level of cricket has gone down."

"About 10 years back, there were only eight countries playing Test cricket, then it became 10, now it has become 12. Although the number of countries has increased, the number of days for a year which are 365 is the same. Now, the ICC is looking at reducing the number of teams, so there is a huge risk in terms of Sri Lanka going down to the second grade. That is why we thought as a responsible club and as individuals, who have played the game at international level and first-class level, we should put forward our nominations and try and change things at SLC."

"We are very confident our cricketing talent is there, but it is how you manage them and how you groom them is the issue. We have not seen any 'A' team or Under-19 tours, we have not seen money invested on school cricket or on school tournaments, no competitive tournaments at any level of cricket. The level of cricket has gone down and it is not because of any lack of talent, but due to administrative issues."

"If you go by the administrative aspect, the President of Cricket in 1996 Ana Punchihewa mentioned that he had only six staff members to run the Cricket Board and only Rs. 300,000 in the kitty. With six people, we have never heard of players not getting visas. Today, SLC is spending 40-50% of our revenue on staff and some of the players are even not getting their visas. It is an administrative lapse. Also, if you look at the financial part, the present members of the SLC cannot go and answer questions raised by the COPE committee. We see that cricket wise, administrative wise and financial wise they have failed. That is the purpose of us coming forward to revamp cricket," Ranatunga stated.

He also pointed out that the present administration is continuing in office, despite their two-year term having expired on 20 February.

"The second point we want to raise is that they have not got approval from the ExCo and submitted their accounts to the AG by 20 February 2021. We have got evidence that they have got approval only in March, which is a violation of the constitution and therefore they cannot apply for any position at the forthcoming elections. There are also certain members who have gained payments while serving in honorary capacity while not having played the game, which is a constitutional requirement.

"We have filed objections against all of them. We are very confident that with the existing documentation and proofs that we have, apart from one candidate from their side (Samantha Dodanwella), all the others are not entitled to qualify to run for office at the forthcoming elections. We are going to appeal to the Appeal Board through the Ministry of Sport and we will take further action if required," he concluded.