---
Govt. target of 80% renewables in next decade enormous task
Warns strong effort needed to meet 6% per annum growth demand
By 2027, daytime demand for power set to outstrip night-time peak demand
Solar and wind best way to bridge demand
CEB update shows hydro power has dropped to 15% as dry weather bites
By Shailendree Wickrama Adittiya

The Government will need to implement forward-looking policies to keep up with an estimated 6% increase in annual energy demand, and implement a staggering 10,000 MW of renewable energy to meet its target of 80% renewables by 2030, a top official warned yesterday.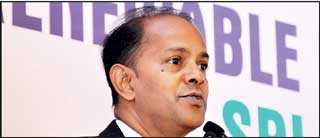 Public Utilities Commission Director General Damitha Kumarasinghe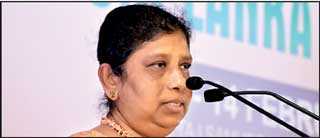 Power and Energy Ministry Add.Secretary Indrani Vithanage


At the Sri Lanka Chapter of the Renewable Energy Growth Forum, organised by Informa Markets, India, Public Utilities Commission of Sri Lanka (PUCSL) Director General Damitha Kumarasinghe stated that of current power generation, only 40% was renewable energy, and that increasing this to 80% was an enormous task that provided opportunities for investment, technological inventions, and engineering practice.

The need for capacity expansions in the power sector was not solely about achieving the 2030 target, but also vital in keeping up with the growing demand. According to the PUCSL, energy demand growth is 5%-6% per annum, and peak demand is also increasing. By 2027, it is estimated that daytime demand will outstrip night-time peak demand.

Currently, according to the Ceylon Electricity Board update for yesterday, 40% power generation is from coal, 40% from oil, and 15% is from hydro. Less than 3% is from wind. Kumarasinghe said that despite the lower generation at present, solar and wind were where the most promising development was expected within the decade.

"Supplying daytime energy at a good price and in an environmentally-friendly way is key, and I think that's why the Government has set a very high target for renewable energy penetration within the next decade."

There are many challenges to meeting this goal, and Kumarasinghe said, "If we are to achieve 80% by 2030 from renewable energy, we need about 10,000 MW of renewable energy to be installed within a span of ten years." This would require capacity expansions of 1,000 MW per annum.

He added that there was a need for sources to supply daytime energy, especially at affordable prices and with technical feasibility.

"We are thinking of transforming energy from 70% imported fuel to 80% indigenous sources. That's a major paradigm shift," Kumarasinghe shared.

Power and Energy Ministry Additional Secretary (Power and Energy) Indrani Vithanage gave the keynote address at the forum, and said that there was a need for the country to set their eyes on larger projects. "The 100 MW Mannar Wind Power project financed by ADB is promising us electricity under $0.05 per kilowatt per hour," she said, adding that the benchmarks are set so solar would be no different.

"These technologies have proven their price competitiveness beyond any doubt," she further commented, adding that, "No one can say renewable is not affordable in the developing world."

Also speaking at the event was acting Indian High Commissioner to Sri Lanka Vinod Jacob, who said that the challenge was using available solar energy wisely, emphasising on the need for a partnership between Sri Lanka and India. "India can be a partner to Sri Lanka in energy security and to fight against climate change and sustainability," he said, adding that it would be a long-term commitment.

He further commented that if the countries work together, it would be for mutual benefit. "On a bilateral front, in terms of India and Sri Lanka, we have offered $ 100 million concession financing for undertaking solar projects in Sri Lanka," Jacob said.

He added that the Indian government was also working with the Sri Lankan Government to set up a solar power plant in Sri Lanka.
– Pix by Lasantha Kumara