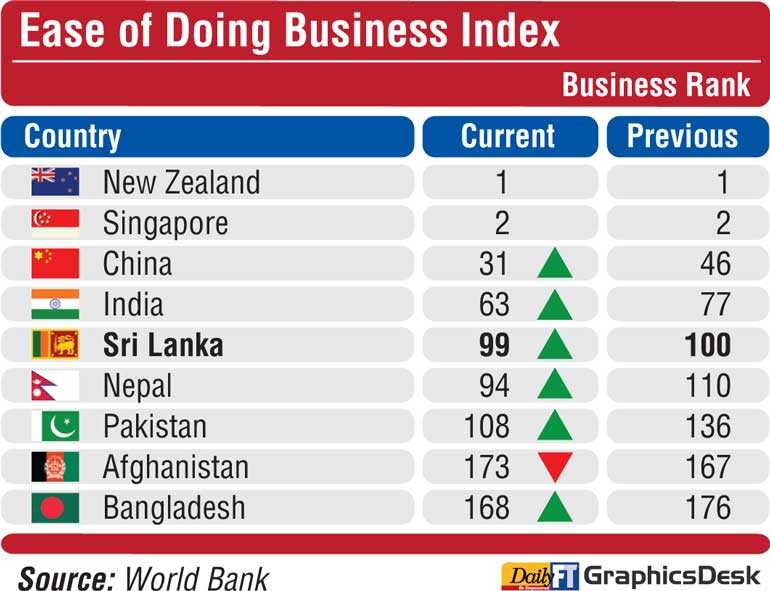 ---
Moves up only one slot in World Bank index from 100 the previous year
Nepal moves past SL to 94th position from 110
SL with Afghanistan, Bhutan and Maldives, fails to make any regulatory changes
Pakistan best regional performer, advancing 28 places
India at 63rd position, among top ten improvers for third year
Bangladesh moves up eight places to 168
New Zealand retains top slot, China 31
Sri Lanka has only advanced one notch in the latest Ease of Doing Business rankings compiled by the World Bank, inching forward from 100 in 2018 to the 99th position, the latest edition of the index showed yesterday.

India, which was placed 63rd in the Doing Business rankings, is the highest ranked economy in South Asia, followed by Bhutan (89) and Nepal (94). The region's lowest ranked economies are Bangladesh (168) and Afghanistan (173). Other economies in the region and their rankings are Sri Lanka (99), Pakistan (108), and the Maldives (147).

"With a total of 17 reforms, the region actively reformed its business environment for the third year in a row. The region retains an average of about two reforms per economy, in line with the highest pace on record," the report said.

India, with four reforms, is among the top ten improvers for the third consecutive year. Another top reformer, Pakistan, with six reforms, improved the most in the region during the past year moving forward 28 places. India was ranked at the 77th position last year while Nepal, which was ranked at 110 managed to move past Sri Lanka to the 94th position.

Bangladesh was at the 176th position and has advanced eight places. Only Bhutan has slid from 81 to the 89th rank.

However, only half of the South Asian region's economies carried out reforms in the past year. Afghanistan, Sri Lanka, Bhutan and Maldives did not make any regulatory changes. Some economies still fall considerably behind the global best practices. The region underperforms generally in enforcing contracts and registering property. A company needs around 108 days to register a transfer of property in South Asia, more than four times the OECD high-income average of 24 days. Resolving a commercial dispute takes around three years, almost twice as long as among OECD high-income economies.

The region's economies perform best in the Doing Business areas of protecting minority investors (average rank of 77), getting credit (97), dealing with construction permits (98) and starting a business (99). Starting a business in South Asia takes 14.5 days on average, compared to 19.4 days globally.

The areas where the region's economies underperform are paying taxes (average rank of 132), registering property (142), and enforcing contracts (145). For example, registering a property in South Asia takes 108 days on average, compared to the global average of 47 days.

"It is encouraging to see the steady implementation of reforms in South Asia," said World Bank's Global Indicators Group Senior Manager Rita Ramalho, which produces the study. "Continued and sustained progress is key to improving the domestic business climate and enabling private enterprise."

In contrast, the East Asia and Pacific economies carried out 33 business-climate-enhancing reforms during the past year. While many made doing business easy for small and medium-sized entrepreneurs by global standards, the overall pace of reforms slowed. The number of reforms in the region fell by ten over the 12-month period and reforms were implemented in fewer than half of its economies (12 out of 25). Even so, five are among the top 25 global performers, including Singapore (2nd), Hong Kong SAR, China (3rd); Malaysia (12th); Taiwan, China (15th); and Thailand (21st). China is among the top 10 improvers for a second consecutive year.

Overall, Governments of 115 economies around the world launched 294 reforms over the past year to make doing business easier for their domestic private sector, paving the way for more jobs, expanded commercial activity, and higher incomes for many, according to the World Bank Group's Doing Business 2020 study.

This latest edition of the study documents reforms implemented in 10 areas of business activity in 190 economies over a 12-month period ending May 1, 2019. Business-friendly environments are associated with lower levels of poverty, and improved regulatory efficiency can stimulate entrepreneurship, startups, innovation, access to credit, and investment. The study is the 17th in an annual series that evaluates regulations enhancing or constraining business activity for small and medium-size enterprises.

"Governments can foster market-oriented development and broad-based growth by creating rules that help businesses launch, hire, and expand," World Bank Group President David Malpass said. "Removing barriers facing entrepreneurs generates better jobs, more tax revenues, and higher incomes, all of which are necessary to reduce poverty and raise living standards."

The ten economies where business climates improved the most were Saudi Arabia, Jordan, Togo, Bahrain, Tajikistan, Pakistan, Kuwait, China, India, and Nigeria, the study found. China and Togo appear among the top ten for the second consecutive year, while India makes the list for the third consecutive year, indicating that business regulatory reform is a multi-year process. Bahrain implemented the highest number of reforms, improving in nine out of ten areas measured by the report. China and Saudi Arabia followed with eight reforms each.

The ten economies scoring the highest on the ease of doing business rankings were New Zealand, Singapore, Hong Kong SAR China, Denmark, Republic of Korea, United States, Georgia, United Kingdom, Norway, and Sweden. Top performers typically had online business incorporation processes, electronic tax filing platforms, and online procedures for property transfers.

At the same time, 26 economies took steps that posed new obstacles to business activity. Many of these increased the costs of doing business.

An entrepreneur's experience differs wildly in high- and low-performing economies. For example, it takes nearly six times as long, on average, to start a business in the economies ranked in the bottom 50 than in economies ranked in the top 20. Transferring property in the 20 top economies requires less than two weeks, compared to three months in the bottom 50. Obtaining an electricity connection in an average bottom-50 economy takes twice as long as in an average top-20 economy; the cost of such a connection is 44 times higher when expressed as a percent of income per capita.

The 10 areas measured in the report are: starting a business, dealing with construction permits, getting electricity, registering property, getting credit, protecting minority investors, paying taxes, trading across borders, enforcing contracts, and resolving insolvency. One additional area, employing workers, is also measured but is not included in the rankings.

Starting a business, dealing with construction permits, getting electricity, and paying taxes were areas with the most active reform over this period. Reforms in dealing with construction permits and getting electricity have jumped in recent years. Many of the 37 economies that made construction permitting simpler streamlined interactions with agencies for pre-approval and inspection. To connect businesses with the power grid more efficiently, 16 economies invested substantially in modernising electrical infrastructure. One outcome: average global duration of power cuts fell more than 8% between 2017 and 2018.