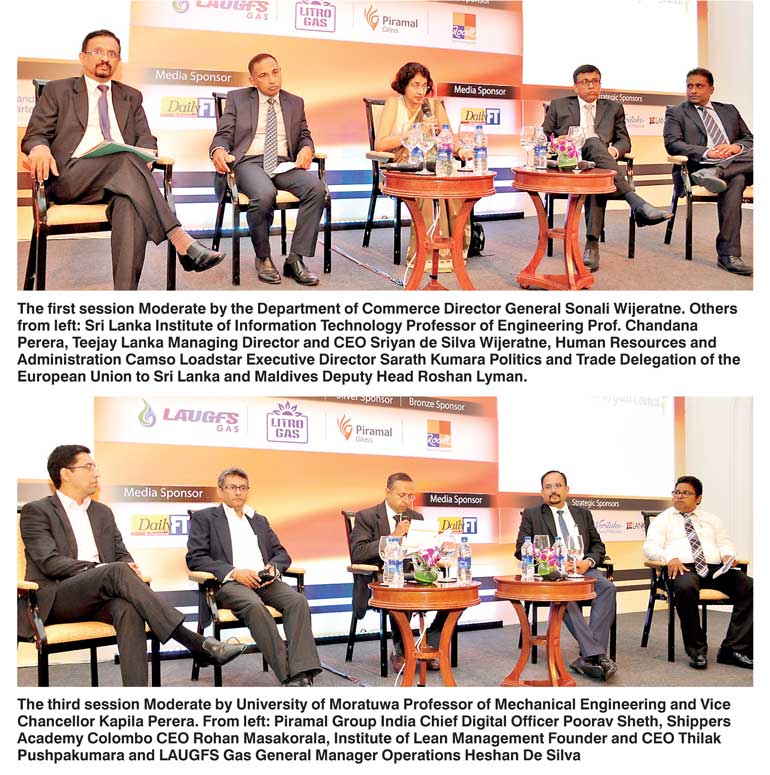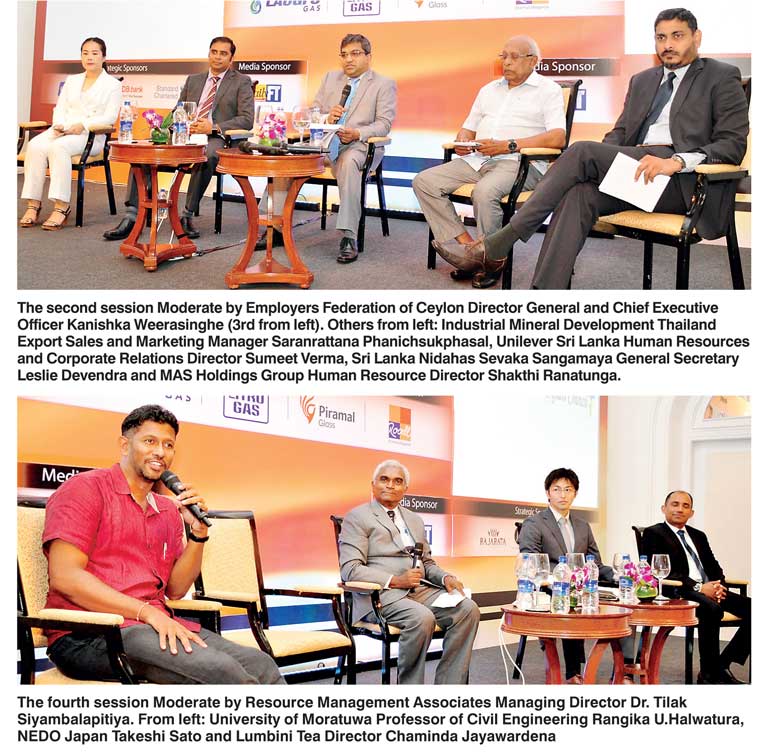 By Shannon Jayawardena

The Sri Lanka Ceramics and Glass Symposium 2018, in a bid to enhance the industry and new market opportunities, invited several leading professionals to share insights and their view points on 6 March at the Taj Samudra.

The objectives of the symposium were to focus on the key strategic issues in the local and global market arena in relation to traditional ceramics and to explore avenues for diversification into advanced ceramics, develop the red-clay industry to an export product and explore opportunities for technology transfer into the ceramics and glass industries.

The seventh edition, organised by the Sri Lanka Ceramic and Glass Council, an affiliated trade body of the Ceylon Chamber of Commerce, touched upon various topics including 'Commanding presence – Being globally competent,' 'Human Resources – Maintaining competitive advantage,' 'Processes –Improving and Innovating' and 'Strategies – Sustaining for the Future'.


Commanding presence – Being globally competent

The first session sharing insights on commanding presence and being globally competent was chaired by the Department of Commerce Director General Sonali Wijeratne and featured Sri Lanka Institute of Information Technology Professor of Engineering Professor Chandana Perera, Politics and Trade Delegation of the European Union to Sri Lanka and Maldives Deputy Head Roshan Lyman, Teejay Lanka Managing Director and CEO Sriyan de Silva Wijeratne and Human Resources and Administration Camso Loadstar Executive Director Sarath Kumara as the key speakers.

Professor Perera speaking on sustainability through value migration said: "The concept of value migration is the flow of economic and shareholder value away from absolute business models to new and more effective designs that are better able to satisfy the customer's most important priorities."

He noted that value migration occurs when there is a disconnection between customer needs and the existing business results. If the existing business designs do not meet the customer needs businesses will eventually fall to a loss.

Highlighting ways one can maximise market opportunities with GSP Plus, Lyman said: "GSP Plus is not just a kind of concession but has so many other benefits. There are only ten countries in the world that have GSP Plus and Sri Lanka is one of them, that itself is a great achievement and can be used by sectors to market their products to the country."

In Sri Lanka, a certain amount of value addition has to be done for a product to qualify as a Sri Lankan product. The GSP Plus encourages backward integration because of the value added requirements. It promotes products to be sourced in the country as much as possible. GSP Plus is a very valuable tool that means all social conventions.

Wijeratne sharing his sights on how to break into new markets noted: "New markets maybe be on geography, new customer segments, customer segments, substitutions and all kinds of things. I would like to see an industry that becomes world class based on innovations and competencies. Online presence and getting in line with technology is very important and so is mass customisation."

He stated that it is crucial that businesses engage with customers to build what they want. The export market does not have a wide range in Sri Lanka, therefore there is a limitation to promote the industry. We have to transform the industry to an export oriented industry and focus on creating trends, not products.

Speaking on cultural transformation for sustainable growth Kumara said: "We need new leadership, new thinking and fresh minds. Likewise transformation is also a very important component towards reaching sustainable growth."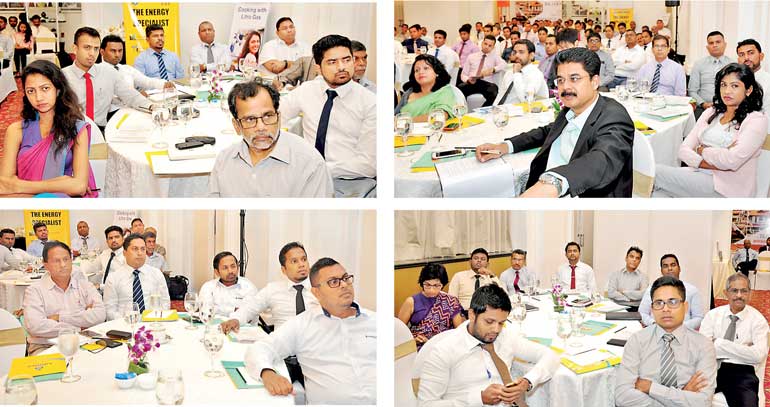 Human Resources – Maintaining competitive advantage

The second session was chaired by Employers Federation of Ceylon Director General and Chief Executive Officer Kanishka Weerasinghe and featured Unilever Sri Lanka Human Resources and Corporate Relations Director Sumeet Verma, MAS Holdings Group Human Resource Director Shakthi Ranatunga, Sri Lanka Nidahas Sevaka Sangamaya General Secretary Leslie Devendra and Industrial Mineral Development Thailand Export Sales and Marketing Manager Saranrattana Phanichsukphasal as the key speakers.

Stressing on retention, succession and changing cultural patterns Verma noted: "It is vital to have mass customisation and provide HR solutions to employees which are customised for them. We are looking at managing millennials in the same workplace as the ageing population. Managing diversity and discovering your purpose is very important. Both millenniums and the older generation have their advantages and discovering your purpose will create a greater outcome with higher potential and performance."

Sharing insights on the best HR practices that will help shape the work place, Ranatunga said: "Any form of HR practice has to come from an organisation as a philosophy of what the organisation believes in. It's a journey of understanding what you want to do and driving purpose."

He addressed the fact that it is salient to have a value system that contains changing nature, fair play, transparency, mutual respect and clarity; make decisions that have sustainable impacts on the environment and the society as a whole.

Speaking on higher productivity through harmonious employee-employer relationships Devendra stated: "There are thousands of employers and employees in this country who do not practice good relationships. We need to change the thinking patterns not only of the employees but the employers as well for the success of any enterprise."

He further stated: "We must educate our members on the importance of productivity because our jobs are totally dependent on how compatible we are but we cannot do it alone, it has to be a joint effort. We must show the willingness to engage with the workers at an equal level and treat them with respect."

The conference then invited Phanichsukphasal to give a presentation on IMD and its role in the ceramic and glass production in Thailand. She shared that while tableware, porcelain and sanitary-ware are the most sought-out products, elements such as plastic ball clay, kaolin, sodium feldspar, sercire, china stone and quartz are the easily accessible and most user-friendly components.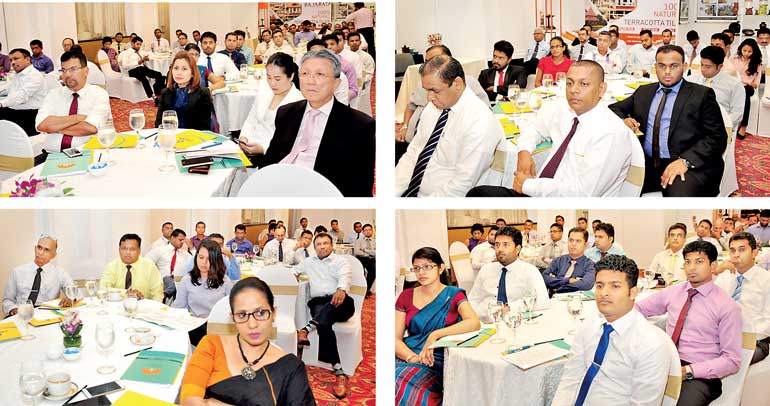 Processes – Improving and innovating

The third session was chaired by University of Moratuwa Professor of Mechanical Engineering and Vice Chancellor Kapila Perera and featured Piramal Group India Chief Digital Officer Poorav Sheth, Shippers Academy Colombo CEO Rohan Masakorala, Institute of Lean Management Founder and CEO Thilak Pushpakumara and LAUGFS Gas General Manager Operations Heshan De Silva as the key speakers.

Speaking on digital transformation in manufacturing, Sheth said: "My concepts on the best practices in manufacturing are that any company should have digital strategy, learn to use data, decide on new experiences and outcomes so that you can engage with the customers' needs and apply new business models."

He stated that operational advance can be driven by technology and that digital transformation is business transformation. "Plan smart manufacturing and stay connected to the supply chain. What is going to differentiate one company from another is their capability to adapt to new innovations."

Sharing key insights on supply chain management and visibility in internal and external processes Masakorala noted: "Supply chain is all about mathematics in our day to day life. It's a way of scientific management of an organisation from end to end. It helps with statistics, numbers and time management. The supply chain management task involves a whole gamut of action within and outside an organisation."

SCM practice draws heavily from the areas of industrial engineering, systems engineering, operations management, logistics, procurement, information technology, and marketing and strives for an integrated approach. The purpose of supply chain management is to improve trust and collaboration among supply chain partners thus improving inventory visibility and the velocity of inventory movement.

Sharing advice on how to inculcate lean thinking to maximise profit, Pushpakumara said: "We need people who know the culture, who know the process. If everyone can challenge the status core with the question 'why?' then you will be a lean practitioner one day."

Lean thinking thereby is a business methodology that aims to provide a new way to think about how to organise human activities to deliver more benefits to society and value to individuals while eliminating waste. Lean thinking creates a lean enterprise, one that sustains growth by aligning customer satisfaction with employee satisfaction and offers innovative products or services profitably while minimising unnecessary over-costs to customers, suppliers and the environment.

Speaking on the LPG supply chain revolution in Sri Lanka De Silva stated: "Geographically Sri Lanka is located in a very strategic place in the Indian Ocean. Looking back at history, we see that the country has been a trading hub and has an enormous potential. Today the size of the business transactions that are happening are estimated to be $2 trillion per annum."


Strategies – Sustaining for the future

The fourth session was chaired by Resource Management Associates Managing Director Dr. Tilak Siyambalapitiya and invited University of Moratuwa Professor of Civil Engineering Rangika U. Halwatura, Takeshi Sato from NEDO Japan and Lumbini Tea Director Chaminda Jayawardena as the key speakers.

Emphasising on sustainable development in the past, present and future Professor Halwatura said: "We as a nation have had a rich civilisation and a strong social and cultural history. Thereby it is important that we never compromise the next generation's abilities. If you think about sustainability it covers three aspects which are social, economic and environmental.

Halwatura went on to say that if you can bridge all these aspects together then you can build strong sustainability. The desired result is a state of society where living conditions and resource use continue to meet human needs without undermining the integrity and stability of the natural system.

Speaking on renewable energy, Sato shared information on the energy sector in Japan. He noted: "NEDO is a Japanese public sector organisation and is with the vision of addressing energy and enhancing their competencies. We carry our energy conservation across the world are focused on energy and environmental technologies."

He added: "Rapid deployment of renewable energy and energy efficiency is resulting in significant energy security, climate change mitigation and economic benefits. Renewable energy sources that derive their energy from the sun, either directly or indirectly such as hydro and wind are expected to be capable of supplying humanity energy for almost another one billion years."

The event came to a conclusion with Jayawardena sharing Lumbini's success story saying: "In 2002 I joined my father as the Managing Director but I had many things to discuss with him due to different thinking patterns. After speaking we changed Lumbini into a new different module. Innovation for success. When my father started the business he didn't know anything about tea but his mission was to simply create good quality tea. Process innovation is key to success."

The symposium exposed the local industry to world market trends, opportunities for further market penetration and shared areas that the industry needs to consider for its success, while promoting a creation of synergies amongst industry players to access more markets and increase market share and trade.

Pix by Lasantha Kumara