Charges recent Presidential Task Forces set bad precedent
Says PTF Gazette will negatively impact independence of public service
Calls on public to be vigilant of Govt. actions
Senasinghe says SJB is ready to face court on UNP membership suspension
Plans to rejuvenate trade union support for upcoming election
---
By Asiri Fernando
---
The Samagi Jana Balawegaya (SJB) yesterday expressed concerns about creeping militarisation by the Government through the recently appointed Presidential Task Forces.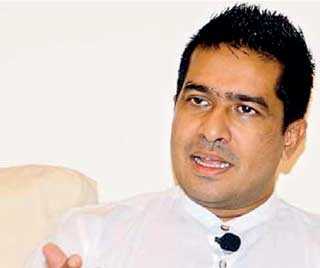 SJB Deputy Secretary Sujeewa Senasinghe
---
SJB Deputy Secretary Sujeewa Senasinghe yesterday charged that although the Government claims that they aim to "to build a secure country, disciplined, virtuous and lawful society", the composition of the persons appointed to the Task Force sets a "bad precedent" and points to creeping militarisation.

"Although we are told that the Task Force is formed to eradicate the drug problem, if you read the Gazette carefully, you will see that it has a serious impact on the independence of the public service," Senasinghe said, pointing out that public officials were put in a difficult position with such a Task Force made almost exclusively from serving and retired military personnel, bar the IGP and a Ministry of Defence official.

"Does this mean we don't need Ministry Secretaries or Department heads anymore?" Senasinghe questioned, opining that the mandate given the Gazette was of significant concern, and over-reached in to other areas traditionally managed by civilian public service officers, breaking established systems of accountability.

He urged the public to be vigilant about the Government's actions. Commenting on the upcoming court action regarding the suspensions from UNP membership of SJB General Secretary Ranjith Madduma Bandara, Senasinghe pointed out that no one in the SJB has received the said letters from the United National Party (UNP). "None of us got any letters nor even a telephone call," he stated.

He said that the SJB was confident about the case and has the support of a strong legal team. "We aim to win; the District Court gave the UNP time till Friday to lodge objections. On Monday the case will be heard and a win will strengthen all those who support the SJB and Sajith Premadasa as the next Prime Minister," he opined.

Speaking at a separate press conference, Madduma Bandara alleged that some media organisations were spreading fake news that his legal action had been rejected by courts. "Please don't report fake news, we know parties in power and in the Opposition want to weaken the SJB because people are rallying around us, we can't be defeated by fake news," Bandara said, replying a question. He stressed that the case was ongoing and stated that he was confident that truth will prevail.

Senasinghe also said that the SJB was trying to rejuvenate the trade unions' movements to obtain their support in the upcoming General Election.