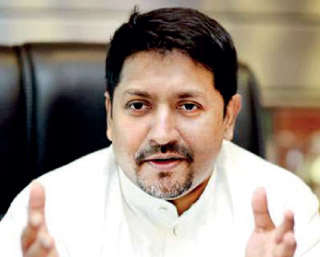 Ruwan Wijewardena
---
United National Party (UNP) Deputy Leader Ruwan Wijewardena yesterday called on the Government to provide financial relief to the public and reinstate the fuel price formula.

"The Government saved as much as $ 1.3 billion due to the reduction in global fuel prices," Wijewardena claimed, citing an annual report tabled in Parliament.

Issuing a statement, Wijewardena pointed out that as the Government had not reduced the price of fuel last year, this had generated significant savings. "This saving was not passed on to the public by the Government," he added. "The UNP introduced an automatic fuel pricing formula that would have regulated petrol prices based on global prices. Last year, global fuel prices dropped to a record low, however, because this Government had removed the fuel price formula local petrol prices were not adjusted to reflect this reduction."

Wijewardena blamed the Government for not providing adequate relief to the population, and pointed out that the public and industry had been under significant pressure for over a year as a result of the COVID-19 pandemic.

"The savings gained by the Government amounts to Rs. 14,000 per adult citizen. We urge the Government to provide the public with vouchers for this amount which they can redeem for fuel, medicine or essential food items."

Wijewardena added that the reimplementation of the fuel price formula would ensure less pressure at the pump for the public when global fuel prices eventually reduce.