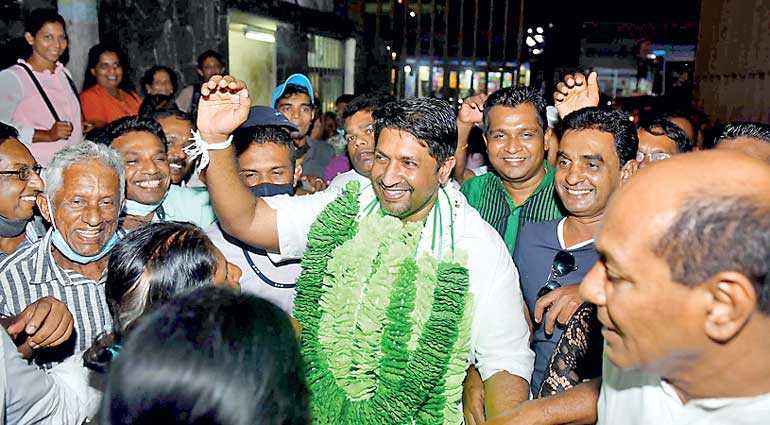 Newly elected UNP Deputy Leader Ruwan Wijewardene waves at supporters gathered to congratulate him yesterday– Pic by Pradeep Pathirana
---
By Asiri Fernando
---
Former State Minister of Defence Ruwan Wijewardene was appointed Deputy Leader of the United National Party (UNP) yesterday following a vote at a Working Committee meeting.

Former Finance Minister Ravi Karunanayake also sought the Deputy Leader position, triggering a vote, which Wijewardene won by 28 to 10 at the Working Committee meeting yesterday.

"The Working Committee yesterday voted to fill the vacant position of Deputy Leader and Ruwan Wijewardene won," UNP General Secretary Akila Viraj Kariyawasam told the Daily FT.

Wijewardene indicated his willingness to take over the party leadership from embattled Ranil Wickremesinghe, who has led the UNP for 30 years. The Deputy Leader post was vacant after the UNP suspended the membership of some 104 members who sought nominations from Samagi Jana Balawegaya (SJB) or supported it. The post of Deputy Leader was held by current Opposition Leader Sajith Premadasa in the lead-up to the General Election, when he stepped down from the post.

Kariyawasam declined to specify a transition date or period for Wickremesinghe to step down, except to say that the party was working quickly to rebuild its ranks. "We are working fast to rebuild the party," he added.

"The Leader of the party cannot step down without a Deputy Leader being appointed, there was a vacancy and it was filled," explained UNP Legal Secretary Nissanka Nanayakkara PC, in response to a question.

Senior UNP member Vajira Abeywardena, speaking to the press after the meeting, said that he had hoped that the post could be filled without a vote, but due to two persons wanting to run for the position, the Committee had to go for a vote.

A triumphant Wijewardene, addressing his supporters outside UNP headquarters Sirikotha, said that he will seek the leadership of the UNP.

Party seniors say that they expect Wickremesinghe to step down in January 2021.

Efforts to revive the UNP following the humiliating defeat suffered by them at the General Elections in August has been hampered by the issue over the party leadership.

The 73-year-old party lost all electoral seats it contested, and have not been able to agree on who will represent the party in Parliament, using the one National List seat they have obtained.

The long-running battle over UNP leadership has plagued the party at the 2019 Presidential Elections and the General Elections held this August.