Discussions between Sri Lanka experts and Russian authorities fruitful
President thanks Russia, says diplomacy between both countries 'exemplary'
Sri Lanka to take additional steps to ensure quarantine Russian requirements are met
Russian team of experts to visit Sri Lanka in 2018 on the invitation of Tea Board
Tea ban mutually exclusive to Sri Lankan ban on asbestos – says Sri Lankan ambassador to Russia
Separate 14 member team in Russia to observe asbestos production in Russia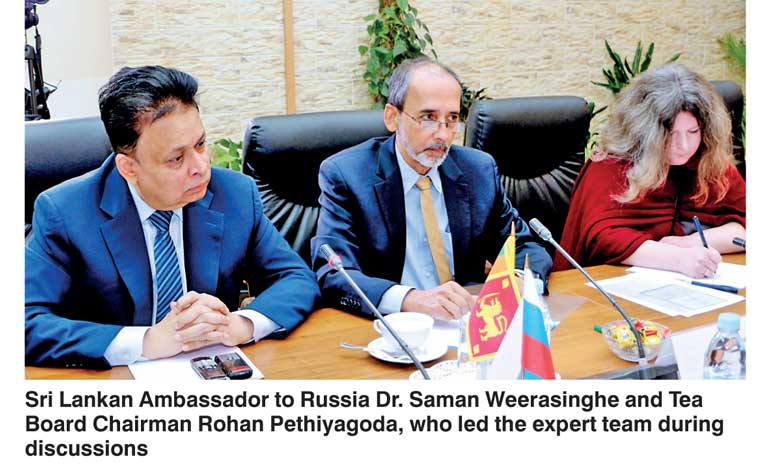 By Chathuri Dissanayake

Christmas Day brought welcome news of the ban imposed by the Russian Federation on all Sri Lankan produced agricultural exports including Ceylon Tea being lifted by the country's agricultural safety watchdog Rosselkhoznadzor following representations made to reverse the decision.

The decision given yesterday following a long discussion with the team from Sri Lanka will come into effect from 30 December, Sri Lankan Ambassador to Russia Dr. Saman Weerasinghe told Daily FT. The ban was predicted to adversely affect the tea industry as Russia is one of Sri Lanka's biggest markets. Ceylon Tea holds 23% of the Russian tea market and is a crucial foreign exchange earner.

"Sri Lanka's diplomacy with Russia has always been exemplary. The way the tea exports issue was resolved is yet another example of this friendship. Prompt action by the Government has paid off. This is also a time to thank Russia for cordiality," President Maithripala Sirisena tweeted after the announcement on Monday.

A nine-member expert team reached Moscow on Sunday night and held talks with the officials on Monday morning. The Russian authorities imposed a surprise ban on all agricultural product exports from Sri Lanka, following the detection of a single Khapra Beetle in a tea container.

"The discussions held were very fruitful and cordial. They had legitimate concerns about the way in which we handled quarantine with regards to agricultural produce. We discussed the concerns the Russian authorities have and have given an undertaking that such an incident will not be repeated in future," Sri Lanka Tea Board Chairman Rohan Pethiyagoda who led the expert team told Daily FT.
The team also included, Department of Agriculture Director General Dr. Rohan Wijekoon, Officer In charge of Plant and Quarantine of Colombo Port Champika Hewage, Tea Commissioner E.A.J.K. Edirisinghe, Head of Analytical Laboratory of Sri Lanka Tea Board Dr. Nishantha Jayathilake, Head of Promotions of Sri Lanka Tea Board Premala Srikantha, Tea Research Institute Head Dr. Keerthi Mohotty, Plantation Ministry Additional Secretary Tharangani Wickramasinghe, and Representative from Attorney General's department Viraj Dayarantne.

The authorities first suggested lifting the ban in January 2018, but negotiating by Sri Lankan ambassador managed to advance the initial decision to 30 December 2017, he said.

The head of the Association Rusteacoffee, the Russian equivalent of Tea Traders Association of Sri Lanka, Ramaz Chanturiya who was also present at the discussion lobbied to get the ban lifted as well, Pethiyagoda said.

The team agreed to take two additional steps to meet with Russian quarantine requirements, he said.

All containers carrying Sri Lankan Tea to Russia will be cleaned and disinfected before the produce is loaded as an additional step to ensure no agricultural pests included in the schedule outlined by Russian authorities are present.

The National Plant and Quarantine services will also issue a certificate following the cleaning and disinfection. Further an additional phytosanitary certificate will be given by relevant authorities specifically stating that the produce does not contain any agricultural pests of concern to Russia, including the absence of Khapra Beetle, or its larvae, Ambassador Weerasinghe had assured the Russian authorities in writing. Regular inspections will also be conducted of warehouses to ensure these regulations are met.

The Russian authorities have said that they will pay special attention to exports from Sri Lanka where all produce will be under rigorous quarantine examination before approval is given.

Sri Lankan authorities have invited a team of Russian experts to visit Sri Lanka. The team, likely to visit during the first two months of next year, will be hosted by Sri Lanka Tea Board where they will observe Sri Lankan quarantine practices and offer advice on improving the system in place, the Tea Board Chairman said. Further, the Sri Lankan team currently in Moscow will be given a tour of Russian agricultural institutions to observe and learn from the Russian system, Pethitagoda said.

Last week Sri Lanka's Cabinet differed the ban imposed on asbestos imports set to come into force in 2018, which was widely believed to be influencing the surprise ban imposed on Ceylon Tea by Russia following cabinet decision on the matter.

However Dr. Weerasinghe insisted that the two incidents are mutually exclusive. A team of experts from Sri Lanka is currently in Russia observing the country's asbestos plants and laboratories to ensure that the products are safe for usage.

"The team will produce a full report that will be presented to the Government," he said.