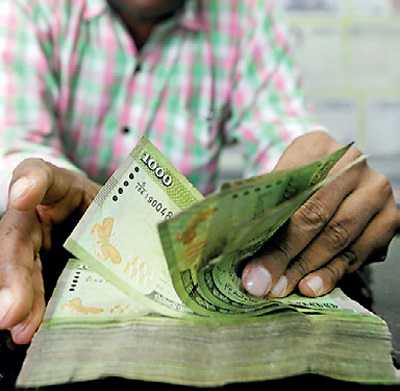 The rupee bounced back yesterday fuelled by improved outlook on foreign reserves.

The Telegraphic Transfer selling rate of the dollar was Rs. 201.28, down from the peak of Rs. 204.62 on Thursday.

The strengthening of the rupee was influenced by the receipt of $ 500 million loan from China Development Bank on Thursday. Other analysts said that intervention by the Central Bank as well as the two State banks improved sentiments and the outlook. They said that the rupee strength was impacted on a consistent basis in recent weeks due to commitments on time-bound Letters of Credit. "Some of the larger commitments are over and the exchange rate should stablise further down," they opined.

The Government's sustained efforts to tap new sources to boost foreign reserves, including a high-level banking sector delegation visit to Oman last week, further buttressed outlook on the part of treasury dealers. The country's foreign debt servicing ability has drawn widespread comment even though the Government has settled over $ 2 billion so far whilst a $ 1 billion International Sovereign Bond (ISB) settlement is due in June in addition to further liabilities rest of the year.
Central Bank said yesterday the increase in exports to the pre-pandemic levels, the notable increase in workers' remittances and the relative stability in the domestic foreign exchange market supported Sri Lanka's external sector in February.

It said the trade deficit in February broadly remained unchanged at the level reported a year ago. In the financial account, both foreign investment in the government securities market and the Colombo Stock Exchange (CSE) recorded net outflows in February. The SAARCFINANCE swap facility of $ 400 million obtained from the Reserve Bank of India in July 2020 was repaid in February upon maturity. "Net inflows to the domestic foreign exchange market eased the pressure on the exchange rate during the month and the regulatory measures enabled the Central Bank to absorb foreign exchange on a net basis, to build up gross official reserves," the Central Bank said in its February external sector performance announcement.

However since March, the rupee has depreciated sharply, whilst between the two quarters of December 2020 and March 2021 it has depreciated by near 7%.

According to Central Bank during the year up to 16 April, the rupee's depreciation against the dollar was 6.8% as against 5.2% during the year up to 12 March and 4.2% up to 12 February.