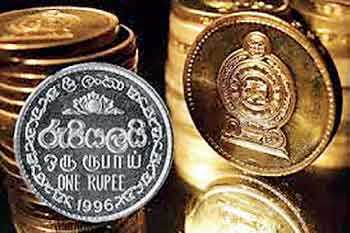 Reuters: The rupee ended slightly firmer on Friday after the central bank sold dollars to support the domestic currency, dealers said.

The rupee ended at 157.85/158.10 per dollar, compared with Thursday's record closing low of 157.90/158.10.

The currency hit an all-time low of 157.90 per dollar on 2 May. It has declined 0.06% so far this month after a 1.5% fall in April.

"Today the forward markets were active as there were not much of spot trades due to the fear that the central bank would not allow to trade above 157.90," a currency dealer said, asking not to be named.

"Today the Central Bank did not sell dollars but we have seen two State banks selling dollars probably on behalf of the Central Bank."

Officials at the Central Bank of Sri Lanka were not immediately available for comment.

Central Bank Governor Indrajit Coomaraswamy on Friday said the rupee would depreciate gradually as dollar outflows surpass inflows. The bank was "studying carefully" if there was extra pressure on the currency than was expected and also the behaviour of market participants, he added.

The Central Bank said on 26 April it would intervene to support the rupee when necessary and that there was no reason for the rupee to be under pressure given the country's record $10 billion foreign currency reserves.

Dealers said they expect the rupee to gradually weaken and face higher volatility this year due to debt repayments by the Government. But Central Bank Deputy Governor Nadalal Weerasinghe on Thursday said debt repayments by the Government will not have an impact on the currency as they are managed with borrowed money externally.

Foreign investors sold Government securities worth a net Rs. 5.7 billion ($36.20 million) in the week ended 2 May, bringing the outflow so far this year to Rs. 5.8 billion, Central Bank data showed.