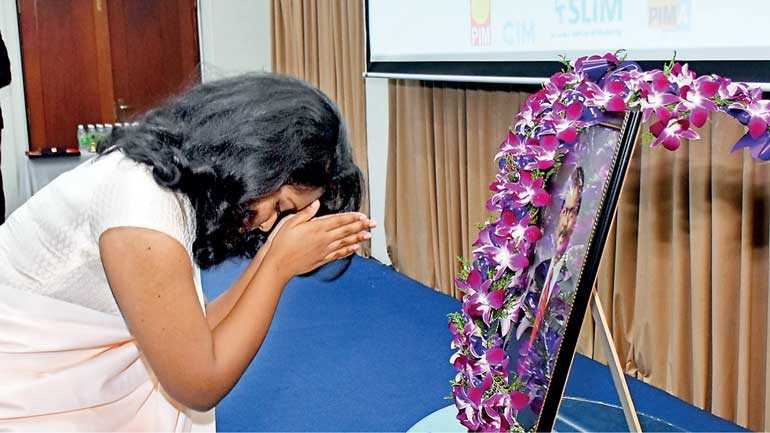 Chathuri Liyanage garlanding the picture of her father Prof. Uditha Liyanage

The following is the Professor Uditha Liyanage Memorial Oration delivered by MAS Holdings Chairman Deshmanya Dr. Mahesh Amalean, on 9 August


It is a pleasure to be here today. I would like to take this opportunity to thank Professor Uditha's family, the oration guidance committee and the oration operations committee for inviting me to speak at the inaugural oration to celebrate his work and more importantly the individual.

My first interactions with Uditha were many years ago during our formative years as students of Royal College. But it wasn't till much later that we interacted on a more formal capacity having followed our own career paths.

In the late 2000s we were invited by then Minister of Science and Technology Professor Tissa Vitharana to establish the Sri Lanka Institute of Nano Technology (SLINTEC) which is a public-private partnership and one of a kind research facility in Sri Lanka. We needed to create a strategy for SLINTEC and I approached Uditha to assist us.

During these engagements I had the opportunity to work closely with Uditha, who was a thought leader in Strategy, Communication and Branding. Uditha brought in a wealth of expertise to any engagement he was a part of and was valued by his peers and all his students, some of who are here today.

So, when I was asked to speak here today, I was reflecting on my engagements with Uditha and his contributions to the national and corporate sectors in Sri Lanka. Uditha often emphasised the need to establish a strong brand and the necessity to lay the strategic foundation for a brand to be resilient to change. Therefore, I believe it is an apt topic to cover for the next hour.

I would like to start by asking all of you the question,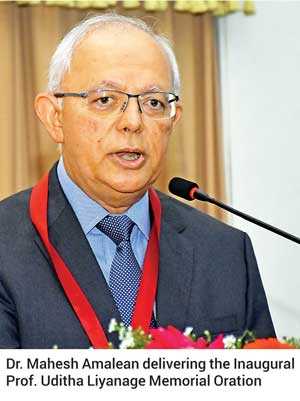 How do you build a global brand and ensure its success over time?

Let me answer this question with my experience in founding and leading MAS for the past three decades.

I come from a family that has been in the textile and apparel industry for many years, from way back as 1926. With the sudden loss of my father at a very young age, my grandfather and uncles ran the family business.

I completed my degree in Chemical Engineering with the clear intention of not joining the family run business. Yet, my grandfather had other plans and before I knew what was happening, I was on the shop floor of a textile plant.

Several years into the business, I saw the enormous opportunities that were emerging and the challenges in the business as a result of the open economy in Sri Lanka.

However, my uncles enjoying an established business at hand, did not see the necessity to change the business model to keep pace with these environmental changes. After many attempts of trying to work with and convince my uncles, I realised that it was extremely challenging to change the deep-rooted practices of very successful businessmen.

So, I stepped back from the business and together with my brothers Ajay and Sharad, made a bold decision to step out from our comfort zone of being in the family business to venture into creating our own business.

In 1986 we established MAS, the three letters denote the initials of our names, Mahesh, Ajay and Sharad.

Today MAS, 30 plus years on, is a two billion dollar business with 99,000 employees in 16 countries, working in collaboration with some of the leading apparel brands such as Victoria's Secret, NIKE, lululemon and Calvin Klein.

Let me share with you a video of the MAS Journey during the past three decades.

So, on reflection, how did MAS build its brand? What has worked for MAS over the past 30 years?
Strong foundation of values

I believe one of the cornerstones of our success has been the strong foundation of values that we laid in the business.

At a very young age my brothers and I were exposed to a strong value system within our family. Our thinking and values were influenced very early by our parents and grandparents. In 1987, when my two brothers and I founded MAS, we brought with us some of the values that were inculcated in us by our family.

Since the inception of MAS; Honesty, Integrity, Trust, Mutual respect and Humility, were some of the values that we incorporated in our business. Subsequently, as the company evolved and grew, we brought in a team who embodied these values and continued to uphold them over the years.

Let me now talk to you about a few of our values that translate to how we conduct our business. People do business with people they trust. So, I would like to talk to you about the value of trust and mutual respect.

One of the first engagements that defined MAS was my relationship with Martin trust. Marty was the president of MAST industries, the sourcing arm of Limited Inc.

I had initially met Marty whilst working for my uncles and subsequently met him few years later when my brothers and I set up the first manufacturing plant for MAS, Sigma industries in 1987. Marty initially proposed we set up a joint venture to manufacture synthetic women's dresses. However, even before we started manufacturing, we faced headwinds, quota was imposed on dresses. We had no choice, we had to pivot and decided to manufacture lingerie for Victoria's secret.

What was interesting was that we spoke of establishing a 50-50% equal partnership which was unheard of at the time. Further, we entered into this partnership without signing a single joint venture document, purely based on the trust and faith we had in each other. It was not till three years later, where we said, it might be good to put something on paper. If our head of legal was present during that time, and if she knew I entered a joint venture partnership without a formal agreement, she would have fallen off the chair. My point here is that we built our first partnership that led to 700 million dollars business based on trust and mutual respect. The success of this first joint venture inspired us to establish many more.

Today, one of our key strategic focuses is to build lasting partnerships and we have built these with some of the best brands in the world on the foundation of trust and mutual respect. Whilst these brands have brought in significant business, they have also brought in world class business practices and technology to Sri Lanka.

Having spoken about the relationships we built on the foundation of trust and mutual respect, I would like to talk about how this translates to the work environment we created at MAS by treating people with respect and dignity.

Seventy-five per cent of all our employees are women and 80% of the products we manufacture are for women. As a result of this, we created an environment to foster and harness the skills of the women working with us. This led to the commencement of our flagship women's empowerment program, called 'Women go beyond'. This program has gained international recognition and the program focuses on four pillars namely; career advancement, achieving work-life balance, Skill Development and Rewarding Excellence. Over the past 16 years, we have been able to conduct over 11,000 programs covering these key pillars benefiting almost all the employees at MAS during this period.
Invest in people – Give them accountability

It is through trust and mutual respect that we entered into strong strategic partnerships with some of the best brands in the world and at the same time we brought onboard some of the best Sri Lankan talent. Let me share a personal story with you.

During my engagement with Martin Trust, I realised that for us to be equal partners in the business, we had to bring in professionals. I would sit across the table and work on the joint venture with Marty and he would fly back. But thereafter, I had to personally engage with the Vice President of Marketing and Vice President of Finance. I looked passed my shoulder and realised that I didn't have the same calibre of people as my partner had to lead our business and to make the necessary business decisions. So, from the very inception, we brought in "Professionals to run our business" and we always invested in the best talent that Sri Lanka had to offer.

I always say that MAS is an organisation that is privately owned but professionally run. Whilst we invest in talent, we also made sure that we gave them the freedom to lead and grow business and they were accountable for the success or failure that came with it.

Investing in the talent of the future, empowering them and giving them accountability was something Uditha was passionate about. The establishment of PIM and the impact that it had on the business landscape in Sri Lanka is immense.

I also had the privilege of working with Uditha in creating a tailored Marketing program for apparel. With the end of the 'Multi-fibre agreement', we realised that the bargaining power which the manufacturers enjoyed would shift towards the buyer. As a result, it was pivotal for the industry to focus on creating marketers. Having collaborated with Uditha we were able to create the 'Postgraduate Diploma in Apparel Marketing' at the Chartered Institute of Marketing (CIM).

Over the years, MAS has also benefited through the programs at PIM as we now have over 35MBA graduates at all levels of management in the organisation. Shakthi who introduced me earlier is a perfect example. Having Joined MAS Slimline as an executive, he received his MBA from PIM. Shakthi then worked with me directly on my team and subsequently went on to be the Group Director of HR. He is currently leading a new initiative called the 'Turnaround' which I will talk about later.

Whilst Shakthi was head of HR, he was accountable for 99,000 team members at MAS. It was his job to ensure their success and manage the talent. I was happy to see him introduce a human capital management system for MAS which was built internally and branded as 'Talent2o'. This system was able to capture the entire life cycle of an executive from the point of recruitment to the point of the employee's exit. Due to this system, we were able to standardise the key human resource functions and it paved the way for visibility of all our talent across the organisation.

Uditha spent a good part of his life training youth. He did it with a lot of commitment and passion. For us at MAS, it has been the same; to develop, grow and add value to talent as they add value to the business.
Change is courage

Having shared with you what contributed to our success during our formative years, I would like to speak about the environment we created to succeed and stay ahead of competition.

In his article, 'In Search of Resilience' Uditha states that business entities must Predict, predesign, prepare and deliver programs to continually renew in order to stay ahead of the curve which he aptly describes under the concept, 'Cycle of Renewal'.

MAS has always strived to stay ahead of the curve by investing in our future.


In 1995/1996, we invested in Stretchline through a joint venture, creating verticality in our supply chain for the intimate wear business.
In 1998, we expanded our footprint away from Sri Lanka for the first time and today are looking at manufacturing off shore, near shore and on shore as a strategy to align with the demands of our customer.
In the early 2000s, we established design houses in New York, London and Hong Kong to increase our value proposition to our customer by creating a development eco system. This transformed us from being a tech pack manufacturer, to be recognised as an apparel solution provider.
In 2008, we set up MAS Research & Innovation which paved the way for Twinery in 2013 which is MAS' innovation arm.
Whilst we have always invested in our future leading to periods of exceptional growth, we have also faced challenging times. I would like to share with you two of these defining moments.

One was the 2008 financial crisis which had a significant impact on the business. All our customers were impacted by the financial crisis and our revenue dropped by 20%, significantly impacting our bottom-line. We closed 3 plants which impacted the livelihoods of 3,000 employees. This was one of the most challenging tasks I had in my professional career.

The second instance was not so long ago.

Over the past few years, MAS has been steadily growing as a business with the year 2015 being recorded as our best year in the recent past. The company recorded a $ 1.6 billion whilst earning healthy profit margins. However, we began to see an alarming trend where our group profitability was shrinking whilst the revenue continued to grow. In 2018, MAS proactively embarked on a journey to craft the overall strategy for the company by focusing on the year 2025 as the horizon.

This overall strategy focuses on the transformation of MAS and is geared to optimise for profitable growth, talent attraction and retention and risk mitigation. This new strategy lays the foundation for MAS to become a robust and a more enduring organisation by future-proofing the organisation and strengthening our core. As part of this overall strategy, the initiative of 'Turnaround and Strengthening our Core Business,' is spearheaded by Shakthi. As part of this strategy, we are now looking at increasing the overall profitability of the business and the behaviours of our leadership.

During MAS' turnaround strategy development process, we also clearly identified the leadership behaviours which we want our employees to live and breathe. I would like to highlight some of these behaviours.
We encourage our employees to view all the initiatives which they are part of through a new lens of contributing towards our profitability which we call anchoring to the P&L
We also encourage a behaviour of personal accountability where we hold people personally accountable for delivering on the results
Above all, we want our employees to live and breathe our DNA and anchor their behaviour to MAS values
Uditha has written extensively about business strategy and its importance, in his article 'Differentiation: The Quintessence of Strategy' he explains that strategy is the stand that a company takes on a particular industry or subject and should not be mistaken with mission or vision of the company.

We at MAS want to be synonymous with Innovation and over the last few years have put in place a robust eco system to foster innovation. We believe that this will help us win in the market place in the future.

MAS established its innovation offence in 2013 and recently redefined its strategy by looking at adjacencies that we are focusing on. As part of our strategy for 2025, we have earmarked Wearable technology and Feminine technology as two new adjacencies to propel future growth for MAS.

So, let me present to you 'SPRYNG' a product innovated by our teams which is already out there in the market.

SPRYNG is a pneumatic active compression wrap that improves circulation and helps relieve muscle aches due to athletic performance. So, whether you have had a rough leg day, spent hours sitting in a cubicle, or just finished a marathon, this product which I am going to show you helps in faster muscle recovery.

We have also established innovation centres with our strategic partners that are now co-creating products utilising the unique capabilities at MAS.

In 2015, we established Linea NXT in partnership with Nike which is the only apparel innovation centre outside of Portland Oregon for Nike. Linea NXT launched the Fe/nom Flyknit bra that was co-created between the two companies.

In the Intimate apparels side, we have developed a similar model by establishing 'MAS Ayathi' a dedicated Co-creation centre with Limited Brands which owns Victoria's Secret. Ayathi collaborates with the Innovation teams at MAS as well as with the supply-chain partners, in technology, methods and material to elevate the product.
Conclusion

Having spoken to you about some of our experiences at MAS, and the relevance of Uditha's work in the context of building a global brand, I would like to ask you the question that I started today's conversation with;

How do you build a global brand and ensure its success over time?

And the answer is imbedded in the story I shared with you. From the perspective of MAS, we built our business on a foundation of a strong value system which has been the cornerstone of our success. These values have influenced how we conduct business, how we establish lasting strategic partnerships with world class brands and how we create the environment to attract the best talent into MAS.

Whilst we have built a strong global brand, we have also experienced our share of turbulent times during this journey. I highlighted the impact to us of the 2008 financial crisis and the recent initiatives at MAS to strengthen our core and transform our company.

I would like to leave you with a message which incorporates Uditha's thinking on strategy and my approach to implementation of a strategy: "Having a clear vision for the company, supported by a robust strategy and a steadfast determination for implementation will enable a company to be successful."
Pix by Indraratna Balasuriya