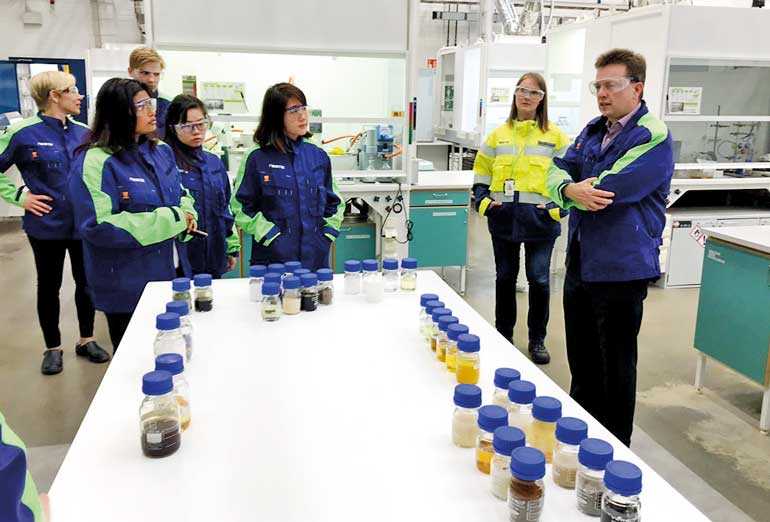 Neste Vice President and Research and Development Petri Lehmus with the visiting Asian journalists including Daily FT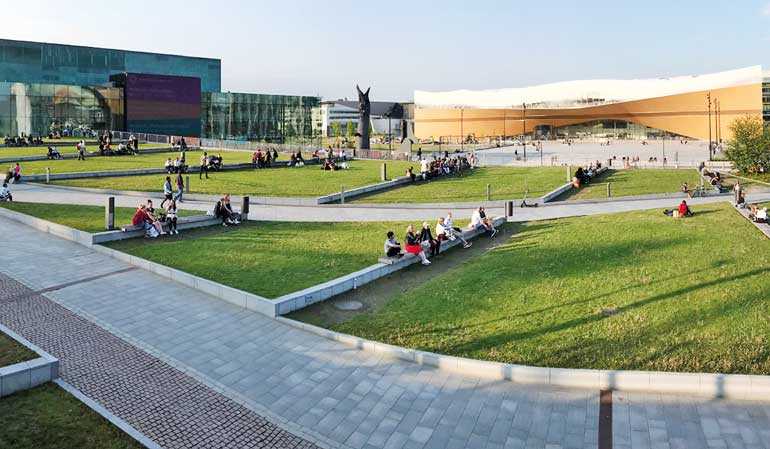 Oodi library in Helsinki
Offers wider benefits to developing nations
By Charumini de Silva

in Helsinki, Finland

Circular economy, which is essentially looking beyond the current 'take-make-waste' extractive industrial model and aims to redefine growth, focusing on positive society-wide benefits, is a new phenomenon that is gaining traction globally, with experts saying developing countries stand to benefit the most.
What is circular economy?

Circular economy is the new paradigm for business, which aims for economic growth through new, sustainable business models.

It entails gradually decoupling economic activity from the consumption of finite resources and designing waste out of the system. Underpinned by a transition to renewable energy sources, the circular model builds economic, natural, and social capital. It is based on three principles, which includes design out waste and pollution, keep products and materials in use and regenerate natural systems.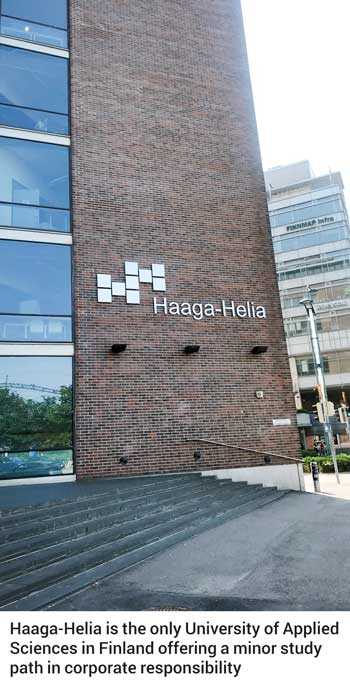 Proponents of the circular economy suggest that a sustainable world does not mean a drop in the quality of life for consumers and can be achieved without loss of revenue or extra costs for manufacturers. The argument is that circular business models can be as profitable as linear models, allowing us to keep enjoying similar products and services.

According to new Accenture research, the circular economy could generate $4.5 trillion worth of additional economic output by 2030. The research identifies circular business models that will help decouple economic growth from natural resource consumption, while driving greater competitiveness.

The circular economy includes products, infrastructure, equipment and services, and applies to every industry sector. It includes 'technical' resources (metals, minerals, fossil resources) and 'biological' resources (food, fibres, timber).

The circular economy can cover a broad scope; findings from the literature show that researchers have focused on different areas such as industrial applications with both product-oriented and services, practice and policies to better understand the limitations that the circular economy currently faces, strategic management for details of the circular economy and different outcomes such as potential re-use applications and waste management.

Most schools of thought advocate a shift from fossil fuels to the use of renewable energy, and emphasise the role of diversity as a characteristic of resilient and sustainable systems. It includes discussion of the role of money and finance as part of the wider debate, and some of its pioneers have called for a revamp of economic performance measurement tools.

One example of a circular economy model is the implementation of renting models in traditional ownership areas (e.g. electronics, clothes, furniture, and transportation). Through renting the same product to several clients, manufacturers can increase revenues per unit, thus decreasing the need to produce more to increase revenues. Recycling initiatives are often described as a circular economy and are likely to be the most widespread models.
Finland — great case study for circular economy

Finland is a frontrunner in the field of circular economy as the country's solution for a sustainable society with innovative solutions coming from extensive collaboration among public and private sectors. Finland has set a goal to be a circular economy leader by 2025.

For Finland, circular bioeconomy is a tool for achieving sustainable development, combatting climate change, saving natural resources, and improving the state of the environment. All while generating economic growth and jobs. According to estimates, the circular economy may contribute an annual added value of at least three billion euros to the Finnish economy by 2030.

Finland was also the first country in the world to release a national circular economy road map, outlining the way to sustainable well-being and successful carbon-neutral future.

The first World Circular Economy Forum (WCEF) was held in Helsinki in 2017. The ground-breaking event not only presented the world's best circular economy solutions, but has also become an annual summit for the global circular economy community. In 2018 it was held in Yokohama, Japan.

This year, the WCEF, where Daily FT was present along with select media from Asia, focused on a range of issues including: Acceleration of Circular Businesses and Investing in Circular Economy Businesses; The Circular Economy in Cities; Governance and Circular Economy Roadmaps; Plastics and a Circular Bioeconomy; The Circular Economy in Construction; Measuring Circularity and the Fair Use of Data; Education for the Circular Economy; The Circular Economy for Water; The Carbon-Neutral Industry in the Circular Economy; and Circularity in our Day-To-Day Lives.

Finland is now carrying out practical circular economy experiments that are providing benefits across all sectors of business and society. Combining Finnish success in education and strong competences in digital solutions, Finland aims at offering unique solutions globally.

The United Nations environmental conference's UNEA4 ministerial declaration in March emphasised the role of the circular economy as a tool for building sustainable consumption model and this is in part, is something WCEF responds to. The circular economy is also becoming a key topic for the G20 nations' meetings held in Japan in June. The circular economy is now a core component both of the European Union's 2050 Long-Term Strategy to achieve a climate-neutral Europe and of China's five-year plans.
Sitra — A fund for the future

Sitra, the Finnish Innovation Fund, was founded in 1967 as a part of the Bank of Finland, on the country's 50th anniversary, has played a key role in establishing the circular economy concept in the country. It is an independent public foundation which operates directly under the supervision of the Finnish Parliament. Sitra functions both as a think tank and as an investment company.

The Finnish Innovation Fund, Sitra's operational independence has been further strengthened by its funding model. It is not answerable to the government in power and does not depend on the State budget; instead, its operations are funded with the profits of its endowment and the profits of its operations.

According to law, the funds must be invested securely and in a profitable manner. The return from Sitra's endowment averages at approximately Euro 30 million a year. Sitra invests in companies and startups to create new profitable business.

Sitra was honoured as the world's best public-sector actor in the circular economy in The Circulars Awards at the World Economic Forum in 2018 for its pioneering work to accelerate the world's transition to a circular economy.

"We aim to inspire and help people, companies and administrations to see the opportunities of the new low-carbon lifestyle and the business opportunities related to it. We work together to experiment and discover permanent, easy-to-use, intelligent and clean solutions," Sitra Director Communication and Public Affairs Veera Heinonen told a group of journalists from Asia including Daily FT.

According to Sitra, circular economy helps to redistribute global wealth equitably. In Finland, particularly in the public sector, many municipalities have taken voluntary, active steps towards a more sustainable future.

Champions of Finnish enterprises

Among other organisations that are championing the circular economy in Finland includes both public and private institutions which include Environment Ministry, Helsinki Metropolitan Smart and Clean Foundation, Haaga-Helia, Smart and Clean, Helsinki Central Library Oodi, Sulapac, InfinitiedFiber, Amerplast and Neste. During the media study tour Daily FT witnessed how these companies strive towards circular economic sustainable future.

Haaga-Helia is the only university of applied sciences in Finland offering a minor study path in corporate responsibility. It is also signatory to the UN Principles for Responsible Management Education demonstrating its commitment to offering responsibility topics in business education.

"Circular economy has been a specific development area in the past two years during which Haaga-Helia has introduced a joint study path with two other metropolitan Universities of Applied Sciences on circular economy business models," Haaga-Helia President and Adjunct Professor Dr. Teemu Kokko said.

Currently it is working together with 18 other Finnish Universities of Applied Sciences to introduce 235 credits worth of circular economy courses into joint offering by 2020. Circular economy is also a current topic in its corporate outreach and project work.

Smart and Clean Foundation is a five-year 'step-change' project with 29 public and private partners from the Helsinki Metropolitan cities, businesses, universities, research institutions and State actors.

"Smart and Clean has an ambitious goal to develop accelerate and orchestrate concrete climate solutions that provide cities and urban citizens the opportunity to reduce their carbon footprint and to improve their quality of life," Smart and Clean Executive Director Tiina Kaho said.

The institution orchestrates multi-stakeholder ecosystems, which can lead the way in making the significant changes needed to improve the scale and speed of climate and circular solutions in areas such as housing and renovation, smart mobility solutions and the closed circle of plastics.

One of the most fascinating concepts in Helsinki was its Central Library Oodi, which is a more than just a library. It is one of 37 branches of Helsinki City Library and part of the Helmet library network. The energy efficient library is an impressive calling card for Finnish architecture.

"Oodi functions as a living room for residents, located right at the heart of Helsinki. Its wide range of services and facilities has created new library landscape for Helsinki and Finland. The services are available to residents seven days a week, from early in the morning till late in the evening," Helsinki City Library Director Katri Vanttienn said.

Libraries' duties in Finland are defined by the new Library Act which came into effect from 1 January 2017. The libraries help to promote and share knowledge through events such as providing access to materials, information and cultural contents, maintaining versatile and up-to-date collections, promoting reading and literature, providing information services, guidance and support in the acquisition and use of information and in versatile literacy skills, providing premises for learning, recreational activities, working, andcivic activities as well as promoting social and cultural dialogue.

According to her as at end 2018 Finland has 854 public libraries with3,553 experts at service lending 34.5 million items ranging from 29 million books, 2.7 million audio records, 1.1 million movies and series, 62,000 magazines and periodicals, 87,000 e-books and 1.9 million new acquisitions. In 2018, over 50 million people have visited these libraries with 38 million has visited online.

Sulapac is a private company that has innovated a fully biodegradable and microplastic-free material which has the benefits of plastic without its waste problem. The firm has also introduced a patent-pending marine biodegradable straw made from sustainably sourced, renewable raw materials – wood and natural binders.

"We are a company driven with a mission to save the world from plastic waste," Sulpac Deputy CEO and Head of Marketing and Communications Antti Valtonen said.

Infinited Fiber is another private company which is transforming waste into resources especially in the apparel sector to introduce sustainable fashion.

The company has created a technology that allows textile waste to be used over and over, preserving 100%. "The technology brings enormous social, environmental and economic impact to the textile value chain and everybody's wardrobe," Infinited Fiber CEO Petri Alava said.

Amerplast is a flexible packaging company striving to grow together with its customers and to create a future of sustainable packaging and circular economy of plastics. "We believe what is good for the environment is good for business," Amerplast Marketing and Communications Manager Laura Alisalo said. The company believes in continuing its journey of transforming the flexible packaging industry into an environmentally-sound business.

Neste is the world's largest producer of renewable diesel from waste and residue raw materials, introducing renewable solutions also to the aviation and plastic industries. "We are a company that creates sustainable solutions for transport, business and consumer needs," Neste Vice President and Research and Development Petri Lehmus said.

Neste is the only company in the world to have already produced renewable fuels from over 10 different raw materials. In July 2018, the company announced it was exploring ways to introduce liquefied waste plastic as a future raw material for fuels, chemicals and new plastics. The firm has set a target to process over one million tons of waste plastic annually from 2030.

Creating gourmet-level dishes from 'waste to taste,' Restaurant Loop became Finland's first waste food restaurant. It is established by a non-profit association. "Our trucks pick up surplus food from supermarkets in the mornings and Loop's team of chefs plans the day's menu based on the available ingredients. The idea is to deliver high quality gourmet level meals which are also available for everyone," Restaurant Loop Waste to Taste Managing Director Mirka Korkia-aho said.

The Waste to Taste team also get requests from farms to collect their excessive produce at a very low price or for free, without letting it go into waste. In addition to these companies which Daily FT was able to visit during the study tour, there are many world-class Finnish enterprises that have adopted circular economy approaches in their business already. Finland excels in various solutions from waste management and sustainable food to new material development.

During the study tour, journalists were also educated on how Finnish people sort their waste and recycle by visiting a home of a Finnish family.

In addition, a guided walk in the Nuuksio national park near Helsinki was also arranged to relax after and long day in the sauna Löyly including a dip in the lake.

On the final day, the group experienced the clean nature and breathed the cleanest air in the world. It was reiterated that clean thinking runs in Finnish genes and sustainability is their second nature. The unique location shapes the way Finnish people think, work, and innovate, persistent long-term efforts, public and private sector collaboration, and cutting edge cleantech expertise were outlined as key factors to succeed in protecting nature.

Canada will host World Circular Economy Forum 2020, where participants will learn how Canada's unique circular solutions are making a global impact.
Lessons for Sri Lanka

Although Western economies are in an advanced position, Sitra experts pointed out that developing countries were in a strong position to take advantage.

Success now in embedding circular principles in industrial growth and infrastructural development strategies can help to ensure that the needs of growing and urbanising populations are met without risking rises in resource use, emissions and environmental pollution. For example, in adopting modular, adaptive and resilient design principles, the circular economy can help to deliver quality housing and infrastructure at low economic and environmental cost.

"Developing countries are already global centres of production and are also set to become the global drivers of consumption. With enough investment and learnings from the other pioneering circular economies like Finland, developing countries can leapfrog developed countries in digital and material innovation to embed sustainable production and consumption at the heart of their economies," they said. It was also revealed that countries like Singapore, Malaysia, Australia and Indonesia have started on this journey towards circular economy several years ago and are making a lot of progress. Thereby, a country like Sri Lanka can harness all these experiences, learnings and know-how and do it much better.

However, this requires going beyond just classifying and sorting of garbage. The private sector needs to address this from production levels, similar to the practices adopted by most Finnish enterprises, and get public sector support as well. In addition, the academia and universities must also partner this dialogue, in designing policies and knowledge and skills development.