Ranjith Kodituwakku has been appointed as Chief Executive Officer/General Manager of People's Bank with effect from 19 June. He had previously served as the Deputy General Manager (Commercial Banking and Digitalisation). The appointment as CEO/GM follows the retirement of Acting CEO/GM M.A. Bonniface Silva.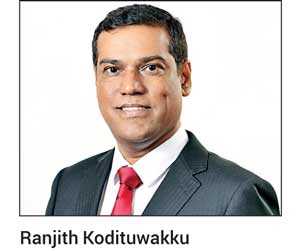 Kodituwakku has over 37 years of banking experience in a wide spectrum of areas covering consumer banking, commercial banking, corporate banking, off-shore banking, branch banking, international banking, project financing, recoveries and digitalisation. He poses extensive local and international training/exposure and has worked in different capacities at different geographical locations.

As the Deputy General Manager for the bank's Digitalisation initiative, his scope of work encompassed primarily on mapping business requirements to a digital platform by adopting best practices in the industry and re-engineering business processes.

During his period as Deputy General Manager – Digitalisation, the bank received many prestigious awards/recognitions both internationally and locally including being named 'Best Digital Bank in Sri Lanka' by both the Asian Banker and Asia Money magazines.
Additionally, he has played a key role in the efforts carried out by People's Bank to re-open bank branches in the north with the aim of rebuilding the lives of the people and strengthen the economy of the region. He also took on a leading role in the construction of a large housing scheme close to the sacred Madhu Shrine for families internally displaced by the devastating 30-year civil war – a project which was part of the bank's golden jubilee celebrations.

He also serves as a Director of People's Insurance PLC, Lankan Alliance Finance Ltd. Bangladesh, Regional Development Bank Sri Lanka, Board of Financial Ombudsman Sri Lanka (Guarantee) Ltd., Credit Information Bureau of Sri Lanka and as an Alternate Director of the Lanka Financial Services Bureau.

Kodituwakku holds a Master's Degree in Business Administration specialised in Finance from the University of Colombo, Bachelor of Laws (Honours) from the University of New Buckinghamshire, United Kingdom and is an Associate Member of the Institute of Bankers of Sri Lanka.